FT. LAUDERDALE, Fla. (FWAA) – The Football Writers Association of America and Aon Insurance announced their eighth annual Freshman All-America Team on Thursday morning during the association's annual awards breakfast. Each member of the team will receive a custom-designed mini helmet courtesy of Schutt Sports, the world's leading maker of football helmets and faceguards.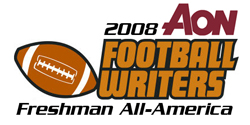 The Atlantic Coast, Big Ten, Southeastern, Big 12 and Pacific-10 conferences each placed four players on the 27-man team. Conference USA was the only other conference with multiple players on the team with two. Of the 27 players selected, 14 were true freshmen and 12 were redshirt freshmen.
In addition, Georgia Tech coach Paul Johnson was named the top first-year coach at his school after leading the Yellow Jackets to a 9-4 season and a berth in the Chick-Fil-A Bowl.
The team and coach are selected by a 11-person panel of writers led by Mike Griffith of the Knoxville News Sentinel. Both true freshmen and redshirt freshmen were considered for the team and are so noted. A total of 116 players were nominated for the team and considered by the committee.
2008 AON INSURANCE FWAA FRESHMAN ALL-AMERICA TEAM
OFFENSE
Pos.
Player, School
Ht.
Wt.
Hometown
QB
Kellen Moore, Boise State
6-0
187
Prosser, Wash.
RB
Darren Evans, Virginia Tech
6-0
210
Indianapolis, Ind.
RB
• Jacquizz Rodgers, Oregon State
5-7
193
Richmond, Texas
WR
• DeAndre Brown, Southern Miss
6-6
228
Ocean Springs, Miss.
WR
• A.J. Green, Georgia
6-4
200
Summerville, S.C.
WR
• Julio Jones, Alabama
6-4
210
Foley, Ala.
T
• Andrew Datko, Florida State
6-6
276
Weston, Fla.
T
Matt Reynolds, BYU
6-6
321
Provo, Utah
G
Joel Foreman, Michigan State
6-3
308
Highland, Mich.
G
Moe Petrus, Connecticut
6-2
276
St. Laurent, Quebec
C
• Michael Brewster, Ohio State
6-5
296
Orlando, Fla.
DEFENSE
Pos.
Player, School
Ht.
Wt.
Hometown
DE
• Brandon Harold, Kansas State
6-6
264
East St. Louis, Ill.
DE
Thomas Keiser, Stanford
6-5
252
Wexford, Pa.
DT
• Marcus Forston, Miami
6-2
302
Miami, Fla.
DT
• Lawrence Guy, Arizona State
6-5
270
Las Vegas, Nev.
LB
• Dont'a Hightower, Alabama
6-4
250
Lewisburg, Tenn.
LB
Travis Lewis, Oklahoma
6-2
232
San Antonio, Texas
LB
Brandon Maye, Clemson
6-2
215
Mobile, Ala.
CB
• Janoris Jenkins, Florida
5-10
185
Pahokee, Fla.
CB
Jordan Mabin, Northwestern
5-11
180
Northfield Center, Ohio
S
Sean Baker, Ball State
6-1
205
Canfield, Ohio
S
Earl Thomas, Texas
5-10
195
Orange, Texas
SPECIALISTS
Pos.
Player, School
Ht.
Wt.
Hometown
P
Bryan Anger, California
6-4
196
Camarillo, Calif.
K
Philip Welch, Wisconsin
6-3
190
Fort Collins, Colo.
KR
• Leonard Johnson, Iowa State
5-10
179
Clearwater, Fla.
PR
• T.Y. Hilton, Florida International
5-10
175
Miami, Fla.
ATH
• Damaris Johnson, Tulsa
5-8
175
Norco, La.
HEAD COACH
Paul Johnson, Georgia Tech
• Denotes true freshman
The Football Writers Association of America, a non-profit organization founded in 1941, consists of nearly 1,000 men and women across North America who cover college football for a living. The membership includes journalists, broadcasters and publicists, as well as key executives in all the areas that involve the game. The FWAA works to govern areas that include gameday operations, major awards, a national poll and its annual All-America team.
Headquartered in Chicago, Aon Corporation provides more insurance brokerage, reinsurance brokerage and risk management services than any other company in the world, and is a leader in human capital management consulting. Aon has 36,000 employees in 500 offices in more than 120 countries.
For more information on the Aon Insurance/FWAA Freshman All-America Team and other FWAA awards, go to www.footballwriters.com.
All-Time FWAA Freshman All-America Teams
• 2001 | 2002 | 2003 | 2004 | 2005 | 2006 | 2007
2008 FWAA FRESHMAN ALL-AMERICA COMMITTEE
Mark Anderson
Las Vegas Review Journal
Mountain West
Mark Blaudschun
Boston Globe
ACC
Mike Griffith
Knoxville News Sentinel
SEC
Blair Kerkhoff
Kansas City Star
Big 12
Paul Letlow
Monroe News-Star
Sun Belt
Brian Murphy
Idaho Statesman
WAC
Dave Ruthenberg
MAC Report
MAC
George Schroeder
Eugene Register-Guard
Pacific-10
Phil Stukenborg
Memphis Commercial Appeal
Conference USA
Donnie Webb
Syracuse Newspapers
Big East
Kent Youngblood
Minneapolis Star-Tribune
Big Ten