NEWPORT BEACH, Calif. (FWAA) – The Football Writers Association of America and Aon Insurance announced their ninth annual Freshman All-America Team on Thursday morning during the association's annual awards breakfast. Ten of the 11 NCAA Bowl Subdivision Conferences were represented on the team sponsored by AON Insurance.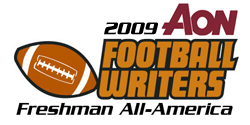 The Southeastern Conference and Pac-10 each placed five players on the FWAA team. The Atlantic Coast had four players and the Big East and Big 12 three each. No other conference had more than two players. Of the 28 players honored, the team was exactly split between true freshmen and redshirt freshmen.
Oregon's first-year coach Chip Kelly was selected as the best first-year coach after leading his team to a Pacific-10 title and berth in the Rose Bowl.
The team and coach are selected by a 11-person panel of nationally-prominent writers led by Mike Griffith of the Knoxville News Sentinel. Both true freshmen and redshirt freshmen were considered for the team and are so noted.
2009 AON INSURANCE FWAA FRESHMAN ALL-AMERICA TEAM
OFFENSE
Pos.
Player, School
Ht.
Wt.
Hometown
QB
• Tom Savage, Rutgers
6-5
230
Springfield, Pa.
RB
• Dion Lewis, Pittsburgh
5-8
195
Albany, N.Y.
RB
Ryan Williams, Virginia Tech
5-10
206
Manassas, Va.
RB
LaMichael James, Oregon
5-9
180
Texarkana, Texas
WR
• Eric Page, Toledo
5-10
165
Toledo, Ohio
WR
• Alshon Jeffery, South Carolina
6-3
217
St. Matthews, S.C.
TE
• Orson Charles, Georgia
6-3,
230
Tampa, Fla.
OL
• David DeCastro, Stanford
6-5
310
Bellevue, Wash.
OL
Aaron Douglas, Tennessee
6-6
282
Maryville, Tenn.
OL
Braden Hansen, Brigham Young
6-6
300
Sandy, Utah
OL
Tanner Hawkinson, Kansas
6-6
285
McPherson, Kan.
OL
Barrett Jones, Alabama
6-5
280
Memphis, Tenn.
DEFENSE
Pos.
Player, School
Ht.
Wt.
Hometown
DE
Nick Perry, USC
6-3
250
Detroit, Mich.
DE
Aldon Smith, Missouri
6-5
255
Raytown, Mo.
DT
Scott Vallone, Rutgers
6-3
270
Central Islip, N.Y.
DT
Jerel Worthy, Michigan State
6-3
270
Huber Heights, Ohio
LB
• Chris Borland, Wisconsin
5-11
235
Kettering, Ohio
LB
• Vontaze Burfict, Arizona State
6-3
245
Corona, Calif.
LB
• Luke Kuechly, Boston College
6-3
225
Cincinnati, Ohio
LB
Brian Wagner, Akron
6-2
220
Springfield, Ohio
CB
• Josh Robinson, UCF
5-10
189
Sunrise, Fla.
CB
Bryan Willis, Troy
5-9
180
Columbus, Ga.
S
John Boyett, Oregon
5-10
190
Napa, Calif.
S
• Shamiel Gary, Wyoming
6-1
210
Tulsa, Okla.
SPECIALISTS
Pos.
Player, School
Ht.
Wt.
Hometown
P
Tress Way, Oklahoma
6-1
215
Tulsa, Okla.
K
• Nick Ferrara, Maryland
6-0
200
Hicksville, N.Y.
PR
• Greg Reid, Florida State
5-9
175
Valdosta, Ga.
KR
• Warren Norman, Vanderbilt
5-9
180
Stone Mountain, Ga.
HEAD COACH
Chip Kelly, Oregon
• Denotes true freshman
The Football Writers Association of America, a non-profit organization founded in 1941, consists of more than 1,100 men and women across North America who cover college football for a living. The membership includes journalists, broadcasters and publicists, as well as key executives in all the areas that involve the game. The FWAA works to govern areas that include gameday operations, major awards, a national poll and its annual All-America team.
For more information on the FWAA and its award programs, contact Executive Director Steve Richardson (972-713-6198, tiger@fwaa.com) or visit the association's official website, footballwriters.com.
All-Time FWAA Freshman All-America Teams
• 2001 | 2002 | 2003 | 2004 | 2005 | 2006 | 2007 | 2008 | 2009
2009 FWAA FRESHMAN ALL-AMERICA COMMITTEE
Marc Anderson
Las Vegas Review Journal
Mountain West
Marc Blaudschun
Boston Globe
ACC
Mike Griffith
Knoxville News Sentinel
SEC
Blair Kerkhoff
Kansas City Star
Big 12
Paul Letlow
Scout.Com
Sun Belt
Brian Murphy
Idaho Statesman
WAC
Dave Ruthenburg
MAC Report Online
MAC
George Schroeder
Eugene Register-Guard
Pacific-10
Phil Stukenborg
Memphis Commercial Appeal
Conference USA
Donnie Webb
Syracuse Post-Standard
Big East
Kent Youngblood
Minneapolis Star Tribune
Big Ten