DALLAS (FWAA) – Navy's Zerbin Singleton is the winner of the FedEx Orange Bowl-FWAA Courage Award. Singleton, a senior slotback, overcame a troubled background to win an appointment to the Naval Academy, and is on track to reach his ultimate goal of becoming an astronaut. Last month, he was named Brigade Commander for the second semester.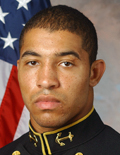 Zerbin Singleton
Singleton will be presented with the award at the FedEx Orange Bowl on Jan. 3. He will also be recognized at the Orange Bowl coaches' luncheon Jan. 2.
"I am honored and humbled to be selected for this award," Singleton said. "All the credit goes to God and my family."
Singleton didn't know his father until he was a senior in high school; a year later, his father committed suicide. Singleton had been living with cousins in Decatur, Ga., since he was 11, when he left his home in Alaska because his mother went to jail for a parole violation.
Wanting to pursue military aviation and his dream of becoming an astronaut, Singleton was accepted by the Naval Academy and the Air Force Academy, and chose the Navy because of the potential to "land on a carrier, in pitch black, while it's tilting left and right," he told SI.com.
But Singleton's dream was deferred when he was hit by a drunk driver one week before he was scheduled to graduate high school (as valedictorian). A broken collarbone meant he couldn't go through Navy's plebe summer, and couldn't enroll. But after a year at Georgia Tech, Singleton transferred to Navy. He's been a two-year starter. He carries a 3.14 GPA in aerospace engineering.
Last month, Singleton received orders to begin training as a Marine pilot after the football season. As Brigade Commander, Singleton will be responsible for guiding and directing the daily activities of the Brigade of Midshipmen and act as the liaison between the Brigade and the senior leadership at the Academy.
Navy will play Utah in the San Diego County Credit Union Poinsettia Bowl on Dec. 20. Singleton's senior class is one win shy of tying the Class of 1909 for the most wins in school history.
Singleton rushed for 478 yards on 64 carries (a 7.5-yard average), with nine touchdowns. He had 10 catches for 199 yards, averaged 21.4 yards on kickoff returns and had 15 special-teams tackles. In his last four games, he rushed for more than 100 yards twice and scored eight touchdowns.
"Zerb is a great example of being able to do anything you want through hard work. His work ethic is something that I admire," senior slotback Reggie Campbell said earlier this year. "The guy has his phone number posted in the locker room and anybody on the team can call him at any time if they need anything thing. He will go the extra mile for anybody. He has a big heart and he is a genuine person."
Singleton was one of nine weekly Courage Award nominees this year, chosen by the Football Writers Association of America and the FedEx Orange Bowl. A blue-ribbon panel determined the winner from all of the nominees.
The Courage Award was created by ESPN The Magazine's senior writer Gene Wojciechowski, also a FWAA member. A select group of writers from the FWAA vote on the winner each year. The requirements for nomination include displaying courage on or off the field, including overcoming an injury or physical handicap, preventing a disaster or living through hardship.
Previous winners of the FWAA's Courage Award are Clemson's Ray Ray McElrathbey (2006), the Tulane football team (2005), Memphis' Haracio Colen (2004), San Jose State's Neil Parry (2003) and Toledo's William Bratton (2002).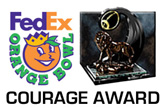 The Orange Bowl Committee is a not-for-profit, 309-member, primarily volunteer organization that exists as a self-sustaining, independent organization supporting and producing activities and events which enhance the image, economy and culture of South Florida. Among the OBC's core events are the Orange Bowl Festival, FedEx Orange Bowl and Orange Bowl Halftime Show, the MetroPCS Orange Bowl Basketball Classic, the WaMu Orange Bowl Fan Fest presented by the City of Miami, the Budweiser Orange Bowl Tailgate Party, Orange Bowl Youth Football Championships, Orange Bowl Cheer & Dance Championships, Orange Bowl Swim Classic, Orange Bowl International Tennis Championships and Orange Bowl Sailing Regatta Series.
For more information on the 2007-08 Orange Bowl Festival and its year-round schedule of events and promotions, log on to orangebowl.org, the official site for all Orange Bowl Committee news, tickets and apparel. The website also offers information on event tickets, the Orange Bowl Travel Network and experiencing the Orange Bowl Festival as a volunteer through the Ambassador Program.
The Football Writers Association of America, a non-profit organization founded in 1941, consists of nearly 1,000 men and women across North America who cover college football for a living. The membership includes journalists, broadcasters and publicists, as well as key executives in all the areas that involve the game. The FWAA works to govern areas that include game day operations, major awards, a national poll and its annual All-America team.
2007 Orange Bowl Courage Award Nominees
• Sept. 12: Brian Kajiyama, Hawaii
• Sept. 19: Terry Clayton, Kentucky
• Sept. 26: Danny Langsdorf, Oregon State
• Oct. 3: Lester Karlin, Virginia Tech
• Oct. 10: Zerbin Singleton, Navy
• Oct. 17: Ben Mauk, Cincinnati
• Oct. 24: Nic Harris, Oklahoma
• Oct. 31: Marcus Smith, New Mexico
• Nov. 7: Keegan Herring, Arizona State