DALLAS (FWAA) – New Mexico's Marcus Smith has been nominated for the FedEx Orange Bowl-FWAA Courage Award, to be announced at the end of the 2007 season. Smith, a senior wide receiver who leads the Mountain West in receptions and receiving yards, has overcome the death of his mother in September to help the Lobos contend for the Mountain West title.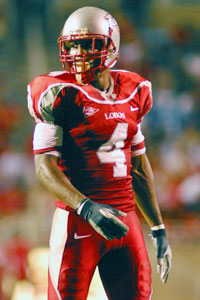 Marcus Smith
Sheila Smith, 52, died in her sleep of natural causes Sept. 16. A few hours earlier, Marcus Smith had 11 catches for 164 yards in New Mexico's 29-27 win at Arizona. Shortly afterward, Smith learned he would have to pay funeral expenses of approximately $6,000. Through a memorial fund, donors raised the money.
"I got a few letters from BYU fans – fans from a team that we have an intense rivalry with," Smith told The Associated Press. "I didn't expect that. Fans in Virginia, fans in northern California sent stuff. It was really, really shocking."
Smith credits his mother with insisting he remain at New Mexico when he wanted to transfer; he didn't want to move from tailback to receiver.
"She made me stay," Smith said. "Me being here and on track to graduate is all from her influence on me."
He leads the Mountain West in receptions (7.38 average) and receiving yards (90.4 average). The Lobos (6-2, 3-1) play at TCU on Saturday.
For the second straight year, the Football Writers Association of America and the FedEx Orange Bowl will announce a weekly nominee each Wednesday during the season. A blue-ribbon panel will determine the winner from all of the nominees. The winner of the FedEx Orange Bowl-FWAA Courage Award will be announced in December and be presented with the trophy.
The Courage Award was created by ESPN The Magazine's senior writer Gene Wojciechowski, also a FWAA member. A select group of writers from the FWAA vote on the winner each year. The requirements for nomination include displaying courage on or off the field, including overcoming an injury or physical handicap, preventing a disaster or living through hardship.
Previous winners of the FWAA's Courage Award are Clemson's Ray Ray McElrathbey (2006), the Tulane football team (2005), Memphis' Haracio Colen (2004), San Jose State's Neil Parry (2003) and Toledo's William Bratton (2002).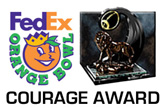 The Orange Bowl Committee is a not-for-profit, 309-member, primarily volunteer organization that exists as a self-sustaining, independent organization supporting and producing activities and events which enhance the image, economy and culture of South Florida. Among the OBC's core events are the Orange Bowl Festival, FedEx Orange Bowl and Orange Bowl Halftime Show, the MetroPCS Orange Bowl Basketball Classic, the WaMu Orange Bowl Fan Fest presented by the City of Miami, the Budweiser Orange Bowl Tailgate Party, Orange Bowl Youth Football Championships, Orange Bowl Cheer & Dance Championships, Orange Bowl Swim Classic, Orange Bowl International Tennis Championships and Orange Bowl Sailing Regatta Series.
For more information on the 2007-08 Orange Bowl Festival and its year-round schedule of events and promotions, log on to orangebowl.org, the official site for all Orange Bowl Committee news, tickets and apparel. The website also offers information on event tickets, the Orange Bowl Travel Network and experiencing the Orange Bowl Festival as a volunteer through the Ambassador Program.
The Football Writers Association of America, a non-profit organization founded in 1941, consists of more than 1,000 men and women across North America who cover college football for a living. The membership includes journalists, broadcasters and publicists, as well as key executives in all the areas that involve the game. The FWAA works to govern areas that include game day operations, major awards, a national poll and its annual All-America team.
2007 Orange Bowl Courage Award Nominees
• Sept. 12: Brian Kajiyama, Hawaii
• Sept. 19: Terry Clayton, Kentucky
• Sept. 26: Danny Langsdorf, Oregon State
• Oct. 3: Lester Karlin, Virginia Tech
• Oct. 10: Zerbin Singleton, Navy
• Oct. 17: Ben Mauk, Cincinnati
• Oct. 24: Nic Harris, Oklahoma
• Oct. 31: Marcus Smith, New Mexico
• Nov. 7: Keegan Herring, Arizona State