DALLAS (FWAA) – Arizona State's Keegan Herring has been nominated for the FedEx Orange Bowl-FWAA Courage Award, to be announced at the end of the 2007 season. Herring, a junior running back, is playing this season despite the deaths of three family members and a close friend in the last few months.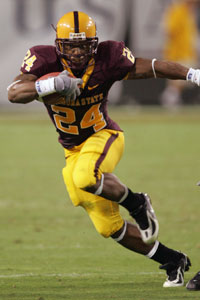 Keegan Herring
Herring's father, Freeman, died last February. Herring's sister, Denisha Washington, died last June. An aunt died two days later, and a friend soon after.
"Life is not easy right now," Herring told the Arizona Republic last August. "I'm trying to be there for my team, even though I'm still hurting inside."
Although Herring, who was a standout as a freshman in 2005, when he broke the Sun Devils' freshman rushing record, began the 2007 season as a backup, but when Ryan Torain was injured at midseason, he came through. He has 659 yards and four touchdowns as Arizona State has forged an 8-1 record.
"My dad always told me you've got the heart of a lion, so that's what I'm always carrying," Herring told the newspaper. "A lot of people say they've got to transport their mind to being hard, aggressive and thinking about the people they love that pass away. That's what I'm going to try to do – take all of my anger and my emotions and try to get it out. Just play football, but now I've got a little bit more heart into it."
For the second straight year, the Football Writers Association of America and the FedEx Orange Bowl will announce a weekly nominee each Wednesday during the season. A blue-ribbon panel will determine the winner from all of the nominees. The winner of the FedEx Orange Bowl-FWAA Courage Award will be announced in December and be presented with the trophy.
The Courage Award was created by ESPN The Magazine's senior writer Gene Wojciechowski, also a FWAA member. A select group of writers from the FWAA vote on the winner each year. The requirements for nomination include displaying courage on or off the field, including overcoming an injury or physical handicap, preventing a disaster or living through hardship.
Previous winners of the FWAA's Courage Award are Clemson's Ray Ray McElrathbey (2006), the Tulane football team (2005), Memphis' Haracio Colen (2004), San Jose State's Neil Parry (2003) and Toledo's William Bratton (2002).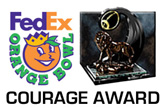 The Orange Bowl Committee is a not-for-profit, 309-member, primarily volunteer organization that exists as a self-sustaining, independent organization supporting and producing activities and events which enhance the image, economy and culture of South Florida. Among the OBC's core events are the Orange Bowl Festival, FedEx Orange Bowl and Orange Bowl Halftime Show, the MetroPCS Orange Bowl Basketball Classic, the WaMu Orange Bowl Fan Fest presented by the City of Miami, the Budweiser Orange Bowl Tailgate Party, Orange Bowl Youth Football Championships, Orange Bowl Cheer & Dance Championships, Orange Bowl Swim Classic, Orange Bowl International Tennis Championships and Orange Bowl Sailing Regatta Series.
For more information on the 2007-08 Orange Bowl Festival and its year-round schedule of events and promotions, log on to orangebowl.org, the official site for all Orange Bowl Committee news, tickets and apparel. The website also offers information on event tickets, the Orange Bowl Travel Network and experiencing the Orange Bowl Festival as a volunteer through the Ambassador Program.
The Football Writers Association of America, a non-profit organization founded in 1941, consists of more than 1,000 men and women across North America who cover college football for a living. The membership includes journalists, broadcasters and publicists, as well as key executives in all the areas that involve the game. The FWAA works to govern areas that include game day operations, major awards, a national poll and its annual All-America team.
2007 Orange Bowl Courage Award Nominees
• Sept. 12: Brian Kajiyama, Hawaii
• Sept. 19: Terry Clayton, Kentucky
• Sept. 26: Danny Langsdorf, Oregon State
• Oct. 3: Lester Karlin, Virginia Tech
• Oct. 10: Zerbin Singleton, Navy
• Oct. 17: Ben Mauk, Cincinnati
• Oct. 24: Nic Harris, Oklahoma
• Oct. 31: Marcus Smith, New Mexico
• Nov. 7: Keegan Herring, Arizona State