MORGANTOWN, W. Va. (NCBWA) – The National Collegiate Baseball Writers Association (NCBWA) released its Dick Howser Trophy National Player of the Week awards presented by The Game Headwear for the period ending Feb. 26. Florida sophomore LHP/1B Jac Caglianone and LSU junior outfielder Dylan Crews were named National Co-Hitters of the Week, while Ball State junior right-handed relief pitcher Ryan Brown and Bryant junior right-handed pitcher Coleman Picard were named National Co-Pitchers of the Week. The NCBWA Board reviews candidates from each Division I Conference and names winners each Tuesday throughout the season.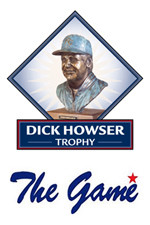 Caglianone had 10 hits last week, including six home runs, one double, 10 RBI, eight runs and two walks vs. South Florida and Cincinnati. He launched three home runs in the series finale vs. Cincinnati while also starting on the mound for the Gators on Sunday. The Tampa, Florida native, pitched 4 2/3 innings in the start, allowing two earned runs while striking out six Bearcats. His efforts at the plate helped Florida set a program record with eight home runs in a single game.
Crews recorded 10 hits last week and batted .714 in the Tigers' four games last week with three doubles, seven RBI and nine runs scored. He was voted the MVP of the Round Rock Classic, leading LSU to the tournament title. The Longwood, Florida native, batted .692 (9-for-13) in three games at Round Rock with three doubles, seven RBI and six runs. In the Tigers' 16-4 win over Sam Houston on Sunday that clinched the tournament championship, Crews was 5-for-6 at the plate with three doubles, four RBI and four runs.
Brown was electric on the mound for the Cardinals. He made two appearances in relief. The Harrison Township, Michigan native, picked up two wins in 6 1/3 innings of work. He finished the week with 17 strikeouts and just one walk. Against Canisius, he struck out 12 of the 13 batters he faced. He did not give up a hit. For the weekend, he faced 20 batters and struck out 17.
Making just his second collegiate start, Picard struck out 12 Virginia Tech batters and walked just one over 5.0 innings. The Auburn, Massachusetts native allowed one run on three hits as the Bulldogs beat the Hokies, 7-3. He struck out the side in three of the five innings he pitched, including the first when he struck out three straight batters to strand runners on second and third.
Founded in 1962, the NCBWA is dedicated to the advancement of college baseball. Membership is open to writers, broadcasters and publicists of the sport. For more information about the NCBWA, visit the association's official Web site, ncbwa.com. For more information, contact NCBWA Executive Associate Director Mike Montoro (304-293-2821, mike.montoro@mail.wvu.edu).