OMAHA (FWAA) – Seven semifinalists for the 2023 Outland Trophy – five offensive linemen and two defensive tackles – were announced Wednesday by the Greater Omaha Sports Committee. The semifinalists are each from different schools within three conferences and Notre Dame and represent all four positions eligible for the award.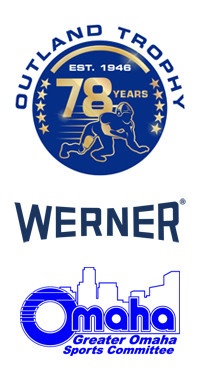 The 2023 Outland Trophy is awarded annually to the nation's best college interior lineman on offense or defense. The All-America Committee of the Football Writers Association of America selected the semifinalists.
The semifinalists will be pared to three finalists on Tue., Nov. 28. The recipient of the 2023 Outland Trophy will be announced on The Home Depot College Football Awards, live on ESPN on Dec. 8 at 7 p.m. ET. The official presentation to the winner will be made at the Outland Trophy Awards Dinner sponsored by Werner Enterprises and produced by the Greater Omaha Sports Committee in Omaha, Neb., on Jan. 10, 2024.
The field for the 2023 Outland Trophy is as follows: offensive tackle Joe Alt of Notre Dame, guard Cooper Beebe of Kansas State, offensive tackle Taliese Fuaga of Oregon State, defensive tackle Jer'Zhan Newton of Illinois, center Jackson Powers-Johnson of Oregon, defensive tackle T'Vondre Sweat of Texas and guard Zak Zinter of Michigan.
Alt, Powers-Johnson, Sweat and Zinter have previous Outland Trophy winners at their respective schools that combine for eight previous awards. Michigan's Zinter follows 2022 Outland Trophy winner and former teammate Olusegun Oluwatimi as a semifinalist. Beebe and Fuaga are their school's first Outland Trophy semifinalists. Newton would also be Illinois' first winner.
Here is a glance at the seven semifinalists:
Joe Alt, OT, Notre Dame (#76, 6-8, 322, Jr., North Oaks, Minn.): One of the steadiest players in the country and a 2022 Second Team FWAA All-American, Alt is the second-ranked offensive tackle in the nation per Pro Football Focus having given up just one sack and four quarterback pressures among 314 pass-blocking assignments this season. The team captain has guided the Notre Dame front to produce the 16th-best scoring offense (36.8 ppg) and Alt has assisted in putting running back Audric Estime on the cusp (988 rushing yards, 20th nationally) of being just the 13th Notre Dame player to rush for 1,000 yards in a season. Alt was the Outland Trophy National Player of the Week following the Sept. 16 win over Central Michigan in which the Irish gained 578 total yards and 236 rushing yards.
Notre Dame has a rich history with the Outland Trophy with three previous winners – defensive end Ross Browner (1976), guard Bill Fischer (1948) and tackle George Connor (1946). The Irish have recent finalists in offensive tackle Liam Eichenberg (2020) and guard Quenton Nelson (2017), as well as three offensive tackle semifinalists prior to that – Mike McGlinchey (2017), Ronnie Stanley (2015) and Aaron Taylor (1993).
Cooper Beebe, OG, Kansas State (#50, 6-4, 335, Sr., Kansas City, Kan.): Beebe is already a decorated player as last season's Big 12 Offensive Lineman of the Year and a two-time 1st Team All-Big 12 selection (2021, 2022). But he has surpassed that in 2023, becoming Kansas State's first Outland Trophy semifinalist as well as a finalist for the William V. Campbell Trophy, the National Football Foundation's so-called "Academic Heisman." Beebe is the backbone of a Kansas State offense that has scored at least 38 points in nine of its last 12 regular-season contests dating back to last season. The Wildcats average 202.1 rushing yards per game, the 14th-best mark nationally heading into this weekend. He had a string of 1,042 pass blocking plays without a sack end just three weeks ago, a 36-game streak dating back to 2020. Beebe was the Outland Trophy National Player of the Week following the Oct. 14 win over TCU that saw the 'Cats gain 587 total yards.
Taliese Fuaga, OT, Oregon State (#75, 6-6, 334, Jr., Tacoma, Wash.): Fuaga represents the first Outland Trophy semifinalist in Oregon State's history. He's a two-year starter at right tackle and a team captain who PFF ranks as the nation's No. 1 overall offensive lineman and its No. 1 run blocker. Not surprisingly, Fuaga leads PFF's top-ranked run-blocking team. The line's play has allowed running back Damien Martinez to eclipse the 1,000-yard mark (1,024 yards) as the 18th back to do so in school history. The line also has the Beavers with a 97-percent success rate in the red zone, second in the nation.
Jer'Zhan Newton, DT, Illinois (#4, 6-2, 295, Jr., St. Petersburg, Fla.): A constant force in the middle of Illinois' defense, Newton is the national leader in quarterback pressures among interior defensive linemen with 39 according to PFF and leads all FBS defensive tackles in snaps played at 61.1 per game. He would be Illinois' first Outland Trophy winner. He has two standout games with seven pressures against Wisconsin and six against then-No. 7 Penn State. Newton is sixth on Illinois' season tackles chart with 42 and leads the Illini with 6.5 tackles for loss. He is also a special teams force with three blocked kicks this season, tied for the national lead.
Illinois has not had an Outland Trophy winner in its past but its only previous semifinalist (and later a finalist) was also a defensive tackle in Moe Gardner from the 1989 season.
Jackson Powers-Johnson, C, Oregon (#58, 6-3, 320, Jr., Draper, Utah): The center for one of the country's top offenses, Powers-Johnson is second among all FBS centers with a 90.4 pass-blocking grade per PFF. His run-blocking grade is fourth among centers nationally, and he is fifth in overall grade. He moved to center after playing primarily guard in 2002. The Ducks' line has given up only four sacks this season, tops in the country, and leads the nation in scoring offense (46.3 ppg) while ranking second in total offense (540.0 ypg). The O-line has also paved the way for a rushing attack that is 16th nationally with 201.3 yards per game.
Oregon has a recent Outland Trophy winner in offensive tackle Penei Sewell from 2019. Offensive tackle Jake Fisher was the Ducks' last semifinalist in 2014, and defensive tackle Haloti Ngata was a finalist in 2005.
T'Vondre Sweat, DT, Texas (#93, 6-4, 362, Sr., Huntsville, Texas): Known for his quickness despite an large, imposing frame, in 10 games this season Sweat has established career highs with 35 total tackles, 15 solo tackles, 7.5 tackles for loss and two sacks, one of which came in the critical win at Alabama. With Sweat providing pressure in the middle, Texas leads the Big 12 and is second in the nation in third-down defense, allowing foes to convert only 26.5 percent of their opportunities. Texas held four consecutive opponents – Houston, BYU, Kansas State and TCU – under 100 rushing yards recently, its longest such streak since 2018. They've done it six times this season.
Texas has three previous Outland Trophy winners in its past but none since 1977. Defensive tackle Brad Shearer was the choice that year, preceeded by lineman Tommy Nobis in 1965 and tackle Scott Appleton in 1963. The Longhorns' last semifinalist was offensive tackle Connor Williams in 2016, and the last semifinalist on defense was tackle Malcolm Brown in 2014. Like Sweat, every one of Texas' previous semifinalists, finalists or winners were native Texans.
Zak Zinter, RG, Michigan (#65, 6-6, 322, Sr., North Andover, Mass.): The Wolverines' team captain has been a part of two consecutive Joe Moore Award-winning lines and a semifinalist for this year's award as well. Michigan's line is fifth nationally in fewest tackles for loss allowed (3.6 avg) and 16th in sacks giving up only 1.2 per game. The line has yielded just 12 sacks and 36 total TFL's in 616 snaps in 2023, helping the offense average 39.0 points per game. Zinter, who was a semifinalist for the NFF's William V. Campbell Award, has 39 career starts.
Michigan center Olusegun Oluwatimi won the 2022 Outland Trophy, and all four of the Wolverines' previous candidates came from the offensive line. Jake Long, an offensive tackle, was its most recent finalist from 2007. Center David Bass (2004) and offensive tackle Greg Skrepenak (1991) were also prior finalists.
The Outland Trophy, celebrating 78 years since its founding, is the third-oldest major college football award. Created in 1946 when Dr. John Outland presented the FWAA with a financial contribution to initiate the award, the Outland Trophy has been given to the best interior lineman in college football ever since. Dr. Outland, an All-American at the University of Pennsylvania in the late 1890s, eventually took up practice in Kansas City, Mo. An avid outdoorsman, Dr. Outland believed linemen did not get the credit they deserved and wanted an award to recognize them.
The Outland Trophy is a member of the National College Football Awards Association. Founded in 1997, the NCFAA includes college football's most prestigious awards and its 24 awards have honored more than 900 recipients dating back to 1935. This season, 12 NCFAA awards will honor national players of the week each Tuesday. For more information about the NCFAA and its award programs, visit the redesigned NCFAA.org or follow on Twitter at @NCFAA.
Werner Enterprises, Inc. delivers superior truckload transportation and logistics services to customers across the United States, Mexico and Canada. With 2022 revenues of $3.3 billion, an industry-leading modern truck and trailer fleet, more than 14,000 talented associates and our innovative Werner EDGE technology, we are an essential solutions provider for customers who value the integrity of their supply chain and require safe and exceptional on time service. Werner provides Dedicated and One-Way Truckload services as well as Logistics services that include 1truckload brokerage, freight management, intermodal and final mile. As an industry leader, Werner is deeply committed to promoting sustainability and supporting diversity, equity and inclusion. Werner Enterprises common stock trades on the NASDAQ Global Select Market under the symbol "WERN." For further information about Werner, visit the company's website at werner.com.
The Greater Omaha Sports Committee, founded in 1977, is a 501(c)3 non-profit organization, consisting of more than 1,300 men and women from the City of Omaha, the State of Nebraska, and others. The Committee serves to communicate, develop, initiate and promote sports activities in the Greater Omaha sports area. In addition to the Outland Trophy Award Events and Dinner, the Greater Omaha Sports Committee promotes high school, college, and professional sports in the Greater Omaha area and the Midwest. For more information contact Bob Mancuso Jr., Chairman at bmancuso@showofficeonline.com or see showofficeonline.com.
Founded in 1941, the Football Writers Association of America consists of 1,300 men and women who cover college football. The membership includes journalists, broadcasters and publicists, as well as key executives in all the areas that involve the game. The FWAA works to govern areas that include game-day operations, major awards and its annual All-America team. For more information about the FWAA and its award programs, contact Steve Richardson at tiger@fwaa.com.