DALLAS (FWAA) – The Football Writers Association of America has released a list of top candidates for the Steve Spurrier First-Year Coach of the Year Award, Freshman Player of the Year and the 2023 FWAA Freshman All-America Team. The Steve Spurrier First-Year Coach Award, presented by Chris Doering Mortgage, goes to the best first-year coach (at his school) in FBS football.
The recipients of the Steve Spurrier First-Year Coach of the Year, the FWAA Freshman of the Year and a Spurrier Legends Coach awardee will be honored at a special reception in February in Gainesville, Fla.
Some of the leading candidates for the First-Year Coach Award include: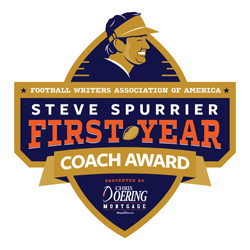 Zach Arnett, Mississippi State: Arnett enters his first season leading a program in a conference division full of veteran coaches, as Nick Saban, Jimbo Fisher, Brian Kelly and Lane Kiffin will all challenge the young coach's aggressive defensive schemes. Arnett's defense has certainly proved up to the challenge as MSU boasted one of the Southeastern Conference's top-five defenses each season with Arnett as its defensive coordinator from 2020-22 prior to his promotion. Arnett must prepare his team quickly with LSU, South Carolina and Alabama on the schedule in Weeks 3-5.
Jeff Brohm, Louisville: Brohm will try to bring the explosive passing attack he coined at Purdue to Louisville in 2023. The Boilermakers' passing game was top-two in the Big Ten Conference during Brohm's last five years with the team. The Cardinals yearn for a boost through the air after finishing 2022 with the third-lowest passing yards per game in the ACC at 205.5. A former Louisville quarterback now coaching his alma mater, Brohm will look to replace four-year starter Malik Cunningham under center. A lighter schedule containing just one currently-ranked opponent could ease Brohm's transition.
Jamey Chadwell, Liberty: Chadwell put himself and Coastal Carolina in the spotlight in 2020 when he led the program to an 11-1 season that caught the nation's attention. Chadwell led the Chanticleers to their first top 25 ranking, the school's first win over a ranked opponent and the school's first bowl bid. Coastal Carolina's offense peaked the following season averaging 40 points per game en route to the program's first bowl win. Chadwell will try to spark a Liberty offense that was a mediocre 66th in total offense in the FBS last season. The Flames, who join Conference USA this year, expect to challenge for the conference title.
Trent Dilfer, UAB: Plenty of eyes will be on Dilfer this season coming straight from the high school coaching ranks into a first-time college head coaching position. Dilfer, a Super Bowl champion and former Pro Bowl quarterback, has succeeed in every position he's taken since his 14-year NFL career ended. Most recently he coached Lipscomb Academy in Nashville to back-to-back state championships and a 26-1 mark in the last two seasons of his four-year tenure, his first as a head coach. He won a Sports Emmy in 2012 as an analyst at ESPN and also helped establish the Elite 11 Academy in 2009 - his alumni there include 27 of the 32 current NFL starting quarterbacks and 14 of the past 15 Heisman Trophy winners. Can he translate that success into leading a college program? An interesting Sept. 23 date at two-time national champion Georgia awaits.
Kenny Dillingham, Arizona State: At 32 years old, Dillingham is the youngest head coach in the country but the Arizona State grad still brings a wide variety of experience. Dillingham served as offensive coordinator at Memphis, Auburn, Florida State and Oregon before taking his first head coaching job in Tempe. Dillingham's effect on Oregon was particularly efficient, as the Ducks went from 52nd in national total offense to sixth in his first season. Dillingham will try to bring that high-octane attack to a Sun Devil team that averaged just 387 yards per game last season. Plenty will be learned about Dillingham's progress when Arizona State hosts USC in Week 4.
Luke Fickell, Wisconsin: Fickell's physicality and hard-nosed defensive scheme appear primed for Wisconsin's roster. The Badgers averaged 179.8 rush yards per game last season and will return one of the top running backs in college football in Braelon Allen. The former FWAA Freshman All-American amassed 1,242 yards and 11 touchdowns on 230 carries last season, a 5.4 yards-per-carry average. Fickell will also look to lead the Wisconsin defense back to being the Big Ten standard. The Badgers led the conference in total defense in 2020 and 2021 before falling to sixth last season. A schedule listing just two preseason-ranked teams could give Fickell a strong shot at 10 wins in his first year.
Hugh Freeze, Auburn: Freeze returns to the SEC looking to revive a dormant Auburn offense that averaged just 24.8 points last season, good for 11th in the conference. The 13-year head coach has turned around offenses before, once turning Ole Miss around with an explosive offense before turning Liberty into a nationally-recognized program with a 10-1 record and its first-ever top 25 ranking in 2020 and the school's first win over an SEC school at Arkansas last season. The first three programs Freeze took over each had winning seasons and bowl bids in his first season. The Tigers will need to follow suit as four consecutive ranked opponents start their conference schedule.
Brent Key, Georgia Tech: Key is coming off a solid finish to the 2022 season after leading Georgia Tech to a 4-4 record as interim head coach. The Yellow Jackets won more games under Key than any of their previous three seasons. The first-time head coach looks to electrify an offense that averaged just 17.2 points per game last season, second-lowest in the ACC. Key, a former Georgia Tech guard, is working against the clock. The Yellow Jackets open with ACC foe Louisville before visiting No. 22 Ole Miss and Wake Forest in Weeks 3 and 4.
Matt Rhule, Nebraska: Rhule is well-accomplished in resuscitating struggling teams but it hasn't come in his initial seasons at the schools. Rhule left Temple after consecutive 10-win seasons and left Baylor after an 11-win season with a Sugar Bowl berth, but his first seasons at Temple and Baylor ended in 2-10 and 1-11 records, respectively. Rhule figures to have much more talent at his disposal this time around, especially after signing 28 freshmen with 14 transfers. The learning curve is stiff for the Cornhuskers, though, who visit conference foe Minnesota for a primetime Thursday night season opener. Nebraska also hosts Michigan before the end of September.
Deion Sanders, Colorado: Sanders' work is certainly cut out for him with a Colorado team that finished 1-11 last season. The Buffaloes allowed the most yards (509.8) and points (44.5) per game in the Pac-12 Conference, making the legendary cornerback's defensive influence vital. Sanders' effect on his previous program, Jackson State, was both immense and immediate. The Tigers allowed 85 fewer passing yards per game in 2022 than they did in Sanders' first season. Sanders also brought a complete makeover to the Colorado roster with more than 50 newcomers in Boulder. The new Buffaloes have plenty of chances to impress early with TCU, Nebraska, Oregon and USC all on tap in September.
Scott Satterfield, Cincinnati: Leading programs through realignment is no foreign concept for Satterfield, who will usher Cincinnati into the Big 12 Conference this fall after guiding App State into the FBS in 2014. Satterfield led the Mountaineers to a 7-5 record that year before three double-digit-win seasons in the next four. Cincinnati fans have been treated to unprecedented success of late and will hunger for a fast start to Power 5 competition. Satterfield's Bearcats have just one currently-ranked opponent on their schedule but the jump to a Big 12 slate should challenge the team plenty
in 2023.
Here's a list of every coach eligible for the Steve Spurrier First-Year Coach of the Year Award:
Zach Arnett, Mississippi State
Tim Beck, Coastal Carolina
Jeff Brohm, Louisville
Kenni Burns, Kent State
Jamey Chadwell, Liberty
Trent Dilfer, UAB
Kenny Dillingham, Arizona State
Luke Fickell, Wisconsin
Hugh Freeze, Auburn
Tom Herman, Florida Atlantic
Alex Golesh, South Florida
Brent Key, Georgia Tech
G. J. Kinne, Texas State
Eric Morris, North Texas
Barry Odom, UNLV
Biff Poggi, Charlotte
Brian Newberry, Navy
Matt Rhule, Nebraska
Deion Sanders, Colorado
Scott Satterfield, Cincinnati
Lance Taylor, Western Michigan
Troy Taylor, Stanford
Ryan Walters, Purdue
Kevin Wilson, Tulsa
The FWAA Freshman Player of the Year, presented by Chris Doering Mortgage, is awarded to the top freshman in college football. The 2023 FWAA Freshman All-America Team highlights the best college football freshmen at every position covering all 10 FBS conferences plus independents.
Here are capsules on some of the top preseason candidates for Freshman Player of the Year and the FWAA Freshman All-America Team:
RB CJ Baxter, Texas: Baxter and his fellow Texas running backs will look to fill a massive vacuum left by star backs Bijan Robinson and Roschon Johnson. Baxter will have to beat several returners for significant snaps but is the highest-rated recruit in the room. The Longhorns will certainly lean on Baxter if he earns a crucial role as the run game has been vital to Steve Sarkisian's offense since he took over in 2021. The new Longhorn ground game will be tested early when it travels to No. 4 Alabama on Sept. 9.
DB Peyton Bowen, Oklahoma: One of the top-ranked safeties in the 2023 class, Bowen will compete for immediate playing time somewhere in the Oklahoma secondary. The Denton, Texas, product displayed strong run and pass defense in high school tallying over 200 tackles with 12 interceptions in his last three seasons. Bowen will aim to boost a Sooners defense that finished second-to-last in total defense in the Big 12 last season. Oklahoma's Big 12 opener is at Big 12 newcomer Cincinnati on Sept. 23.
DB Caleb Downs, Alabama: Downs will look to join former Alabama defensive backs like Marlon Humphrey, Patrick Surtain II and Terrion Arnold as an FWAA Freshman All-American this season. The true freshman's 269 total tackles and 19 interceptions in high school helped him earn a consensus five-star rating. Downs has a strong chance to start for the Crimson Tide after they lost both starting safeties to the NFL Draft. The Hoschton, Ga. product will look to uphold an iron-clad standard for an Alabama secondary that allowed just 186 yards per game in 2022. Downs and the new defensive backs will be tested early when No. 11 Texas' loaded pass game comes to Tuscaloosa on Sept. 9.
OL Francis Mauigoa, Miami: Mauigoa is exactly the type of top-shelf prospect that head coach Mario Cristobal was hired to sign. The true freshman's value is even higher than his consensus five-star rating considering the Hurricanes are looking to replace several starting linemen from 2022. The 6-foot-6, 315-pounder has a strong chance to start week one but will have to fend off fellow five-star freshman Samson Okunlola. Mauigoa will look to help a Miami offense that finished ninth in total offense in the ACC last season. The Ili'ili, American Samoa, product will face his first major challenge when a talent-stacked Texas A&M defensive line visits on Sept. 9.
QB Dante Moore, UCLA: Moore is in a unique situation for a freshman quarterback in the transfer portal era. The consensus five-star player is battling in a wide-open QB competition, perfect for a high-rated freshman to claim the job. The 2023 All-American Bowl MVP was a four-year starter at Martin Luther King High School in Detroit, totaling 9,880 yards passing, 135 touchdowns and just 20 interceptions. He would be UCLA's first true freshman to start week one at quarterback since Josh Rosen in 2015.
QB Jaden Rashada, Arizona State: Rashada's electric dual-threat abilities earned him being named as the starter in week one under new head coach Kenny Dillingham. The true freshman exploded his junior year of high school, throwing for 5,816 yards and 80 touchdowns with 592 yards and nine more scores on the ground. Rashada, a consensus four-star player, could pair very well with Dillingham, whose offense at Oregon averaged over 500 yards per game last season. The Pittsburgh, Calif., native will get plenty of reps against top competition as the Sun Devils have four teams currently ranked in the top 15 on their conference slate.
DT Peter Woods, Clemson: Woods aims to dominate at Clemson as he did at Thompson High School in Alabaster, Ala., where he won four consecutive Alabama 7A state championships. Woods compiled 260 tackles and 29.5 sacks in high school and showed tremendous versatility, lining up at tackle and end. The 6-foot-2, 315-pounder's flexibility combined with a lack of returning starters on the defensive front should offer him plenty of opportunities to impact the defense. Woods will be charged with maintaining a stout Tigers run defense that has finished top two in the ACC for six straight years.
For more information on attending or sponsoring the February 2024 reception please contact Tricia Garzon of the JAG Agency at 352-214-2331.
Chris Doering Mortgage, based in Gainesville, Fla., was established in April 2007 as a residential lending company providing mortgage products including conventional, FHA, USDA and VA loans. The branch is a division of MortgageAdvisors.com – 3940 NW 16th Blvd., Suite A, Gainesville, FL 32605 – NMLS 70168/1937321. FHA Lender ID 2631500094. For more information, visit www.ChrisDoeringMortgage.com. College Football analyst Chris Doering, a former player for Coach Spurrier both in college and professionally, serves as the branch manager.
Founded in 1941, the Football Writers Association of America consists of journalists, broadcasters, publicists, photographers and key executives in all areas of college football. The FWAA works to govern media access and gameday operations while presenting awards and honors, including an annual All-America team. For more information about the FWAA and its programs and initiatives, contact Executive Director Steve Richardson at 214-870-6516 or tiger@fwaa.com.