DALLAS (FWAA) — Clemson's Jeff Davis has been named the recipient of the 2023 Bronko Nagurski Legends Award and will be honored at the Bronko Nagurski Awards Banquet on Dec. 4 at the Charlotte Convention Center.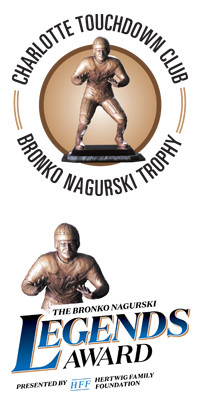 The Bronko Nagurski Trophy, which is awarded to the top defensive player in college football each year, is announced by the Charlotte Touchdown Club and the Football Writers Association of America at the same event.
Davis, a standout linebacker, was a member of the 1981 FWAA All-America team and part of the Tigers' national championship run that season. The Bronko Nagurski Legends Award recipient each year is a player chosen from a past FWAA All-America team.
The FWAA and the CTC have presented the Nagurski Legends Award since the 2007 season. Previous recipients include such standouts as Notre Dame's Alan Page, Michigan State's Bubba Smith, Miami, Fla.'s Ted Hendricks, Florida's Jack Youngblood, Maryland's Randy White, Ohio State's Tom Cousineau, UCLA's Jerry Robinson and Texas' Johnnie Johnson.
"Jeff Davis was one of the most prolific linebackers in Atlantic Coast Conference history," said Steve Richardson, FWAA Executive Director. "In the Tigers' 22-15 victory in the 1982 Orange Bowl (1981 season), he had 14 tackles as Clemson won its first national title during his senior season. Davis and his family have been an important part of the Tigers' athletic program for more than four decades."
That same 1981 season Davis became only the third defensive player to claim league MVP honors when he registered 175 tackles.
From 1978-81 Davis played 40 games for the Tigers and had 469 career tackles. He made big plays galore: 16 pass breakups, 18 tackles for loss, four sacks and four interceptions. He posted double figures in tackles in 22 of his last 23 collegiate games. He had 30 double-figure tackle games and led Clemson in tackles 25 times.
He was as consistent as a professional as he was as a Tiger.
Drafted in the fifth round by Tampa Bay in 1982, Davis played six seasons in the NFL. Of his 83 games for the Bucs, 72 were as a starter between 1982-87. In three of the six years, including a career-high 165 stops in 1984, he led Tampa in tackles. Davis served as team captain for four seasons .
He later returned to Clemson in 1999 and now is in his 15th year as Assistant Athletic Director of Football Player Relations and External Affairs. Six years prior to taking his current position, Davis was Assistant Athletic Director for Major Gifts at Clemson.
In 2002 he was named to the ACC's 50-year Anniversary Team before being inducted into the College Football Hall of Fame in 2007.
Founded in 1941, the Football Writers Association of America consists of journalists, broadcasters, publicists, photographers and key executives in all areas of college football. The FWAA works to govern media access and game-day operations while presenting awards and honors, including an annual All-America team. For more information about the FWAA and its programs and initiatives, contact Executive Director Steve Richardson at 214-870-6516 or tiger@fwaa.com.
About the Charlotte Touchdown Club
The Charlotte Touchdown Club is a 501(c)3 non-profit organization founded in 1990 for the purpose of promoting high school, collegiate, and professional football in the Charlotte, North Carolina region. Since its inception, the club has grown as well as diversified, boasting a sponsor team of more than (80) companies. The Club's activities and services focus community attention on the outstanding Citizenship, Scholarship, Sportsmanship and Leadership of area athletes and coaches. Through individual and corporate support, nearly $3,000,000 has been raised and donated to benefit the Touchdown Club's scholarship efforts. For more information call 704-347-2918 or go to touchdownclub.com.