CHARLOTTE, N.C. (FWAA) – Pitt's Hugh Green, a two-time member of the FWAA All-America Team, has been named the 2022 recipient of the Bronko Nagurski Legends Award and will be honored at the Bronko Nagurski Awards Banquet presented by LendingTree on Dec. 5 at the Charlotte Convention Center.
The Bronko Nagurski Trophy, which is awarded to the top defensive player in college football each year, is announced by the Charlotte Touchdown Club and the Football Writers Association of America at the same event.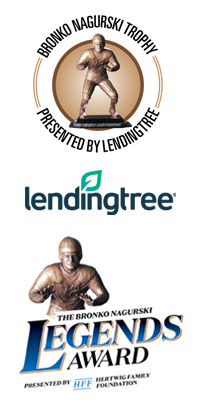 Green, a 6-2, 225-pound end in college, played at Pitt from 1977-80 and was a member of the FWAA's All-America team his final two seasons with the Panthers. The Legends Award recipient is chosen from past FWAA All-America teams.
The FWAA and CTC have presented the Nagurski Legends Award since the 2007 season. Previous recipients include such standouts as Notre Dame's Alan Page, Michigan State's Bubba Smith, Miami, Fla.'s Ted Hendricks, Florida's Jack Youngblood, Maryland's Randy White, Ohio State's Tom Cousineau, UCLA's Jerry Robinson and Texas' Johnnie Johnson.
"Hugh Green was a dynamic rusher and defensive mainstay for the powerhouse Pittsburgh teams of that era," said Steve Richardson, FWAA Executive Director. "As one observer put it, 'He was to Pitt's defense what Tony Dorsett was to the Panthers' offense.'
Really from the very beginning. In his 1977 debut against eventual national champion Notre Dame, Green had 11 tackles, two sacks and blocked a punt. Green had 49 sacks during his career at Pitt.
In 1980, Green, from Nachez, Mississippi, claimed the Maxwell Award as the nation's most outstanding player and the Lombardi Award as the nation's top lineman. He finished second to South Carolina running back George Rogers in the 1980 Heisman Trophy balloting. The Panthers compiled a 39-8-1 record during his four seasons at the school.
Selected by Tampa Bay in the first round of the 1981 NFL Draft, Green played 11 total seasons in the NFL for the Buccaneers and then the Miami Dolphins.
Green was inducted into the College Football Hall of Fame in 1996. And his 99 jersey was retired his senior year at Pittsburgh during halftime of his final home game.
The Bronko Nagurski Trophy is a member of the National College Football Awards Association (NCFAA), which encompasses the most prestigious awards in college football. Founded in 1997, the NCFAA and its 24 awards now boast over 800 recipients, dating to 1935. Visit ncfaa.org to learn more about the NCFAA.
The Bronko Nagurski Trophy is presented annually by the Charlotte Touchdown Club and the Football Writers Association of America to the nation's most outstanding NCAA defensive football player at the Bronko Nagurski Awards Banquet in Charlotte, N.C. All proceeds benefit the Charlotte Touchdown Club Scholarship Fund. For more information call 704-347-2918 or touchdownclub.com.
About LendingTree, Inc.
LendingTree is the nation's leading online marketplace that connects consumers with the choices they need to be confident in their financial decisions. LendingTree empowers consumers to shop for financial services the same way they would shop for airline tickets or hotel stays, by comparing multiple offers from a nationwide network of over 500 partners in one simple search and choosing the option that best fits their financial needs. Services include mortgage loans, mortgage refinances, auto loans, personal loans, business loans, student refinances, credit cards, insurance and more. Through the My LendingTree platform, consumers receive free credit scores, credit monitoring and recommendations to improve credit health. My LendingTree proactively compares consumers' credit accounts against offers on their network and notifies consumers when there is an opportunity to save money. LendingTree's purpose is to help simplify financial decisions for life's meaningful moments through choice, education and support.
About the Charlotte Touchdown Club
The Charlotte Touchdown Club is a 501(c)3 non-profit organization founded in 1990 for the purpose of promoting high school, collegiate, and professional football in the Charlotte, North Carolina region. Since its inception, the club has grown as well as diversified, boasting a sponsor team of more than (80) companies. The Club's activities and services focus community attention on the outstanding Citizenship, Scholarship, Sportsmanship, and Leadership of area athletes and coaches. Through individual and corporate support, nearly $3,000,000 has been raised and donated to benefit the Touchdown Club's scholarship efforts.
About the Football Writers Association of America
Founded in 1941, the Football Writers Association of America consists of journalists, broadcasters, publicists, photographers and key executives in all areas of college football. The FWAA works to govern media access and gameday operations while presenting awards and honors, including an annual All-America team. For more information about the FWAA and its programs and initiatives, contact Executive Director Steve Richardson at 214-870-6516 or tiger@fwaa.com.