DALLAS (FWAA) The Football Writers Association of America released its 2021 Bronko Nagurski Trophy Watch List today, selecting 90 defensive standouts from 61 schools in all 10 Division I FBS conferences plus independents on a roster that includes seven returning players from last season·s FWAA All-America team, another from the 2019 team, the nation·s top four tacklers from a year ago, three of the top seven sack leaders and one of the interception leaders.
The Bronko Nagurski Trophy winner will be chosen from those five finalists and honored at the Bronko Nagurski Awards Banquet presented by LendingTree on Dec. 6 at the Charlotte Convention Center. The FWAA All-America Committee, after voting input from the associations full membership, selects a 26-man All-America Team and eventually the Nagurski Trophy finalists. Committee members, by individual ballot, select the winner they regard as the best defensive player in college football.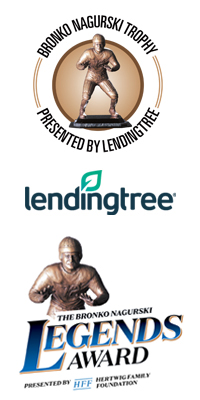 Players may be added or removed from the watch list during the course of the season. As in previous years, the FWAA will announce a National Defensive Player of the Week each Tuesday this season. If not already on the watch list, each weeks honored player will be added at that time. The FWAA and the Charlotte Touchdown Club will announce five finalists for the 2021 Bronko Nagurski Trophy on Nov. 17.
All three returning FWAA first-team All-Americans leading off the list are in the secondary cornerbacks Ahmad Gardner of Cincinnati and Tiawan Mullen of Indiana, along with Notre Dame safety Kyle Hamilton. Three players from last year·s second team All-America defense also top the outstanding list, linebacker Nate Landman of Colorado, safety Tykee Smith of Georgia (a transfer from West Virginia), and end Kayvon Thibodeaux of Oregon.
Will McDonald, an end, is one of three Iowa State defenders on the list after tying for the national sack lead last year at 10.5, joining linebacker Mike Rose, who tied for third in the country in interceptions with six, and safety Greg Eisworth. Cade Hall led San Jose States surprise season a year ago from his end spot and tied for third nationally with 10.0 sacks. TCU boasts two players, led by end Ochaun Mathis, who tied for fifth with 9.0 sacks a year ago. The Big 12 has four schools (adding Baylor and Oklahoma) with at least a pair of players on the team.
The top four total tackles leaders from 2020, each of them a linebacker, also highlight the list. Auburns Zakoby McClain and Carlton Martial of Troy each claimed the title with 113 total tackles each, with Arkansas· Grant Morgan (111) and N.C. State·s Payton Wilson (108) just behind. McClain and Morgan are the returning leaders of the 20-player SEC contingent that is spread among nine schools. Defending national champion Alabama leads the national team list with six players · defensive tackles DJ Dale and Phidarian Mathis, linebackers Will Anderson Jr. and Christian Harris, cornerback Josh Jobe and safety Malachi Moore. A Georgia trio led by defensive tackle Jordan Davis leads six different SEC schools have at least two players on the list.
Safety Brandon Joseph of Northwestern tied for the national interception lead last year with six and complements Hamilton and Smith as the watch lists returning secondary leaders along with LSU·s Derek Stingley Jr., who was an FWAA First Team All-America cornerback in 2019. The Big Ten is second among the conferences with 13 players from 10 different schools, with national runner-up Ohio State as its leader with three · tackle Haskell Garrett, end Zach Harrison and cornerback Sevyn Banks.
Clemson has four players on the team to make up half of the ACC contingent tackle Bryan Breese, end Myles Murphy, linebacker James Skalski and safety Nolan Turner · and Georgia, Iowa State, Ohio State and Oklahoma are next as teams with three players each. Arkansas, Auburn, Baylor, Cincinnati, Indiana, LSU, Missouri, Notre Dame, San Diego State, TCU, Troy, USC and Washington have two apiece.
This years watch list includes at least four players from all 10 FBS conferences plus five from the independent schools. The SEC led the conference list with 20 with the Big Ten (13) and Big 12 (11) just behind, making up half of the list. The list includes 29 linebackers, 22 backs, 22 ends and 17 tackles.
The FWAA has chosen a National Defensive Player of the Year since 1993. In 1995, the FWAA named the award in honor of the legendary two-way player from the University of Minnesota. Nagurski dominated college football, then became a star for professional football's Chicago Bears in the 1930s. Bronislaw "Bronko" Nagurski is a charter member of both the College Football and Pro Football Halls of Fame.
The Bronko Nagurski Trophy is a member of the National College Football Awards Association (NCFAA), which encompasses the most prestigious awards in college football. Founded in 1997, the NCFAA and its 25 awards now boast over 800 recipients, dating to 1935. Visit ncfaa.org and @NCFAA on Twitter to learn more about the association.
The members of the NCFAA are unveiling preseason watch lists over a 10-day period this month. Sixteen of the association's 25 awards are presenting their preseason watch list during this time as the NCFAA has spearheaded a coordinated effort to promote each award's preseason candidates. Following is the remaining 2021 preseason watch list calendar:
Wed., July 28: Lou Groza Award/Ray Guy Award
Thu., July 29: Hornung Award/Wuerffel Trophy
Fri., July 30: Maxwell Award
Founded in 1941, the Football Writers Association of America consists of 1,300 men and women who cover college football. The membership includes journalists, broadcasters and publicists, as well as key executives in all the areas that involve the game. The FWAA works to govern areas that include game-day operations, major awards and its annual All-America team. For more information about the FWAA and its award programs, contact Steve Richardson at tiger@fwaa.com.
About the Charlotte Touchdown Club
The Charlotte Touchdown Club is a non-profit organization founded in 1990 for the purpose of promoting high school, collegiate, and professional football in the Charlotte, N.C., region. The club's activities and services focus community attention on the outstanding citizenship, scholarship, sportsmanship, and leadership of area athletes and coaches. Since 1990, the club has raised and donated nearly $3 million to benefit area high school and collegiate athletics. For more information, contact John Rocco (704-347-2918 or jrocco@touchdownclub.com). The official website of the Charlotte Touchdown Club is touchdownclub.com.
About LendingTree, Inc.
LendingTree is the nation's leading online marketplace that connects consumers with the choices they need to be confident in their financial decisions. LendingTree empowers consumers to shop for financial services the same way they would shop for airline tickets or hotel stays, by comparing multiple offers from a nationwide network of over 500 partners in one simple search and choosing the option that best fits their financial needs. Services include mortgage loans, mortgage refinances, auto loans, personal loans, business loans, student refinances, credit cards, insurance and more. Through the My LendingTree platform, consumers receive free credit scores, credit monitoring and recommendations to improve credit health. My LendingTree proactively compares consumers' credit accounts against offers on their network and notifies consumers when there is an opportunity to save money. LendingTree's purpose is to help simplify financial decisions for life's meaningful moments through choice, education and support.
Related links:

Alabama's Anderson wins 2021 Bronko Nagurski Trophy
· Preseason Watch List
| Finalists
·
Bronko Nagurski Trophy (All-Time Winners,
Finalists and Players of the Week)
· Download the Bronko Nagurski Trophy
presented by LendingTree logo:
Primary (.jpg) |
Primary (.eps)