FT. LAUDERDALE, Fla. (FWAA) - Alabama coach Nick Saban was named the winner of the 2008 FWAA/Eddie Robinson Coach of the Year Award for the second time in six years on Tuesday night at a reception here.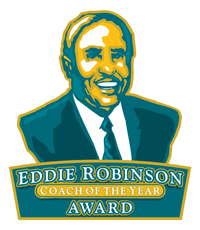 The Eddie Robinson Award is sponsored by the Tostitos Fiesta Bowl and was presented in conjunction with the BCS 1-2 game to be played Thursday night at Dolphin Stadium. The entire FWAA membership votes on the associations coach of the year award, which was narrowed to nine finalists in early December.
"Nick Saban has proven to be a winner wherever he has gone," said 2008 FWAA president Ron Higgins. "He has re-established Alabama as a national power in quick fashion. He was an overwhelming choice by our members for this very prestigious award."
The FWAA has honored a major college coach with its coach of the year award since 1957 and Saban is only the second coach to win the FWAA award at two different schools. He also captured the Eddie Robinson Award when he was coach at LSU in 2003. Lou Holtz was the FWAA coach of the year in 1988 at Notre Dame and also in 1977 at Arkansas.
After a 7-6 record in his first season at Alabama in 2007, Saban's Crimson Tide won its first 12 games of the 2008 season. Alabama eventually rose to No. 1 in country after a victory over Arkansas State. The Crimson Tide won the Southeastern Conference's Western Division and beat Auburn for the first time since 2001.
Saban previously was coach of the Miami Dolphins for two seasons (2005 and '06) after spending 11 seasons as a head coach in the college ranks at Toledo (one season) and five years each at Michigan State and LSU. He won the national title at LSU in 2003. He's a native of Fairmont, W. Va., and played college football and graduated from Kent State.
In 1997, the FWAA coaching award was named after Eddie Robinson, a coaching legend at Grambling State University for 55 years. The late "Coach Rob" has more Division I victories (408) than any other coach. Coach Robinson passed away on April 4, 2007. But his legacy will certainly not be forgotten. He coached his entire career at Grambling and produced numerous professional players and coaches as well as players who graduated and distinguished themselves in other professional endeavors.
The Football Writers Association of America, a non-profit organization founded in 1941, consists of nearly 1,000 men and women across North America who cover college football for a living. The membership includes journalists, broadcasters and publicists, as well as key executives in all the areas that involve the game. The FWAA works to govern areas that include game day operations, major awards, a national poll and its annual All-America team.
For more information on the Eddie Robinson Award, contact FWAA executive director Steve Richardson (972-713-6198 or tiger@fwaa.com).
Eddie Robinson Award

Alabama's Saban wins 2008 Eddie Robinson Award

· Nine finalists named for 2008 Eddie Robinson
Award

· Eddie Robinson Coach of the Year
Award | All-time winners