DALLAS (FWAA) Oklahoma defensive tackle Carl Pendleton is this week's nominee for the FedEx Orange Bowl-FWAA Courage Award to be announced at the end of the 2006 season.
Pendleton, a junior and a three-year starter, has decided to forgo his senior year of eligibility - but not to turn pro. Instead, Pendleton, who will graduate in December, will continue his education and focus on caring for his 10-year-old brother, Kierstan. He became Kierstan's legal guardian recently while their parents sort through a difficult divorce.
Pendleton, who carries a 3.86 grade-point average in sociology with a minor in religious studies, will pursue a graduate degree. In October, he was awarded an $18,000 postgraduate scholarship from the National Football Foundation and College Hall of Fame.
"With the responsibility of raising my younger brother, I realize football is not the best choice for me," Pendleton said. "Football was a way for me to get my education."
Pendleton, a regular speaker at Fellowship of Christian Athletes functions, teaches Sunday school each week at a Norman church. This month, he is taking over responsibility for the church's ministry to fifth- and sixth-graders.
For the first time, the FWAA and the FedEx Orange Bowl will announce a weekly nominee each Wednesday during the season. A blue-ribbon panel will determine the winner from all of the nominees. The winner of the FedEx Orange Bowl-FWAA Courage Award will be announced in December and be presented with the trophy.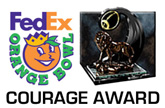 The Courage Award was created by ESPN The Magazine's senior writer Gene Wojciechowski, also a FWAA member. A select group of writers from the FWAA vote on the winner each year. The requirements for nomination include displaying courage, on or off the field, including overcoming an injury or physical handicap, preventing a disaster or living through hardship.
Previous winners of the FWAA's Courage Award are the Tulane football team (2005), Memphis' Haracio Colen (2004), San Jose State's Neil Parry (2003) and Toledo's William Bratton (2002).
The Orange Bowl Committee is a not-for-profit, 329-member, all-volunteer organization that exists as a self-sustaining, independent organization supporting and producing activities and events which enhance the image, economy, and culture of South Florida . Among the OBC core events are the Orange Bowl Festival, FedEx Orange Bowl and World-Class Halftime Show, the MetroPCS Orange Bowl Basketball Classic, the WaMu Orange Bowl Fan Fest presented by the City of Miami, the Budweiser Orange Bowl Tailgate Party, Boston Market Orange Bowl Youth Football Championships, Orange Bowl Cheer & Dance Championships, Orange Bowl Swim Classic, Orange Bowl International Tennis Championships and Orange Bowl Sailing Regatta Series.
The Football Writers Association of America, a non-profit organization founded in 1941, consists of more than 900 men and women across North America who cover college football for a living. The membership includes journalists, broadcasters and publicists, as well as key executives in all the areas that involve the game. The FWAA works to govern areas that include game day operations, major awards, a national poll and its annual All-America team.
2006 Orange Bowl Courage Award Nominees

Sept. 20: Ray Ray McElrathbey, Clemson

· Sept. 27: Martel Van Zant, Oklahoma State

· Oct. 4: Terry Hoeppner, Indiana

· Oct. 11: Dan Howell, Washington

· Oct. 18: Eddie Martin, Navy

· Oct. 25: Bill Doba, Washington State

· Nov. 1: Jerry Kill, Southern Illinois

· Nov. 8: Carl Pendleton, Oklahoma

· Nov. 15: Mike Tepper, California

· Nov. 29: Carlos Garcia, Oregon State