DALLAS (FWAA) – Pittsburgh running back James Conner is the winner of the 2016 Capital One Orange Bowl-FWAA Courage Award. Conner, a 6-foot-2, 235-pound redshirt junior, became a beacon of strength throughout the sports world this fall, as he posted an all-conference season for the Panthers after beating Hodgkin lymphoma this past spring.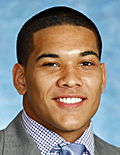 Conner
"During the season, it's just one day at a time, but now that the regular-season's over I can look back and it's been a fun journey," Conner said of his whirlwind 2016. "Looking back now, it's pretty remarkable."
Pitt had called a press conference for Conner on Dec. 4, 2015, after a regular season that saw the 2014 ACC player of the year sidelined much of the way because of an MCL tear suffered in Week 1. Media members figured that Conner would be announcing a decision on whether or not to declare for the NFL draft, but instead, he told the world of his harrowing diagnosis, famously saying: "When I heard those words—'You have cancer'—I admit I was scared. But after thinking about it for a bit, I realized that fear is a choice. I choose to not fear cancer. I choose to fight it and I will win."
Conner vowed to return to Heinz Field again. He went through 12 rounds of chemotherapy, until May 9. During that time, he often practiced with teammates in non-contact spring drills, wowing the world as he worked out while wearing a surgical mask to guard against germs. He emerged as a national figure, throwing out the first pitch on Opening Day at the Pittsburgh Pirates game and appearing on "The Ellen DeGeneres Show," where he was greeted with a surprise appearance from NFL safety Eric Berry, who had beaten Hodgkin lymphoma himself one year earlier.
At last, on May 23, Conner announced that he was cancer-free.
"For as many people as James has inspired through his play on the field, that number pales in comparison to the countless others who were touched by his courage and strength in defeating cancer," Pitt coach Pat Narduzzi said. "James' example has encouraged so many people to keep fighting through their own personal challenges. For as decorated a football player as he is, the hope and inspiration he has given others will be his greatest legacy.
"I will always marvel at how a year ago James was just beginning his fight against cancer. Today, he not only stands victorious over this disease but is also a 1,000-yard rusher and All-ACC running back. James is a very fitting recipient of this honor and everyone at Pitt is incredibly proud to call him one of our own."
Conner wasted no time delivering on his earlier vow to suit up for Pitt again, as he scored two touchdowns in the Panthers' season-opening win over Villanova. He reached the end zone two more times a week later in a win over rival Penn State, and he never really slowed down.
By the end of the season, Conner had earned first-team All-ACC honors from both the coaches and media, having rushed for 1,060 yards and 16 touchdowns on 208 carries (5.1 ypc). He eclipsed the 100-yard rushing mark in six different games. Additionally, he caught 20 passes for 299 yards and four more touchdowns — after entering the season with just nine career catches.
Conner set ACC records for career rushing touchdowns (52) and career total touchdowns (56). And, just for good measure, he also saw a few snaps this season at defensive end, which he was initially recruited to play out of Erie-McDowell High School.
At a program that has featured running backs who have won the Heisman Trophy (Tony Dorsett), who have made the Pro Football Hall of Fame (Dorsett, Curtis Martin) and who have won the NFL's rushing title (Martin, LeSean McCoy), Conner has more than left his mark: He ranks second in school history in rushing yards (3,701), total touchdowns and rushing touchdowns, trailing only Dorsett in each category.
Conner announced his intentions to declare for the draft on Dec. 10, the latest news in what has been a busy couple of weeks for the future pro. In addition to the Orange Bowl Courage Award, Conner has been honored with the Disney Sports Spirit Award and the ACC's Brian Piccolo Award, which is given to the league's most courageous player. After being introduced in Atlanta by Holly Rowe and Shelley Smith — a pair of ESPN broadcasters who have waged their own battles against cancer — Conner gave an emotional speech upon accepting the Disney award, dedicating the honor to everybody else fighting their own battles.
"Holly talked about how I inspired her to get up," Conner said. "It was a good event. There was a standing ovation. Just looking back on the year, seeing the video again, all the emotions just hit you at once."
Conner has been active in the community, regularly speaking to sick kids and even thanking God for choosing him for this position, which has allowed him to inspire and motivate people across the country.
"It's definitely a good position to be in," Conner said. "It's powerful, so I just take it all in and try to do what I can."
Conner will close his college career with Pitt against Northwestern in the Dec. 28 New Era Pinstripe Bowl at Yankee Stadium in New York. The 8-4 Panthers will look to build off a season that featured wins over the Nos. 2 (Clemson) and 5 (Penn State) teams in the country.
"It's hard to pinpoint," Conner said of the season's top highlight. "But really, just getting back to the field, obviously that was the most important thing. And of course there were big wins, so it's hard to categorize."
The Courage Award was first presented by the Football Writers Association of America (FWAA) in 2002. A select group of writers from the FWAA vote on the winner each year. The requirements for nomination include displaying courage on or off the field, including overcoming an injury or physical handicap, preventing a disaster or living through hardship. James Conner will be included in festivities during Capital One Orange Bowl week and receive his trophy at an on-field presentation during the Capital One Orange Bowl game between No. 6 Michigan and No. 11 Florida State on Dec. 30.
Previous winners of the Capital One Orange Bowl-FWAA Courage Award are Miami offensive lineman Hunter Knighton (2015), Duke offensive lineman Laken Tomlinson (2014), San Jose State defensive lineman Anthony Larceval (2013), Clemson wide receiver Daniel Rodriguez (2012), Michigan State offensive lineman Arthur Ray Jr. (2011), Rutgers defensive tackle Eric LeGrand (2010), the University of Connecticut football team (2009), Tulsa's Wilson Holloway (2008), Navy's Zerbin Singleton (2007), Clemson's Ray Ray McElrathbey (2006), the Tulane football team (2005), Memphis' Haracio Colen (2004), San Jose State's Neil Parry (2003) and Toledo's William Bratton (2002).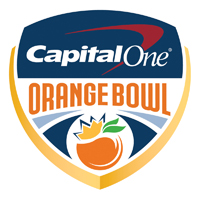 About the Orange Bowl
The Orange Bowl is a 360-member, primarily-volunteer non-profit sports organization that promotes and serves the South Florida community. With its primary mission since being created in 1935 to bring tourism to South Florida through an annual football game and events, it has also maintained a legacy of charitable contributions and community outreach. Orange Bowl community outreach efforts are comprised of four pillars: youth sports, fundraising and community events, academic programs and scholarships, and legacy gifts. The Orange Bowl features a year-round schedule of events culminating with the Capital One Orange Bowl on December 30, 2016. For more information on the 2016-17 Orange Bowl events, including promotional and volunteer opportunities through the Ambassador Program presented by Panera Bread, log on to orangebowl.org. Follow Orange Bowl: @OrangeBowl, Facebook and Instagram.
Founded in 1941, the Football Writers Association of America consists of 1,400 men and women who cover college football. The membership includes journalists, broadcasters and publicists, as well as key executives in all the areas that involve the game. The FWAA works to govern areas that include game-day operations, major awards and its annual All-America team. For more information about the FWAA and its award programs, contact Steve Richardson at tiger@fwaa.com.
Editor's note: To download a print-quality photo of James Conner, click on the photo within the release.
2016 Orange Bowl Courage Award Nominees
• Sept. 14: James Conner, Pittsburgh
• Sept. 21: Caylin Moore, TCU
• Sept. 28: Riley Sorenson, Washington State
• Oct. 5: Vincent Taylor, Oklahoma State
• Oct. 12: Frank Ragnow, Arkansas
• Oct. 19: Mulbah Car, Houston
• Oct. 26: Makani Kema-Kaleiwahea, Hawaii
• Nov. 2: Shaquem Griffin, UCF
• Nov. 9: Tim White, Arizona State
• Nov. 16: Adam Ploudre, Missouri
• Nov. 23: Mike Sherels, Minnesota
• Dec. 1: Quinton Flowers, USF
Related link:
• Capital One Orange Bowl Courage Award