GREENSBORO, N.C. (USBWA) – In an evening of basketball legends hosted by the Greensboro Sports Council, Bob McKillop and Tubby Smith will be honored with the U.S. Basketball Writers Association's Dean Smith Award, recognizing an individual in basketball who embodies the spirit and values of the late Coach Smith.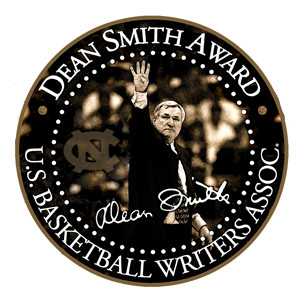 McKillop, who won in 2019, and Smith, who won in 2021, will be presented with their awards at the Tanger Center for the Performing Arts at 300 N. Elm Street in Greensboro. A fireside chat with the legendary coaches will follow. The awards presentation is set for Tuesday, April 11 at 6 p.m ET.
The Dean Smith Award was created by the USBWA in 2015 to honor the late Hall of Fame coach at North Carolina. Coaches are recognized for their principles of honesty and integrity, for treating all people with courtesy and respect, for accomplishments off the court, and for the impact they have made on their community and the lives of their players.
"It is so appropriate to honor these two great coaches and better men in the heart of North Carolina basketball country, which has always been home for Tubby Smith and where Bob McKillop was a constant for so many years at Davidson," said USBWA president Luke DeCock, a sports columnist at the (Raleigh) News & Observer.
McKillop led Davison to 23 conference championships – 15 regular-season, eight tournament – in 33 seasons at the school. When he retired in 2022, his 634 wins ranked him 54th in NCAA men's basketball history. His most decorated team reached the Elite Eight in 2008, one of 17 McKillop teams to win 20 games and seven to win 25.
In February 2014, Davidson named the court at Belk Arena after McKillop, whose commitment to one school, grace and affability made him one of the most respected figures in college basketball and a worthy winner of the Dean Smith Award.
Smith won 642 games and a national championship in 31 years as a head coach at Tulsa, Georgia, Kentucky, Minnesota, Texas Tech, Memphis and High Point, taking five of those schools to the NCAA tournament and becoming only the second coach to do so. He was the first Black coach at Kentucky – at a school that didn't have a Black player until 1970 – and the third to win a national title.
The winner of the USBWA's Henry Iba Award as national coach of the year in 2003, Smith was also committed to High Point, his alma mater, donating $1 million toward the construction of a new arena, the Quibein Center, and for the five seasons he coached there before retiring in February 2022, his teams played on the Tubby and Donna Smith Court.
Other Dean Smith Award winners include John Thompson (Georgetown) in 2015, Tom Izzo (Michigan State) in 2016, Don Donoher (Dayton) in 2017, Fran Dunphy (Penn/Temple/La Salle) in 2018 and George Raveling (Washington State/Iowa/USC) in 2020.
The U.S. Basketball Writers Association was formed in 1956 at the urging of then-NCAA Executive Director Walter Byers. With some 900 members worldwide, it is one of the most-influential organizations in college basketball. It has selected an All-America team since the 1956-57 season. For more information on the USBWA and its award programs, contact executive director Malcolm Moran.
Founded in 1959 as a support group for the Greensboro Coliseum Complex, the Greensboro Sports Council is the official sports host organization of the Greensboro Coliseum Complex. In recent years, the Council expanded its reach to include sports events and sports-related events throughout Greensboro and Guilford County. The Council provides hosts for ACC and NCAA teams competing in and around Greensboro and works with the Greensboro Coliseum Complex to provide volunteers for sports events. For additional information, please visit greensborosportscouncil.com.
Contacts:
Malcolm Moran
U.S. Basketball Writers Association
malcolm@usbwa.com
814-574-1485
Rob Goodman
Greensboro Sports Council
rob@3-gsports.com
336-209-9590