INDIANAPOLIS (USBWA) – Representing all of their peers across college basketball who have struggled with mental health, Saint Louis' Terrence Hargrove and Utah State's Connor Odom will share the 2023 Perry Wallace Most Courageous Award. Both have been open about the issues they have faced, helping create a dialogue about the challenges shared by many other athletes. Hargrove and Odom will be honored at the upcoming Men's Final Four in Houston.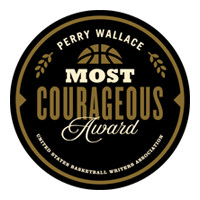 Hargrove, a junior from East St. Louis, Ill., went public went public about his difficulty overcoming depression this fall. At one point he lost 15 pounds because of anxiety and his sudden lack of interest in basketball. In December, after receiving support from his teammates and parents, he posted on Twitter about how he'd recovered from his lowest point in hopes it would inspire others in similar situations.
"I made the Twitter post because I realized all the progress I've made in self-happiness," Hargrove said in December. "I looked in the mirror and realized how much I've gained. I see myself glowing."
Odom, a junior walk-on playing for his father Ryan, has been open about dealing with the combination of Lyme Disease, anxiety and obsessive-compulsive disorder. When he was 13, he would shower for hours to feel clean and found it difficult to leave home. He lost an entire season of high-school basketball to illness and has since walked on at Maryland and Utah State.
"Not a lot of people really know the ramifications of what Lyme disease can really do," Odom said in 2020. "It didn't cause me to feel physically sick. I felt a little bit tired, but it caused me to be mentally sick."
The USBWA has presented a Most Courageous Award since the 1977-78 season. Last season, the men's Most Courageous Award was named in honor of Perry Wallace, the SEC's first Black athlete to play a full four-year career in any sport.
Since 2012, the association has also recognized winners from women's basketball with the Pat Summitt Most Courageous Award. This year's Pat Summitt winner, Angelique Francis of Arkansas-Little Rock, has also spoken out about her experience overcoming abuse and mental-health issues and will be honored at the Women's Final Four in Dallas.
The USBWA chose Francis, Hargrove and Odom not only to honor their courage in coming forward to discuss their mental health and helping remove any stigma still associated with that, but to acknowledge the many issues college basketball players – and athletes in all sports – have faced before, during and after the pandemic.
The U.S. Basketball Writers Association was formed in 1956 at the urging of then-NCAA Executive Director Walter Byers. With some 900 members worldwide, it is one of the most influential organizations in college basketball. It has selected an All-America team since the 1956-57 season. For more information on the USBWA and its award programs, contact executive director Malcolm Moran at 814-574-1485.