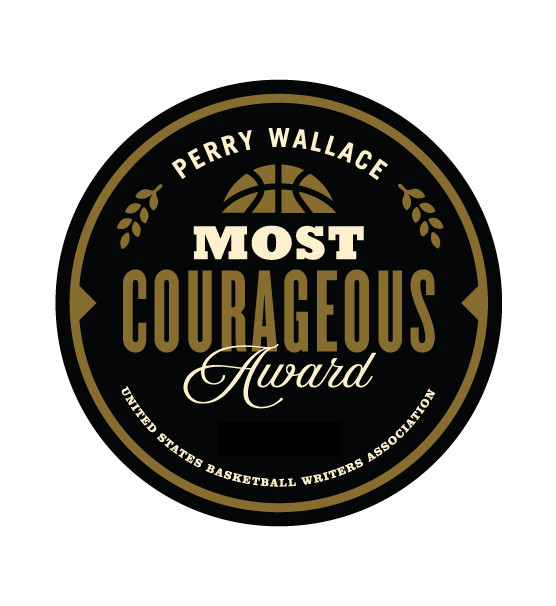 USBWA Perry Wallace Most Courageous Award
The United States Basketball Writers Association annually recognizes a player, coach, official or administrator who has demonstrated extraordinary courage reflecting honor on the sport of amateur basketball. Along with the award, the USBWA presents a $1,000 check to the charity or scholarship fund as selected by the recipient. The women's award was named in honor of Pat Summitt in 2012 and the men's award in honor of Perry Wallace in 2021.
2020: Sam Toney, New Jersey City University: After growing up in as many as 50 foster homes and entering college at age 23, the senior forward earned NCAA DIvision III All-America honors. Toney estimated that he has lived in 50 foster homes. The 6-foot-4 power forward averaged 15.8 points throughout his career.
2020: Lauren Cox, Baylor and Whitney Cox, Lubbock Christian: The sisters have battled through lives as Type 1 diabetics. Lauren, a senior, was a first team USBWA All-American on Baylor's nationally-ranked squad while Whitney was a reserve at her Division II school.
2019: Erica Downey: A kidney donor whose donation saved the life of longtime coach Billy Gillispie.
2019: David Six, Hampton University: The head women's coach returned to the court after suffering a stroke during the summer.
2018: Sam Dowd, Idaho State
Dowd found himself homeless at 13 and spent the next few years living with friends, occasionally sleeping outside of school when he had no place to go. Thanks to hard work and the generosity of coaches and families along the way, Sam eventually realized his dream of playing Division I basketball at Idaho State.
2018: Avery Marz, Saint Joseph's University
She made her college debut in 2017, more than three years following a devasting stroke that nearly ended before it ever began.
2017: Bronson Koenig, Wisconsin
Bronson was a social activist while playing basketball at Wisconsin. He was supportive of the pipeline standoff at Standing Rock in North Dakota, even traveling there to lend support on a controversial issue and to give a basketball clinic.
2017: Holly Rowe, ESPN and Angel Elderkin, Appalachian State University
The first co-recipients of the award, both Holly and Angel have had to deal with cancer in their lives. Rowe, a longtime ESPN sideline reporter, is the first recipient who is neither an athlete, coach, official or team public relations person. Rowe has been very public in battling desmoplastic melanoma while continuing to stay on air doing the job she loves. Elderkin has continued to guide the Mountaineers from their Boone, N.C., campus, since being diagnosed with Stage III Endometrial (ovarian) cancer last summer.

2016: Andrew and Samantha Smith, Butler
The U.S. Basketball Writers Association announced the selection of Kent State coach and cancer survivor Danielle O'Banion as the winner of the Pat Summitt Most Courageous Award for women's basketball and the late, former Butler player Andrew Smith and his widow, Samantha, as co-recipients of the USBWA's Most Courageous Award for men's basketball. The two courage awards are presented annually by the USBWA to honor players, coaches, officials or administrators in college basketball who have demonstrated extraordinary courage in the face of adversity.
2016: Danielle O'Banion
Former Kent State coach continued coaching while battling lymphoma and eventually became cancer-free.
2015: Austin Hatch, Michigan
Michigan freshman Austin Hatch, who survived two plane crashes, lost family in both of them and was in a coma for two months with a traumatic brain injury following one crash, has been selected to receive the U.S. Basketball Writers Association's Most Courageous Award for 2015. The plane crashes occurred in the span of eight years, the first of which claimed the lives of his mother, older sister and younger brother; the second of which took his father and stepmother. Neither of those tragedies, however, is what makes Hatch courageous. It's because of how he's lived his life since, fighting to overcome both his own physical hardships and emotional challenges, and also embracing his new opportunities. Rather than be angry at what he's lost, Hatch instead prefers to celebrate what he's been given – a chance to honor his parents by becoming the man they dreamed he would be.
2015: Lauren Hill, Mount St. Joseph University
Inspired a nation while battling pediatric brain cancer.
2014: Dau Jok, Pennsylvania; Dan Peters, Akron; and Kirsten Moore, Westmont College
The U.S. Basketball Writers Association has selected Dau Jok of the University of Pennsylvania and Dan Peters of the University of Akron as co-winners of the USBWA's Most Courageous Award for men's basketball and Kirsten Moore of NAIA Westmont College as the recipient of the Pat Summitt Most Courageous Award for women. All three exemplify what the USBWA's courage award stands for: inspiration, hope and an undeniable spirit to persevere.
2013: Dick Kelley, Boston College and Beckie Francis, Oakland
Oakland University's women's basketball coach Beckie Francis and Boston College sports information director Dick Kelley have been selected as female and male recipients respectively of the U.S. Basketball Writers Association's Most Courageous Award. The award is presented annually by the USBWA to honor male and female athletes, coaches, officials or administrators in college athletics who have demonstrated extraordinary courage while facing adversity in life.
2012: Bernard James, Florida State and Pat Summitt, Tennessee
This year, the USBWA honors Florida State's Bernard James and University of Tennessee coach Pat Summitt as recipients of the 2012 Most Courageous Awards, two people who defined the word differently but lived it fully. James is the most unconventional of high school dropouts, a kid who grew disenchanted with the social hierarchy of school yet would head to Barnes & Noble to read on the days that he cut. After receiving his GED, he followed footsteps of his stepfather, a career military man, and at the age of 17, James enlisted in the Air Force. Pat Summitt has experienced life more fully than most of us. With more wins than any other coach in basketball history – man or woman – and eight national titles, Summitt has achieved unparalleled success yet hasnever sacrificed her own dignity or grace. She is fierce and tough, yet respected and loved. She's also never been afraid of a fight, which is why, when she was diagnosed with early onset dementia, Summitt did what she always does – she attacked it head-on.
2011: Arsalan Kazemi, Bilqis Abdul-Qaadir
Arsalan Kazemi of Rice and Bilqis Abdul-Qaadir of Memphis – two student-athletes with similar backgrounds who have had to endure bigotry and discrimination to play college basketball at their respective institutions – have been named co-winners of the Most Courageous Award. Kazemi, a sophomore forward at Rice, is the first Iranian-born athlete to play NCAA Division I basketball. Abdul-Qaadir, a freshman guard at Memphis, is believed to be the first Muslim woman to play in Division I with her arms, legs and hair covered during games in accordance with her Muslim faith.
2010: Dave Rose, Tiffara Steward
The U.S. Basketball Writers Association named both men's and women's winners of the Most Courageous Award for the first time, with the men's honor going to Brigham Young coach Dave Rose and the women's to Farmingdale State point guard Tiffara Steward. Rose nearly lost his life last June to pancreatic cancer – a form of cancer that few beat – but was back on the recruiting circuit the following month and is back coaching a BYU team that had won all but one of its games through mid-January. The 4-foot-6 Steward is believed to be the smallest player in college-basketball history. She was born three months premature, weighing just 2 1/2 pounds and measuring eight inches, and she underwent three surgeries by the time she was 3 years old. S he has been a starter and team captain the past two seasons at Farmingdale State, a Division III school on Long Island, N.Y., though she is blind in her right eye, has over a 50-percent hearing loss, has one leg that is shorter than the other and battles severe scoliosis.
2009: Kelvin Davis
A 6-3 shooting guard from Waterbury, Conn., Davis was diagnosed with Hodgkin's lymphoma last spring. However, the San Diego State senior was able to overcome the cancer and returned to the Aztecs while still undergoing his chemotherapy and radiation treatments. He has appeared in eight games this season for the Aztecs and has averaged 2.5 points and 1.8 rebounds in 10.4 minutes. Davis' saga began last spring when he felt fatigued while playing. Originally, it was thought he may be coming down with mononucleosis. However, there was a lump developing on Davis' neck. He knew about it but he didn't say anything because he didn't want to jeopardize his spot on the team. But his condition grew worse and a trip to the doctor revealed Davis had cancer.
2008: Josh Porter
LSU-Shreveport's Josh Porter was considered a walking miracle after returning to play for the Pilots this season following a life-threatening neck injury he sustained in a game the previous season. Porter, a Shreveport, La., native, fractured the vertebrae in his neck in a collision with a teammate during a game in November 2006. Porter fell so hard that the plastic facemask he wore to protect a broken nose shot across the floor upon impact. Following 10 months of rehabilitation and recovery, Porter was back playing basketball this past fall. He returned to his old form from two years ago when he was an NAIA All-American and led the Pilots in scoring this season, averaging over 22 points a game and ranking among the top five scorers nationally in the NAIA.
2007: Duquense Dukes
Five players were shot in an incident after an on-campus dance before the season started in September. The shooting occurred as the basketball players left the dance. Sophomore guard Aaron Jackson, who suffered minor injuries in the shooting, started for the Dukes during the season. The most seriously injured player, Sam Ashaolu, is on course to play in 2007-08 after being shot twice in the head. After being near death, Ashaolu underwent daily rehabilitation to regain his speech and memory skills. Stuard Baldonado practiced during the season, but didn't play in games after suffering spinal injuries. Two other players, Kejo Mensah and Shawn James, suffered minor injuries and will play for the Dukes next season after sitting out as transfers.
2006: Mike Sutton
The Tennessee Tech coach continued to coach while battling the paralyzing effects of Guillain-Barre Syndrome. In his fourth season at the school, he attended games and practices from his motorized wheelchair.
2005: Grant Dykstra
The Western Washington guard/forward transformed himself into an all-around player, despite having partial use of his right arm due to a childhood accident. Dykstra's right arm was mangled in a grain auger when he was two and required 16 surgeries over the next 10 years. He taught himself to shoot left-handed and learned to dribble with both hands. The 6-4 junior from Everson, Wash., was the leading scorer on the school's NCAA Division II nationally-ranked team.
2004: Trey Schwab
Marquette assistant coach who received a double-lung transplant 26 months after being diagnosed with a rare and potentially deadly lung disease. Schwab continued to coach for two seasons despite undergoing six operations, spending 13 months on a portable oxygen machine and taking an experimental drug that slowed the disease.
2003: Rayna DuBose
Remarkable story of one young lady's fight to overcome a near-fatal brain and spinal cord bacterial infection that eventually led to her losing parts of all four limbs following her freshman year on the Virginia Tech's women's basketball team.
2002: Jamel Bradley
Deaf since he was 18 months old, Bradley overcame an 80 percent hearing loss to have an inspiring career at South Carolina. He led the Gamecocks in scoring his senior season and finished as the all-time career and single-single season three-point scoring leader.
2001: Oklahoma State Basketball Program
Eddie Sutton, OSU Head Coach, accepted the Most Couragous Award on behalf of the Cowboy program after 10 members of the team died in a plane crash on a return trip home from a game at Colorado.
2000: Nathan Binam
A left-handed shooting guard for Oral Roberts University who returned to ORU's starting lineup for his senior year after sitting out one year following a car accident that resulted in Binam having to have the index finger on his shooting hand amputated above the knuckle.
1999: Eddie Shannon
Florida point guard who played his entire high school and college career with one eye because of an injury he suffered in seventh grade. He was hit in the right eye with a rock on the playground and had the eye replaced with a prosthesis prior to his senior year at Florida. He finished his career as Florida's all-time steals leader.
1998: Jacky Kabba
Jacky Kabba left his homeland, war-torn Liberia, to receive a college education and play basketball at Seton Hall University.
1997: Wes Flanigan
Before the 1996-97 season began, Auburn guard Wes Flanigan was diagnosed with cancer in his arm. After major surgery to cut out the malignant tumor, Flanigan returned to have an outstanding senior year for the Tigers.
1996: Corinee "Cori" Carson
The junior guard/forward at Division III Marymount University in Arlington, Va., returned to play basketball just one year after undergoing a liver transplant. She was within two hours of death before receiving a new liver. In her first game back Carson scored 29 points.
1995: Nolan Richardson
The veteran Arkansas coach overcame racial prejudice and the death of his daughter from leukemia in the process of establishing national powerhouse programs at Texas Western Junior College, Tulsa and Arkansas.
1994: Orlando Antigua
University of Pittsburgh forward who overcame numerous obstacles growing up in a troubled New York neighborhood. Played his first two college seasons with a bullet in his head, the result of a street shooting incident while he was a sophomore at St. Raymond's High School in the Bronx.
1993: Jim Valvano
Coached several schools, including Iona and North Carolina State where he led the Wolfpack to an NCAA title in 1983. Waged a year-long battle with bone cancer.
1992: Pete Pavia
A longtime official in college basketball who battled cancer for 13 years while continuing to referee games throughout the country.
1991: Eric Murdock
A star player at Providence College who recovered from an irregular heartbeat and a series of nagging injuries to have a tremendous senior year for the Friars.
1990: Donald Taylor
A homeless youngster from New York City who developed his basketball skill to a point of earning a scholarship to the University of Massachusetts.
1989: Landon Turner
Former Indiana University player who returned to the playing court in a wheelchair basketball league after being paralyzed in an automobile accident in 1981, the summer after his team won the NCAA Championship.
1988: Steve Kerr
Senior guard at the University of Arizona who played a key role on the Wildcats' Final Four team. He overcame the tragic assassination of his father during his college career.
1987: David Rivers
He had a remarkable recovery from an automobile accident and returned to play at Notre Dame.
1986: Bob Wenzel
The basketball coach at Jacksonville who made a miraculous recovery from surgery to correct a brain aneurysm. He returned as JU's coach and led them to the NCAA tournament.
1985: Dennis Schlitt
He battled back from a life-threatening illness to play basketball at the U.S. Military Academy.
1984: Reggie Warford
An assistant coach at Pittsburgh who rescued an elderly couple from their burning home in Lexington, Ky.
1983: Ronnie Carr
A Western Carolina basketball player who survived a serious automobile crash, overcoming post-operative lung and heart complications.
1982: John Flowers
Flowers overcame tremendous personal and physical problems to continue his career at Bowling Green.
1981: Mark Alcorn
A player on the LSU team who was a victim of cancer.
1980: Phil Scaffidi
Cancer victim who played basketball at Niagara.
1979: Bill Wanstrath
A one-armed basketball player who competed successfully at Batesville High School in Indiana.
1978: John Kratzer
A cancer victim who played basketball at William & Mary.