INDIANAPOLIS (USBWA) – Three repeat selections, three first-teamers from the Big Ten including its top scorer, a pair of teammates from top-ranked Gonzaga and the country's leading rebounder headline the 2021-22 U.S. Basketball Writers Association Men's All-America Team. The 15-man team includes two of the country's top shooters, the third-leading scorer, seven players who were their conference players of the year and four players who were USBWA district players of the year.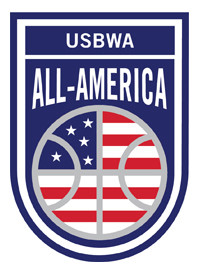 The USBWA has named a men's All-America Team since its inaugural season of 1956-57. Since the 2017-18 season, the USBWA has expanded the team to honor 15 players on three teams, regardless of position. For the first time, the USBWA has also recognized players with honorable mention. The All-America Team is selected by the USBWA board after voting from the entire membership and the honor is based on performance during the regular season and conference tournaments.
Illinois center Kofi Cockburn, a 7-0 junior center from Kingston, Jamaica, is on the first team following a second-team selection last year and is the only player in the nation averaging at least 20 points (21.1) and 10 rebounds (10.6) per game, and is the sole player in the national top 20 in those categories. He's the first Big Ten player since 2004 to average at least 21 points and 10 rebounds and is third in the nation with 11 games of at least 20-10.
Oscar Tshiebwe is Kentucky's first USBWA All-American since forward PJ Washington in 2019 and the Wildcats' first on the first team since forward Willie Cauley-Stein in 2015. The 6-9 junior forward from Lubumbashi in the Democratic Republic of the Congo, is the USBWA District IV Player of the Year and is the nation's leading rebounder at 15.1 per game; he is also the team's leading scorer with 17.0 points per game and could become the first Division I player to average at least 15 points and 15 rebounds per game since Drake's Lewis Lloyd and Alcorn State's Larry Smith (1979-80), and the first major-conference player to average 16 points and 15 rebounds in a season since Bill Walton at UCLA in 1972-73. No Kentucky player has averaged as much as 16 points and 15 rebounds since Bob Burrow (19.1 and 17.7) in 1954-55.
Tshiebwe is also a force on defense as the only major conference player averaging at least 1.6 blocked shots and 1.6 steals per game.
Keegan Murray's accolades go beyond his 23.6 points per game, which are fourth nationally and lead all players from the major conferences. Iowa's 6-8 sophomore forward from Cedar Rapids, Iowa, has a 55.5 percent shooting accuracy that is 32nd nationally and his 2.0 blocks per game are 45th. Murray is the only player nationally to be averaging 23 points, eight rebounds and two blocks heading into the postseason. He has 10 double-doubles. Murray gives Iowa a first-team All-American in three consecutive seasons following center Luka Garza in 2020 and '21.
Johnny Davis, a 6-5 sophomore guard/forward from LaCrosse, Wis., is the District V Player of the Year as well as the same in the Big Ten. The Wisconsin sophomore is averaging 19.7 points, 8.2 rebounds, and 2.2 assists per game and has scored 30 or more points in three games, two of them against ranked opponents. He has five double-doubles.
Kansas' Ochai Agbaji, a 6-5 guard from Kansas City, Mo., is the USBWA District VI and Big 12 Player of the Year. He is 25th nationally in scoring at 19.7 points per game. The four-year starter for KU was second in the Big 12 in three-point field goal percentage (40.5%, 31st nationally) and in three-point field goals made per game (2.8, 42nd nationally). He has made a three-pointer in 53 consecutive games, a KU record, heading into the postseason and is 18th on the KU career scoring list with 1,570 points.
This is the 30th time for teammates to be on the USBWA All-America team, and there are a pair of pairs this season with Chet Holmgren and Drew Timme from Gonzaga, the top seed in the West Regional, matching Walker Kessler and Jabari Smith from Auburn.
Drew Timme of Gonzaga, also a second-teamer last year, is the USBWA District IX and West Coast Conference Player of the Year after leading the WCC in scoring in conference games at 18.5 ppg, and second among all games at 17.5. His 58.8 percent accuracy is 14th nationally. Teammate Chet Holmgren, on the third team, is fourth in the nation in blocks (104) and leads the WCC with 9.6 rebounds per game. The 7-0 freshman has more blocks (104) than missed shots from the field (98) so far this season. Gonzaga has had a USBWA All-American in four of the last five seasons, including three a season ago when it reached the national championship game.
Auburn's Jabari Smith, a second-teamer, was named the SEC's Freshman of the Year and teammate Walker Kessler earned SEC Defensive Player of the Year. Kessler, on the third team, enters the NCAA Tournament as the No. 2 shot-blocker in the country averaging 4.5 blocks per game and the only NCAA Division I player with two triple-doubles. The Tigers pair are the first Auburn players to earn USBWA All-America nods since Chris Porter in 1999.
Finishing off the second team are Duke forward Paolo Banchero, the ACC Freshman of the Year and a first-team all-conference selection; Purdue guard Jaden Ivey, a first team All-Big Ten selection; and second-ranked Arizona guard Bennedict Mathurin, the Pac-12's Player of the Year.
Villanova guard Collin Gillespie, a third repeat USBWA All-American who repeats on the third unit this season, was the District II and Big East Player of the Year. He headlines the third team, joining Holmgren and Kessler. Also on the third team are James Akinjo, an All-Big 12 guard on the East Regional's top seed Baylor and Ohio State forward E.J. Liddell, a first team All-Big Ten selection and the Buckeyes' first All-American since 2018.
Five other standout players received honorable mention from the USBWA: Armando Bacot, North Carolina; Johnny Juzang, UCLA; JD Notae, Arkansas; David Roddy, Colorado State; and Alondes Williams, Wake Forest.
Following is the complete 2021-22 USBWA All-America Team:
2021-22 USBWA MEN'S ALL-AMERICA TEAM
Pos.
First Team
Ht.
Wt.
Yr.
Hometown
G
Ochai Agbaji, Kansas
6-5
215
Sr.
Kansas City, Mo.
C
Kofi Cockburn, Illinois
7-0
285
Jr.
Kingston, Jamaica
G/F
Johnny Davis, Wisconsin
6-5
194
So.
LaCrosse, Wis.
F
Keegan Murray, Iowa
6-8
225
So.
Cedar Rapids, Iowa
F
Oscar Tshiebwe, Kentucky
6-9
255
Jr.
Lubumbashi, Congo
Pos.
Second Team
Ht.
Wt.
Yr.
Hometown
F
Paolo Banchero, Duke
6-10
250
Fr.
Seattle, Wash.
G
Jaden Ivey, Purdue
6-4
195
So.
South Bend, Ind.
G
Bennedict Mathurin, Arizona
6-6
210
So.
Montreal, Quebec
F
Jabari Smith, Auburn
6-10
220
Fr.
Fayetteville, Ga.
F
Drew Timme, Gonzaga
6-10
235
Jr.
Richardson, Texas
Pos.
Third Team
Ht.
Wt.
Yr.
Hometown
G
James Akinjo, Baylor
6-1
190
Sr.
Oakland, Calif.
G
Collin Gillespie, Villanova
6-3
195
Gr.
Huntingdon Valley, Pa.
F
Chet Holmgren, Gonzaga
7-0
195
Fr.
Minneapolis, Minn.
F/C
Walker Kessler, Auburn
7-1
245
So.
Newnan, Ga.
F
E.J. Liddell, Ohio State
6-7
240
Jr.
Belleville, Ill.
Honorable mention: Armando Bacot, North Carolina; Johnny Juzang, UCLA; JD Notae, Arkansas; David Roddy, Colorado State; Alondes Williams, Wake Forest.
The U.S. Basketball Writers Association was formed in 1956 at the urging of then-NCAA Executive Director Walter Byers. With some 900 members worldwide, it is one of the most influential organizations in college basketball. It has selected an All-America team since the 1956-57 season. For more information on the USBWA and its award programs, contact executive director Malcolm Moran at 814-574-1485.