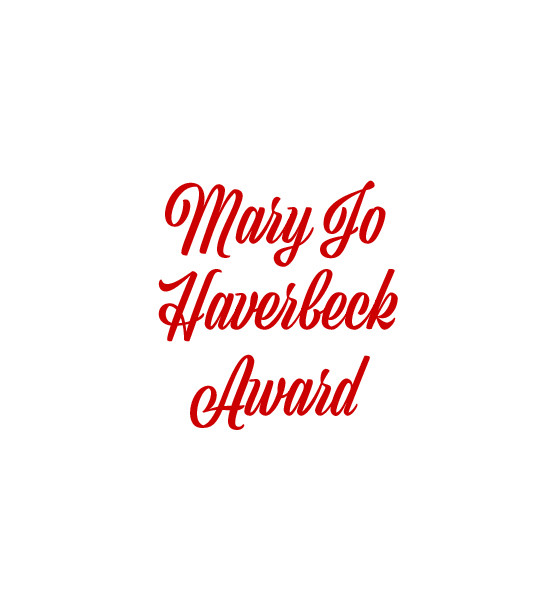 USBWA Mary Jo Haverbeck Award
The award is named for the late Mary Jo Haverbeck, longtime women's sports information director at Penn State who passed away in January 2014, and pays tribute to Mary Jo for her pioneering and visionary work among the first women to work in the sports information profession.
2022: Debby Jennings, University of Tennessee
To reporters who covered Tennessee women's basketball at the height of its dominance in the Pat Summitt era, Debby Jennings was as well-known and important as anyone within the Lady Vols' program. She spent 35 years at Tennessee, beginning her career with the Lady Vols after her graduation in 1977 and becoming the school's first sports information director for women's sports. She's won numerous awards and oversaw national media attention during Pat Summitt and Tennessee's reign, known as a go-to reference for women's basketball information.
2021: No recipient selected
2020: Harry Parretta, Villanova University
2019: Nora Lynn Finch, Atlantic Coast Conference
The conference's senior associate commissioner, Nora Lynn Finch, who served the first eight years as chair of the NCAA women's basketball tournament committee from 1981-88, has since been announced as a member of this June's Women's Basketball Hall of Fame induction class in Knoxville, Tenn., as a contributor. She was the top assistant to the late Hall of Famer Kay Yow at North Carolina State before becoming the Wolfpack's senior women's administrator and then moving to the ACC. "Nora Lynn's contributions to college athletics, and specifically women's basketball, are beyond significant," said ACC Commissioner John Swofford. "For over four decades, her enthusiasm, energy and integrity have benefited everyone she's worked with, and the respect and awards she's earned are well deserved. I congratulate her on adding the USBWA prestigious Mary Jo Haverbeck award to her career accomplishments."
2018: Danielle Donehew, Women's Basketball Coaches Association
2017: Barb Kowal, CoSIDA
With the Women's Final Four to be held this year in Dallas in the Lone Star State, awarding Barb Kowal the Mary Jo Haverbeck Award for giving service to the U.S. Basketball Writers Association has all the right connections. Though this award is the women's version of the Katha Quinn award on the men's side, Kowal's current role as director of professional development and external affairs for the College Sports Information Directors of America (CoSIDA) has filtered into both genders on the media side benefitting from her work with a new generation of athletic department media representatives.
Kowal was there at the creation when the powerful Connecticut women's basketball program took off in the early 1990s and was able to help facilitate an increased media demand covering Geno Auriemma and his players. Then she uprooted from New England to the Deep South to work with a second Hall of Fame coach in Jody Conradt and the University of Texas program before moving into her duties with CoSIDA. And Kowal was a contemporary and friend of Mary Jo Haverbeck, the late pioneering Penn State women's sports information director for whom this award is named.
2016: Caroline Williams, USA Basketball
Following Monday morning's USA Basketball Women's National Team training session at the University of Connecticut in preparation for this summer's Olympics in Brazil, USA Basketball Communications Director Caroline Williams was surprised with an on-site announcement that she is the second recipient of the U.S. Basketball Writers Association's Mary Jo Haverbeck Award for service to the media in women's basketball. Mel Greenberg, the USBWA representative for women's coverage, made the announcement in front of a star-studded array of USA players, USA Basketball officials, and members of the national and local media who are here for the three-day event that began Sunday. "We thought it was appropriate to announce our gold medal as a surprise to Caroline, who has been around a haul of gold for the last two decades, and in our coming here, to give her a special golden moment in front of her extended family," Greenberg said. Williams, a graduate of George Mason, will receive her award on April 3 at the USBWA women's presentations before the national semifinals at the NCAA Women's Final Four in Bankers Life Fieldhouse in Indianapolis.
2015: Sue Donohoe, NCAA
When the time came to start thinking about who would receive our first Mary Jo Haverbeck Award – named for the pioneering women's SID at Penn State who passed away a year ago in January – there were several criteria to consider for the inaugural honor. In no particular order, find someone who has been a similar trailblazer of sorts and earned respect opening doors. Find someone who fits the same requirements in service to the media as is established in the equivalent Katha Quinn Award on the men's side. And, because it is the newest award from USBWA on the women's side, find someone who knew Mary Jo well and was also known by her. Ironically, unbeknown to us at the time of the decision, we selected a worthy recipient who held the same responsibilities overseeing basketball at the NCAA as this year's Katha Quinn winner, Tom Jernstedt, who is also no longer with the NCAA. So we are proud to announce Sue Donohoe, the former NCAA vice president of Division I women's basketball who is currently the executive director of the Kay Yow Cancer Fund and also is serving as the current president of the Women's Basketball Hall of Fame board of directors.