INDIANAPOLIS (USBWA) – In recognition of his long service to the game of women's basketball, Duke's Lindy Brown has been named the U.S. Basketball Writers Association's Mary Jo Haverbeck Award winner for 2023. He will be presented the award at the Final Four in Dallas.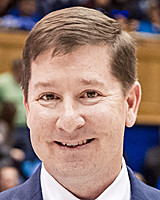 A tireless promoter of the Duke's women's basketball program for more than two decades through the 2021-22 season, Brown has been the go-to source for sports communication for legions of reporters through the years. A storyteller, an encyclopedia of knowledge and a connector, he exemplifies the qualities that make sports communication directors essential to athletic departments and sports media.
Brown joined the Duke communications office in November 1999 and rose to Senior Associate Director of Sports Communications, currently overseeing women's soccer, women's tennis and women's golf. In 2019, Brown received the CoSIDA Achievement Award for the University Division and has been honored multiple times for his women's basketball media guides. He has been part of multiple women's sports championships and achievements at Duke, including three women's basketball Final Four appearances (2002, '03 and '06).
"Nobody worked harder to promote and elevate Duke women's basketball than Lindy, whose knack for spotting and pitching good stories made it an easy program to cover," said USBWA president Luke DeCock, a sports columnist for the (Raleigh) News & Observer. "The fact that he for many years organized the annual media basketball game at Cameron is entirely incidental."
A 1996 graduate from Western Carolina University in Cullowhee, N.C., Brown received a Bachelor of Science degree in sport management and worked in the sports information office during college. Before joining Duke, he served as the Sports Information Director and Marketing and Promotions Coordinator for the University of South Carolina Aiken. Brown resides in his hometown of Raleigh with his wife Christine and their two children, Jordan and Olivia.
The award is presented annually and named after the late Mary Jo Haverbeck, the longtime women's sports communications director at Penn State who passed away in January 2014. The award pays tribute to Haverbeck for her pioneering and visionary work among the first women to work in the sports communication profession.
The USBWA was formed in 1956 at the urging of then-NCAA Executive Director Walter Byers. With some 900 members worldwide, it is one of the most influential organizations in college basketball. It has selected an All-America team since the 1956-57 season. For more information on the USBWA and its award programs, contact executive director Malcolm Moran at 814-574-1485.