DALLAS (FWAA) – The New Mexico State Aggies outgained Auburn by a near two-to-one margin while rushing for 213 yards in a 31-10 upset at Jordan-Hare Stadium, the Aggies' first win over a Southeastern Conference opponent in program history. The Aggies scored on all four trips to the red zone while preventing the Tigers from getting inside their own. The win earned the Cheez-It National Team of the Week for games the weekend of Nov. 18, as selected by the All-America Committee of the Football Writers Association of America.
This is the first time the Aggies have earned this honor from the FWAA.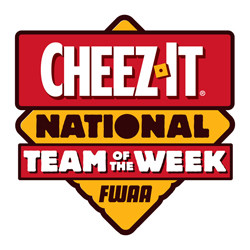 It was a power ground attack that propelled NMSU's (9-3, 5-1 in CUSA) possessions, rolling up a 213-65 margin in rushing yards. But quarterback Diego Pavia diced the Tigers up through the air as well, finishing with 201 passing yards and three touchdowns. Pavia hit 11 different receivers to keep Auburn guessing. Kordell David and Eli Stowers each caught a touchdown. New Mexico State outgained Auburn 414-213 overall.
The Aggies made a statement early. In the first quarter NMSU outgained Auburn 126-15 and made eight first downs while Auburn failed to move the sticks once. The Aggies held the ball for more than 12 minutes in the opening period. They finished with more than a quarter's worth (17:10) of time of possession.
Defensively, Andre Seldon and Gabe Peterson each finished with six tackles to lead the way. Five different Aggie defenders recorded at least half a sack.
"We never had any doubt that we could do this," NMSU cornerback Andre Seldon told reporters after the game. "It was like another game for us, but as far as looking at the scoreboard and feeling the victory, it was different with this game. We came into it as underdogs, and nobody believed in us. We told them to cut that check and we can get out of here. Go Aggies."
NMSU, 7-6 a year ago, is now 9-3 with a game against Jacksonville State coming up Saturday at 4 p.m. ET. It's the programs' first consecutive winning seasons since 1966-67, and they've already clinched a spot in the CUSA Championship Game at Liberty on Dec. 1 (7 p.m. ET, ESPN+).
"Our kids played with relentless effort," head coach Jerry Kill said. "A relentless effort by them and this has to go down as one of the biggest wins that New Mexico State has had in a long time."
Since 2002, the FWAA has named a National Team of the Week. Coming into the 2023 season, 284 teams have been honored, including 101 different Division I programs. Each honored team will receive a custom Cheez-It "care package" along with a hand-crafted game ball made in America by Dallas-based Big Game USA, the nation's leading manufacturer of custom footballs.
The other National Team of the Week nominees for the weekend of Nov. 18 were:
App State (7-4): The Mountaineers got a 26-23 overtime win at No. 18 James Madison and stayed alive for a bid to the Sun Belt Conference Championship Game. Joey Aguilar's 8-yard touchdown pass to Kaedin Robinson in overtime was the game-winner. App State withstood a late rally from the Dukes, who trailed by 12 points early in the fourth quarter and tied the game in the final minute of regulation. It was the Mountaineers' third win over an AP Top 25 team in their last five tries, and App State is 3-10 against top-25 opponents since moving up to the FBS ranks in 2014.

Arizona (8-3): Noah Fifita threw two touchdowns and the No. 19 Wildcats used a fast start to beat No. 16 Utah 42-18 for their first five-game winning streak in nine years. Arizona manhandled the two-time reigning Pac-12 champions by building a 28-0 lead by the first play of the second quarter. The win marks the first time for Arizona to beat four AP Top 25 teams in a season since 1989. Fifita threw for 253 yards on 22-of-30 passing against a Utah defense missing three starters.
ABOUT KELLOGG COMPANY
At Kellogg Company (NYSE: K), our vision is a good and just world where people are not just fed but fulfilled. We are creating better days and a place at the table for everyone through our trusted food brands. Our beloved brands include Pringles®, Cheez-It®, Special K®, Kellogg's Frosted Flakes®, Pop-Tarts®, Kellogg's Corn Flakes®, Rice Krispies®, Eggo®, Mini-Wheats®, Kashi®, RXBAR®, MorningStar Farms® and more. Net sales in 2021 were nearly $14.2 billion, comprised principally of snacks as well as convenience foods like cereal, frozen foods, and noodles. As part of our Kellogg's® Better Days ESG strategy, we're addressing the interconnected issues of wellbeing, climate and food security, creating Better Days for 3 billion people by the end of 2030. Visit KelloggCompany.com.
ABOUT FLORIDA CITRUS SPORTS
Florida Citrus Sports is a not-for-profit event management organization dedicated to positively impacting the Orlando region while enhancing the quality of life in Central Florida through world-class events, including the Cheez-It Citrus Bowl, the Pop-Tarts Bowl, the Florida Blue Florida Classic, the Camping World Kickoff and the FC Series. For more information, visit FloridaCitrusSports.com.
Founded in 1941, the Football Writers Association of America consists of 1,100 men and women who cover college football. The membership includes journalists, broadcasters and publicists, as well as key executives in all the areas that involve the game. The FWAA works to govern areas that include game-day operations, major awards and its annual All-America team. For more information about the FWAA and its award programs, contact Steve Richardson at tiger@fwaa.com.
For more information, follow @CheezIt and @CitrusBowl on your favorite social media platform, and stay tuned to see what absurdly satisfying antics Cheez-It has in store this season.
2023 FWAA All-America Committee
Kirk Bohls, Austin American-Statesman (Chair)
Travis L. Brown, Bryan-College Station Eagle
Ken Capps, Freelance
Angelique Chengelis, Detroit News
Brett Ciancia, Pick Six Previews
Scott Dochterman, The Athletic
Scott Farrell, collegepressbox
Bryan Fischer, FOX Sports
John Hoover, All Sooners
Mike Huguenin, Freelance
Shehan Jeyarajah, CBS Sports
Nate Mink, Syracuse Post-Standard
Ben Portnoy, The State
Tony Siracusa, Last Word on College Football
Phil Steele, Phil Steele Publications
Dusty Thibodeaux, WarhawkReport.com
Ryan Thorburn, Casper (Wyo.) Star-Tribune
John Wagner, County News Review (Minn.)
Jon Wilner, Bay Area News Group