DALLAS (FWAA) – Even better than simply making a statement Saturday, the Oklahoma State Cowboys got the last word in taking the final scheduled Bedlam game, 27-24, over No. 10 Oklahoma before a ravenous sellout crowd at Boone Pickens Stadium. For its satisfying win over its longtime and departing conference rival and staying tied atop the Big 12 standings, the Cowboys (7-2) earned the Cheez-It National Team of the Week for games the weekend of Nov. 4, as selected by the All-America Committee of the Football Writers Association of America.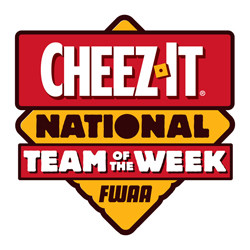 This is the fourth time for Oklahoma State to earn the national team of the week honor from the FWAA and the first time since a win 2018 in a similar timeframe and opponent, a 38-35 win over No. 10 Texas on Oct. 27, 2018.
Red-hot running back Ollie Gordon II – so hot the fans were chanting his name before he scored the game's first touchdown only four minutes in – ran for 138 yards and two touchdowns with his career-high 33 carries, posting his sixth straight game rushing for at least 100 yards. Alan Bowman passed for 334 yards, Rashod Owens had career highs of 10 catches for 136 yards and Brennan Presley caught eight passes for 97 yards for the Cowboys.
It was the Cowboys' fifth straight Big 12 win and second consecutive over the Sooners in Stillwater. Oklahoma State remains tied with Texas with a 5-1 conference record. The win was head coach Mike Gundy's 100th career Big 12 win, adding his name to a short list that also includes Bob Stoops and Bill Snyder.
"I mentioned in the locker room how proud I was of our coaches, their plans that they had going into the game but then the adjustments they made through the game. Our players' willingness to ride the wave, ups and downs, and just continue to go out there and compete and play each play," Gundy said. "Most of the game I watch faces and monitor body language and things so if I feel like someone is going south, then I've got to go over and pick them up. Or, if they're too enthusiastic and out of control, I've got to go over and calm them down. One that was interesting in today's game, I didn't really have to do much of either."
Oklahoma State won the statistics match in almost every category. It held the Sooners to 24 points, their second-lowest scoring total of the season for a team listed fourth nationally, averaging 41.9 ppg coming into the game. The Cowboys posted 27 points against a Sooner defense that entered the game allowing just 18.9 points per game (22nd nationally, third in the Big 12). And it won the turnover battle, 3-1, against a Sooners team that came in plus-10 in turnover margin, third nationally.
Oklahoma State next visits new conference foe UCF at 3:30 p.m. ET Saturday on ESPN.
Since 2002, the FWAA has named a National Team of the Week. Coming into the 2023 season, 284 teams have been honored, including 101 different Division I programs. Each honored team will receive a custom Cheez-It "care package" along with a hand-crafted game ball made in America by Dallas-based Big Game USA, the nation's leading manufacturer of custom footballs.
The other National Team of the Week nominee for the weekend of Nov. 4 were:
Army (3-6): The Black Knights beat rival and No. 17 Air Force, 23-3, in Denver to gain their first win over an AP-ranked opponent since 1972, also a win over Air Force. Army broke Air Force's undefeated run this season as well as its 13-game win streak dating back to last season and set up an opportunity to win the Commander-in-Chief's Trophy on Dec. 9 vs. Navy. Army's defense forced six turnovers and quarterback Bryson Daily had a career-high 170 rushing yards on 36 carries and two rushing touchdowns. It was also Army's first win of 20 or more points vs. an AP-ranked opponent since 1958.

Clemson (5-4): The Tigers ran Phil Mafah a school-record 36 times for his career-high 186 yards and two touchdowns leading to a 31-23 home upset over No. 12 Notre Dame. It was head coach Dabo Swinney his 166th career win, the most by any Clemson coach. Clemson shut Notre Dame out in the first half and went penalty-free for the game, its first penalty-free game on record since the 1952 Gator Bowl. Jeremiah Trotter Jr. impressed with 11 tackles, 2.5 tackles for a loss, 2.0 sacks and a pick-six.
ABOUT KELLOGG COMPANY
At Kellogg Company (NYSE: K), our vision is a good and just world where people are not just fed but fulfilled. We are creating better days and a place at the table for everyone through our trusted food brands. Our beloved brands include Pringles®, Cheez-It®, Special K®, Kellogg's Frosted Flakes®, Pop-Tarts®, Kellogg's Corn Flakes®, Rice Krispies®, Eggo®, Mini-Wheats®, Kashi®, RXBAR®, MorningStar Farms® and more. Net sales in 2021 were nearly $14.2 billion, comprised principally of snacks as well as convenience foods like cereal, frozen foods, and noodles. As part of our Kellogg's® Better Days ESG strategy, we're addressing the interconnected issues of wellbeing, climate and food security, creating Better Days for 3 billion people by the end of 2030. Visit KelloggCompany.com.
ABOUT FLORIDA CITRUS SPORTS
Florida Citrus Sports is a not-for-profit event management organization dedicated to positively impacting the Orlando region while enhancing the quality of life in Central Florida through world-class events, including the Cheez-It Citrus Bowl, the Pop-Tarts Bowl, the Florida Blue Florida Classic, the Camping World Kickoff and the FC Series. For more information, visit FloridaCitrusSports.com.
Founded in 1941, the Football Writers Association of America consists of 1,100 men and women who cover college football. The membership includes journalists, broadcasters and publicists, as well as key executives in all the areas that involve the game. The FWAA works to govern areas that include game-day operations, major awards and its annual All-America team. For more information about the FWAA and its award programs, contact Steve Richardson at tiger@fwaa.com.
For more information, follow @CheezIt and @CitrusBowl on your favorite social media platform, and stay tuned to see what absurdly satisfying antics Cheez-It has in store this season.
2023 FWAA All-America Committee
Kirk Bohls, Austin American-Statesman (Chair)
Travis L. Brown, Bryan-College Station Eagle
Ken Capps, Freelance
Angelique Chengelis, Detroit News
Brett Ciancia, Pick Six Previews
Scott Dochterman, The Athletic
Scott Farrell, collegepressbox
Bryan Fischer, FOX Sports
John Hoover, All Sooners
Mike Huguenin, Freelance
Shehan Jeyarajah, CBS Sports
Nate Mink, Syracuse Post-Standard
Ben Portnoy, The State
Tony Siracusa, Last Word on College Football
Phil Steele, Phil Steele Publications
Dusty Thibodeaux, WarhawkReport.com
Ryan Thorburn, Casper (Wyo.) Star-Tribune
John Wagner, County News Review (Minn.)
Jon Wilner, Bay Area News Group