DALLAS (FWAA) – Florida Citrus Sports and Pop-Tarts are teaming up to present the Pop-Tarts 'Crazy Good' Play of the Week during the 2023-24 college football season. Each week the winning play will be selected in conjunction with the Football Writers Assocation of America.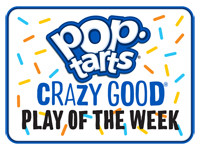 This new weekly award will celebrate the incredible athleticism, awe-inspiring strategy and jaw-dropping "did you see that?" moments from college football each week.
A select committee of FWAA members will honor one outstanding play each weekend during the regular season. Fans can nominate and vote on their favorite play through Pop-Tarts Bowl social media accounts (@PopTartsBowl).
Notre Dame is the winner of the Pop-Tarts Crazy Good Play of the Week for Week 9. Chris Tyree darted then dashed 82 yards for a score on a punt return that opened the scoring and set the tone for a 58-7 win over Pitt. Tyree is a mutli-purpose threat for Notre Dame, converting from running back to receiver to go with his return skills. He is averaging 21.9 yards per catch on 19 receptions, three for touchdowns this season.
For the rest of the season, the FWAA will announce the Pop-Tarts Crazy Good Play of the Week after the conclusion of all games each week. There will be 13 teams honored this year, running from the beginning to the end of the regular season. The winning team will receive a care package of Pop-Tarts pastries to celebrate its win. All NCAA Division I schools are eligible to be selected.
The Pop-Tarts Crazy Good Play of the Week follows Pop-Tarts entry into college football with the Pop-Tarts Bowl, organized and managed by Florida Citrus Sports. For more information, follow @poptartsbowl on your favorite social media platform, and stay tuned to see what Pop-Tarts is toasting up this season.
ABOUT KELLOGG COMPANY
At Kellogg Company (NYSE: K), our vision is a good and just world where people are not just fed but fulfilled. We are creating better days and a place at the table for everyone through our trusted food brands. Our beloved brands include Pringles®, Cheez-It®, Special K®, Kellogg's Frosted Flakes®, Pop-Tarts®, Kellogg's Corn Flakes®, Rice Krispies®, Eggo®, Mini-Wheats®, Kashi®, RXBAR®, MorningStar Farms® and more. Net sales in 2021 were nearly $14.2 billion, comprised principally of snacks as well as convenience foods like cereal, frozen foods, and noodles. As part of our Kellogg's® Better Days ESG strategy, we're addressing the interconnected issues of well-being, climate and food security, creating Better Days for 3 billion people by the end of 2030. Visit KelloggCompany.com.
ABOUT FLORIDA CITRUS SPORTS
Florida Citrus Sports is a not-for-profit event management organization dedicated to positively impacting the Orlando region while enhancing the quality of life in Central Florida through world-class events, including the Cheez-It Citrus Bowl, the Pop-Tarts Bowl, the Florida Blue Florida Classic, the Camping World Kickoff and the FC Series. For more information, visit FloridaCitrusSports.com.
ABOUT THE FWAA
Founded in 1941, the Football Writers Association of America consists of 1,100 men and women who cover college football. The membership includes journalists, broadcasters and publicists, as well as key executives in all the areas that involve the game. The FWAA works to govern areas that include game-day operations, major awards and its annual All-America team. For more information about the FWAA and its award programs, contact Steve Richardson at tiger@fwaa.com.
2023 Pop-Tarts Crazy Good Play Selection Committee
Mark Blaudschun, The Media Guides
Ken Capps, Freelance
Anthony Catalina, New England Football Journal
Crash Collier, collegepressbox
David Cunningham. Tech Sideline
Laim Fitzgibbon, National Football Foundation
Shane Hallam, Draft Countdown
Shehan Jeyarajah, CBS Sports
Cody Kellner, Kellner Ratings
Emily Leiker, Syracuse.com
Jack Leo, DawgNation
Margaret Mason, FWAA
John Rooke, WPRO Radio
Andrew Sagona, Reddit
Jeff Schwartz, North Dakota State (Retired)
Matthew Sign, National Football Foundation
Phil Steele, Phil Steele Publications
Paul Swann, WRVC Radio
Lenny Vangilder, Crescent City Sports