Comments by the judge: "Good job describing the atmosphere after the game in the lead, catching the mood in the stadium. Liked the way the writer compared TCU's recent background in football with Michigan. Excellent opening quote from Sonny Dykes. Also good quotes from several TCU players."
•
Disrespected again and again, TCU hops into the national championship
Jan. 1, 2024
By Brandon Marcello
247Sports
The purple confetti floated through the air Saturday in the desert, landing on the shoulders of the improbable Fiesta Bowl champions on New Year's Eve. A student carrying a placard emblazoned with a Hypnotoad pushed through the celebratory mob of TCU players, coaches and families at the rim of a quickly-erected stage on the field of State Farm Stadium. It all seemed surreal, but this new reality of new blood over blue blood in the College Football Playoff slowly and surely didn't seem all that outrageous. The Horned Frogs were, indeed, hopping to the national championship game, according to the scoreboard.
TCU 51, Michigan 45.
Wait. Little ol' TCU playing for a national championship against Georgia in 10 days? Nah, maybe in a few years with a few breaks, a few more recruiting classes and a ton of luck. But certainly not this year, the first of the Sonny Dykes era, right?
"We said it a million times, but, look, we were picked seventh in the preseason poll in the Big 12, so at some point, you kind of just quit listening to what everybody says, and it doesn't really affect you," Dykes said. "And let me just say this, we know we're going to hear it again. It's not going to stop now. You know what I'm saying? We're going to play again in 10 days, and we're going to hear the same crap for 10 days that we heard leading up to this ballgame."
That doubt has followed TCU everywhere this season: from its improbable run of seven comeback victories, six wins against nationally ranked teams, a loss to Kansas State in the Big 12 Championship and their placement as the No. 3 seed in the playoff. After all, this is all new in the playoff era. TCU is on the most improbable run in the nine years of the playoff's existence. TCU, a seven-game loser in the final year of the Gary Patterson era last season, has never been among the blue bloods of Alabama, Clemson, LSU or Georgia that have filled the bracket every year. Not since 1938 has this school won a national title.
The doubters filled The Valley here in the days leading up to the Fiesta Bowl, too. Even Michigan, the undefeated Big Ten champions, seemed more confident than usual about facing the Horned Frogs.
"They did a little premature talking, not really knowing what we were capable of," said TCU running back Emari Demercado.
Might TCU's 3-3-5 defense, a scheme no other team utilized in the Big Ten against the Wolverines, be confusing? No, not for Michigan's offensive line, the biggest and baddest bullies in college football. That was the narrative at least.
The first half told a different story. Michigan had trouble picking up linebackers in the gaps, and the tackles behind the line of scrimmage quickly piled up as the Horned Frogs built a 21-3 lead. TCU edge rusher Dylan Horton had three sacks before halftime. Bud Clark picked off a pass for a touchdown. When the Wolverines did move the ball, they shuttered. Eight plays inside the 10-yard line resulted in a field goal, a lost fumble at the goal line and a terrible trick play that went nowhere on fourth down at the 2-yard line.
Meanwhile, Michigan's offensive linemen argued over assignments, TCU players said. The titans were toppling over themselves.
"I could see [confusion] in their faces and their eyes," linebacker Johnny Hodges said. "You're playing a defense you've never seen, and scout (team) can only do it so well."
Disrespected or not, perception was everything for TCU – and the perceived slights piled up throughout the week. Video of Michigan linebacker Junior Colson stumbling as he had trouble remembering what conference TCU called home was a big hit at the team hotel late in the week.
"Everybody was talking about it," Demercado said. "From that moment, I knew. I've never seen the coaches fired up like that. I knew it was on."
"And then their run game wasn't that great today, so it was nice seeing a linebacker say that and then we run all over 'em," Hodges said. "You could just tell they were a little overconfident and that gave us just another chip and we're a team full of chips. Everyone has something to prove every time we step on the field."
Still, it wasn't a runaway win for TCU, which never trailed but had to hold on for dear life after the craziest eight-minute stretch in playoff history. After all, decisiveness is not in the Horned Frogs' DNA.
Michigan and TCU traded punches and combined for 56 points in a span of 8:25 of game time, and though it wasn't beautiful in its execution, the sequence was endlessly entertaining. TCU even built a lead as large as 19 in that time, only to watch it shrink to 41-38 with back-to-back touchdowns and 2-point conversions by the Wolverines, who capitalized on an interception by Max Duggan to pull within striking distance.
The flurry of scores was akin to Rocky and Drago trading murderous hooks and jabs, only to somehow stroll back to their corners without a knockout at the bell. The only difference is TCU-Michigan wasn't a movie, but it might someday be on the big screen if TCU goes on to do the unthinkable and win the national title in Los Angeles.
Again, TCU shouldn't be at Sofi Stadium in Los Angeles, right?
Its players know the feeling of feeling out of place. Two of the 14 players Dykes snagged from the transfer portal in the winter and spring now lead the team in tackles. Starting center Alan Ali transferred from SMU. A year ago on New Year's Eve, Hodges was trying to get out of the Navy to restart his football career at TCU. He was a complete wreck emotionally and refused to leave his house to celebrate New Year's Eve with his girlfriend. The Navy linebacker, who was ready to quit football for a second time in his career, received a scholarship offer from TCU as a transfer after his dad commandeered his email account and sent a blind message to the Horned Frogs' new coaching staff inquiring if they might have interest in a former lacrosse player from a service academy.
Hodges said he didn't believe he was worthy of a spot at a Power Five program. Now he's the Big 12's defensive newcomer of the year and an all-conference selection.
"I never thought I was playing football again. Now I'm here," Hodges said. "You've just got to be confident. You've earned this. Tell yourself that."
Ali, who shares locker space with Hodges at TCU, was weighing whether to follow Dykes from SMU.
"Fort Worth is a working class town. I love Fort Worth. I'm from Fort Worth, and we kind of have our city's image on our back," Ali said. "We love to represent that Fort Worth toughness and grit on Saturdays. Now I'm here, and it's amazing."
And don't forget about Demercado, the senior with only one 100-yard performance in his career. The backup running back was thrown into action when starter Kendre Miller twisted his knee in the third quarter and he responded with a career-high 150 yards and a touchdown while averaging 8.8 yards per carry.
"I've learned a lot of lessons. Keep going because at some point the storm is going to end," Demercado said. "Obviously at this point everybody likes to transfer out. I thought about it. Who wouldn't when you're struggling? It all just finally worked out."
Not bad for TCU or the Big 12, which soon enters a new era without bellcows Oklahoma and Texas at the top of the food chain. The Big 12 was 0-4 in playoff games entering 2022, with all four losses by the Sooners. OU and Texas will depart the conference for the SEC as early as 2024.
The scene at State Farm Stadium was celebratory and downright giddy as Big 12 commissioner Brett Yormark traversed the confetti-laced field. TCU old-timers cried in the stands. Veteran staffers embraced.
"I've said it since Day 1, we're bigger than any two schools," Yormark said. "We've shown that all season long. We had a great (Big 12) championship game with Kansas State and TCU, and I think the conference gets stronger next year. We're only getting started."
Even so, TCU wasn't here to boast. TCU offensive coordinator Garrett Riley chuckled when asked if he would brag about his 1-0 record in the playoff when he next speaks to his older brother, Lincoln, who was 0-4 in the playoff as the Sooners' offensive coordinator and head coach. "Nah, no," he said. "No trash talking."
The Horned Frogs will be doubted again next week in Los Angeles, where they will arrive as double-digit underdogs against the defending national champs. Consider it another opportunity for TCU to do what they've done all season, which is win in the face of improbability.
Yes, TCU. The school that was abandoned and forgotten when the old Southwest Conference shuttered its doors in the mid-1990s. The program that floated in the Western Athletic Conference and later Conference USA before returning to the big time in the Big 12 in 2012. The program that won 11 games or more 10 times under Patterson, including an undefeated record in 2010 and a one-loss year as Big 12 champs in 2014, but was never invited to the BCS National Championship or CFP until this first season under Dykes.
"A little private school in Fort Worth has probably gained a little credibility," Riley said. "It just shows that it can be done here — point blank."
•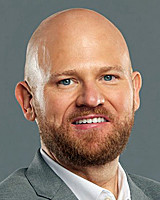 Brandon Marcello, 247Sports
Age: 39
College: University of Arkansas
Background: Brandon Marcello is an insider covering college football for 247Sports. From local beats to the national scene, he has been at the forefront of the sport since 2010 as an award-winning writer and broadcaster. Marcello joined 247Sports as a national college football reporter in May 2020. He is a news-breaker and award-winning storyteller, and his creation of the 247Sports Coaching Carousel has become the go-to hub for offseason coaching changes across college football. Marcello can be seen and heard on multiple national television and satellite radio shows, including The Paul Finebaum Show, and shares his reporting on CBS Sports HQ and 247Sports' YouTube channel. Marcello was named national beat writer of the year by the Associated Press Sports Editors in 2018 and was honored as the Alabama Sportswriter of the Year by the National Sports Media Association in 2014 while covering Auburn. Marcello previously covered beats in the SEC (Arkansas, Mississippi State and Auburn) for The Arkansas Democrat-Gazette, The (Jackson, Miss.) Clarion-Ledger, The Birmingham News and the Atlanta Journal Constitution's SEC Country before landing at 247Sports.
Marcello inspired college football fans nationwide during an amazing weight-loss journey he began in 2021. Struggling to keep up with his 2-year-old son on the playground, he had enough of his unhealthy habits and dramatically changed his diet and lifestyle by utilizing the same intense focus and determination he funneled into his career. Marcello ballooned to 324 pounds in March 2021, and on April Fool's Day, he started a journey to a healthy lifestyle. Over the course of the next 14 months, Marcello lost a staggering 150 pounds. His journey continues today as he maintains and reshapes his mind and body while offering guidance to fans who need support on their path to good health. Marcello is a native of Farmington, Arkansas, where he now lives with his wife and son in Razorback Country.