DALLAS (FWAA) – Offensive tackle Joe Alt and Notre Dame earned another dominant win Saturday, besting Central Michigan, 41-17, as the Fighting Irish (4-0) rolled up 578 total yards. Alt helped pace a 236-yard ground effort and protected quarterback Sam Hartman well, allowing him to throw for 330 yards and three touchdowns. For creating the holes springing the FBS's current rushing yardage leader, Alt earned the Outland Trophy National Player of the Week honor for games during the weekend of Sept. 16, as selected by the Football Writers Association of America.
For the first time, the FWAA is selecting an Outland Trophy National Player of the Week as part of the NCFAA's weekly national honors from 12 awards. The recipient of the 2023 Outland Trophy will be announced on The Home Depot College Football Awards, live on ESPN on Dec. 7 or 8. The official presentation to the winner will be made at the Outland Trophy Awards Dinner sponsored by Werner Enterprises and produced by the Greater Omaha Sports Committee in Omaha, Neb., on Jan. 11, 2024.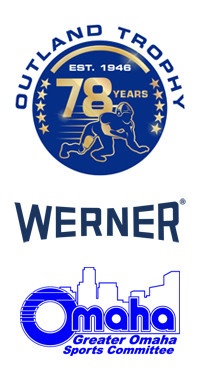 Players may be added or removed from the watch list during the season. Alt was a member of the preseason watch list. Other weekly winners will be part of the Outland Trophy watch list going forward.
Alt, a junior from North Oaks, Minn., and the line made way for 176 rushing yards and two touchdowns from Audric Estime, who gained 8.8 yards per carry in the game to become the FBS' current rushing yardage leader at 521 yards. Estime set his career-high for yardage for a second consecutive game and it marked his third-consecutive 100-yard performance, one of just three FBS players to do so this season.
Alt and the offensive line didn't give up a sack, keeping Hartman in the pocket long enough to complete two touchdown passes of 75 or more yards. The line's success has kept Nottre Dame's offense at historic heights. The Irish's 184 points scored so far this season are the most in their first four games to start a season since 1914 and are the fourth-most in program history in that span. The 41-17 win also marked the first time in program history that the Irish have scored 40 or more points in five consecutive games, dating back to last season's Gator Bowl win over South Carolina.
Alt earned Second Team All-America honors from the FWAA last season and was an FWAA Freshman All-American in 2021. Notre Dame has had three Outland Trophy winners in its history but only one in the last 75 seasons. Defensive end Ross Browner was the last in 1976, joining guard Bill Fischer in 1948 and tackle George Connor in 1946. Offensive tackle Liam Eichenberg was a finalist in 2020 as was guard Quenton Nelson in 2017.
Notre Dame has had an offensive lineman on the FWAA All-America first or second team in four of the last six seasons.
The Irish face their toughest test yet this Saturday hosting Ohio State at 7:30 p.m. ET on NBC.
The Outland Trophy, celebrating 78 years since its founding, is the third-oldest major college football award. Created in 1946 when Dr. John Outland presented the FWAA with a financial contribution to initiate the award, the Outland Trophy has been given to the best interior lineman in college football ever since. Dr. Outland, an All-American at the University of Pennsylvania in the late 1890s, eventually took up practice in Kansas City, Mo. An avid outdoorsman, Dr. Outland believed linemen did not get the credit they deserved and wanted an award to recognize them.
The Outland Trophy is a member of the National College Football Awards Association. Founded in 1997, the NCFAA includes college football's most prestigious awards and its 24 awards have honored more than 900 recipients dating back to 1935. This season, 12 NCFAA awards will honor national players of the week each Tuesday. For more information about the NCFAA and its award programs, visit the redesigned NCFAA.org or follow on Twitter at @NCFAA.
Werner Enterprises, Inc. delivers superior truckload transportation and logistics services to customers across the United States, Mexico and Canada. With 2022 revenues of $3.3 billion, an industry-leading modern truck and trailer fleet, more than 14,000 talented associates and our innovative Werner EDGE technology, we are an essential solutions provider for customers who value the integrity of their supply chain and require safe and exceptional on time service. Werner provides Dedicated and One-Way Truckload services as well as Logistics services that include 1truckload brokerage, freight management, intermodal and final mile. As an industry leader, Werner is deeply committed to promoting sustainability and supporting diversity, equity and inclusion. Werner Enterprises common stock trades on the NASDAQ Global Select Market under the symbol "WERN." For further information about Werner, visit the company's website at werner.com.
The Greater Omaha Sports Committee, founded in 1977, is a 501(c)3 non-profit organization, consisting of more than 1,300 men and women from the City of Omaha, the State of Nebraska, and others. The Committee serves to communicate, develop, initiate and promote sports activities in the Greater Omaha sports area. In addition to the Outland Trophy Award Events and Dinner, the Greater Omaha Sports Committee promotes high school, college, and professional sports in the Greater Omaha area and the Midwest. For more information contact Bob Mancuso Jr., Chairman at bmancuso@showofficeonline.com or see showofficeonline.com.
Founded in 1941, the Football Writers Association of America consists of 1,300 men and women who cover college football. The membership includes journalists, broadcasters and publicists, as well as key executives in all the areas that involve the game. The FWAA works to govern areas that include game-day operations, major awards and its annual All-America team. For more information about the FWAA and its award programs, contact Steve Richardson at tiger@fwaa.com.