DALLAS (FWAA) – The Football Writers Association of America has announced the preseason watch list for the 2023 Outland Trophy, recognizing 91 returning standout interior linemen representing all 10 Division I FBS conferences and independents. The 2023 season will close with the award's 78th anniversary and the watch list offers a talented field of players alongside two returning FWAA All-Americans.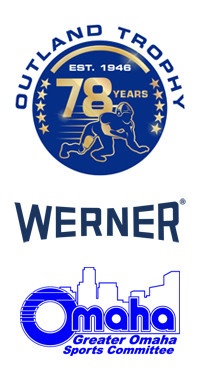 The recipient of the 2023 Outland Trophy will be announced on The Home Depot College Football Awards, live on ESPN in December. The official presentation to the winner will be made at the Outland Trophy Awards Dinner sponsored by Werner Enterprises and produced by the Greater Omaha Sports Committee in Omaha, Neb., on Jan. 10, 2024.
The returning FWAA All-Americans, both of them from last season's Second Team, are offensive tackle Joe Alt of Notre Dame and defensive tackle Tyler Davis of Clemson. Michigan leads the list as the lone team with four selections, three from the offensive line with guards Trevor Keegan and Zak Zinter playing on either side of center Drake Nugent, a Stanford transfer, along with defensive tackle Kris Jenkins. The Wolverines were in the top five nationally last season in the primary rushing categories of yards per carry (3rd, 5.58) and yards per game (5th, 238.9) with 41 rushing touchdowns as they reached the College Football Playoff semifinals.
Defending national champion Georgia leads five schools that have three players represented – center Sedrick Van Pran, guard Tate Ratledge and defensive tackle Nazir Stackhouse. It joins Alabama and LSU, also with three each, to bolster the Southeastern Conference's league-high 17 selections. LSU defensive tackle Mekhi Wingo tied for the most votes among returning players for last season's Outland Trophy. Almost half of the SEC's list – eight of 17 – are defensive tackles.
A trio from Utah heads up a dozen Pac-12 Conference players on the list, second only to the SEC. Utah defensive tackle Junior Tafuna is the only defensive tackle among the Pac-12 players. The Big Ten Conference is third with 11 total led by Michigan's four and three from Ohio State, a CFP semifinalist last year that has guards Donovan Jackson and Matt Jones back from the nation's second-best scoring offense (44.2 ppg) joining defensive tackle Mike Hall on the list. Penn State offensive tackle Olumuyiwa Fashanu, who tied Wingo for the highest vote totals from last season's Outland Trophy tallies, made the list along with two from Illinois, one on each side of the ball.
Notre Dame and Clemson each have a pair on the list with Alt joining Notre Dame offensive tackle teammate Blake Fisher and Davis having Clemson defensive tackle teammate Ruke Orhorhoro alongside him as the Atlantic Coast Conference's only defensive representatives. Besides Michigan's Nugent, the ACC has the other two players who are transfers onto their new teams in Florida State offensive tackle Jeremiah Byers (UTEP) and Miami guard Javion Cohen (Alabama).
The Big 12 Conference has 10 players on the list spread among nine different schools, including one each from its four new members at BYU, Cincinnati, Houston and UCF. Kansas State is the lone Big 12 school with two members in offensive tackles Cooper Beebe and KT Leveston.
Other schools with two players on the list are Arizona, Oregon State and USC from the Pac-12, App State and James Madison from the Sun Belt Conference, Liberty from Conference USA and a trio from the newly-expanded American Athletic Conference, SMU, Tulane and UTSA.
The conference breakdown is as follows. Beyond the 17 from the SEC, 12 from the Pac-12, 11 from the Big Ten and 10 from the Big 12, the ACC and American Athletic have eight, the Sun Belt seven, the Mid-American and Mountain West five each, and Conference USA and the Independents with four apiece.
There are 31 offensive tackles on this year's list with 24 defensive tackles and 24 guards to go with 12 centers. Just under half of the 133 Football Bowl Subdivision schools – 65 – are represented.
The Outland Trophy winner is chosen from three finalists who are a part of the annual FWAA All-America Team. The FWAA All-America Committee, after voting input from the entire membership, selects a 26-man first team and eventually the three Outland finalists. Committee members, then by individual ballot, select the winner. Only interior linemen on offense or defense are eligible for the award; ends are not eligible.
Players may be added or removed from the watch list during the course of the season. For the first time, the FWAA will announce an Outland Trophy National Player of the Week each Tuesday this season. If not already on the watch list, each week's honored player will be added at that time.
Following is the complete 2023 Outland Trophy Watch List.
2023 OUTLAND TROPHY PRESEASON WATCH LIST
G Isaiah Adams, Illinois
OT Taliese Fuaga, Oregon State
OT Jordan Morgan, Arizona
OT Joe Alt, Notre Dame
OT X'Zauvea Gadlin, Liberty
C Drake Nugent, Michigan
OT Kelvin Banks Jr., Texas
G AJ Gillie, Louisiana
DT Jaheim Oatis, Alabama
OT Graham Barton, Duke
OT Matt Goncalves, Pitt
DT Ruke Orhorhoro, Clemson
OT Cooper Beebe, Kansas State
OT Joshua Gray, Oregon State
G Justin Osborne, SMU
G Cade Bennett, San Diego State
DT Mike Hall Jr., Ohio State
C Thor Paglialong, Air Force
OT Cade Beresford, Boise State
OT Makai Hart, UTSA
OT Patrick Paul, Houston
DT Jordan Bertagnole, Wyoming
C Gus Hartwig, Purdue
G Lokahi Pauole, UCF
G Keaton Bills, Utah
OT Christian Haynes, UConn
OT Micah Pettus, Ole Miss
G Tyler Booker, Alabama
C Sincere Haynesworth, Tulane
G Prince Pines, Tulane
DT Brandon Brown, UTSA
C Isaiah Helms, App State
OT Nolan Potter, NIU
OT Jeremiah Byers, Florida State
DT Tonka Hemingway, South Carolina
G Deiyantei Powell-Woods, Central Michigan
OT Will Campbell, LSU
C Bryan Hudson, Louisville
DT Keith Randolph Jr., Illinois
DT James Carpenter, James Madison
G Jarrod Hufford, Iowa State
G Tate Ratledge, Georgia
DT Kendy Charles, Liberty
DT Jaylon Hutchings, Texas Tech
DT Kennedy Roberts, Coastal Carolina
DT Elijah Chatman, SMU
DT McKinley Jackson, Texas A&M
DT Justin Rogers, Auburn
C Duke Clemens, UCLA
G Donovan Jackson, Ohio State
OT Nick Rosi, Toledo
G Javion Cohen, Miami
DT Kris Jenkins, Michigan
G Keylan Rutledge, Middle Tennessee
OT Josh Conerly Jr., Oregon
G Matthew Jones, Ohio State
OT Jonah Savaiinaea, Arizona
DT Dontay Corleone, Cincinnati
OT Emery Jones Jr., LSU
OT Clay Servin, Rice
G Khalil Crowder, Georgia Southern
G Trevor Keegan, Michigan
DT Nazir Stackhouse, Georgia
C Ethan Crowe, Ball State
OT Nick Kidwell, James Madison
OT Kingsley Suamataia, BYU
DT Jaden Crumedy, Mississippi State
G Jarrett Kingston, USC
DT Junior Tafuna, Utah
DT Tyler Davis, Clemson
OT JC Latham, Alabama
C Sedrick Van Pran, Georgia
C Justin Dedich, USC
OT Sataoa Laumea, Utah
G Mose Vavao, Fresno State
OT Olu Fashanu, Penn State
G Quantavious Leslie, WKU
DT Deone Walker, Kentucky
OT Troy Fautanu, Washington
OT KT Leveston, Kansas State
DT Daymond Williams, Buffalo
G Connor Finucane, Army
C Beaux Limmer, Arkansas
G Bucky Williams, App State
OT Blake Fisher, Notre Dame
G Christian Mahogany, Boston College
DT Mekhi Wingo, LSU
OT Javon Foster, Missouri
DT Fish McWilliams, UAB
G Zak Zinter, Michigan
C Zach Frazier, West Virginia
The Outland Trophy, celebrating 78 years since its founding, is the third-oldest major college football award. Created in 1946 when Dr. John Outland presented the FWAA with a financial contribution to initiate the award, the Outland Trophy has been given to the best interior lineman in college football ever since. Dr. Outland, an All-American at the University of Pennsylvania in the late 1890s, eventually took up practice in Kansas City, Mo. An avid outdoorsman, Dr. Outland believed linemen did not get the credit they deserved and wanted an award to recognize them.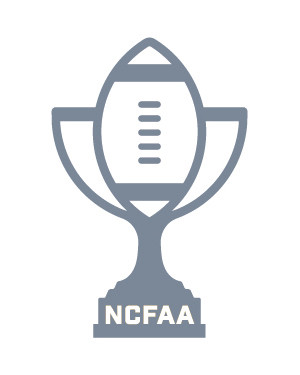 The Outland Trophy is a member of the National College Football Awards Association. Founded in 1997, the NCFAA includes college football's most prestigious awards and its 24 awards have honored more than 900 recipients dating back to 1935. This season, 12 NCFAA awards will honor national players of the week each Tuesday.

Sixteen NCFAA members are unveiling preseason watch lists over a two-week period as the association spearheads a coordinated effort to promote each award's preseason candidates. Following is the remaining 2023 preseason watch list calendar:

Wed., Aug. 2: Lou Groza Award/Ray Guy Award
Thu., Aug. 3: Paul Hornung Award/Wuerffel Trophy
Fri., Aug. 4: Mackey Award/Rimington Trophy

Mon., Aug. 7: Biletnikoff Award
Tue., Aug. 8: Davey O'Brien Award
Wed., Aug. 9: Doak Walker Award
Thu., Aug. 10: Butkus Award/Paycom Jim Thorpe Award
Fri., Aug. 11: Walter Camp Award

Mon., Aug. 14: Bednarik Award

For more information about the NCFAA and its award programs, visit the redesigned NCFAA.org or follow on Twitter at @NCFAA.
Werner Enterprises, Inc. delivers superior truckload transportation and logistics services to customers across the United States, Mexico and Canada. With 2022 revenues of $3.3 billion, an industry-leading modern truck and trailer fleet, more than 14,000 talented associates and our innovative Werner EDGE technology, we are an essential solutions provider for customers who value the integrity of their supply chain and require safe and exceptional on time service. Werner provides Dedicated and One-Way Truckload services as well as Logistics services that include 1truckload brokerage, freight management, intermodal and final mile. As an industry leader, Werner is deeply committed to promoting sustainability and supporting diversity, equity and inclusion. Werner Enterprises common stock trades on the NASDAQ Global Select Market under the symbol "WERN." For further information about Werner, visit the company's website at werner.com.
The Greater Omaha Sports Committee, founded in 1977, is a 501(c)3 non-profit organization, consisting of more than 1,300 men and women from the City of Omaha, the State of Nebraska, and others. The Committee serves to communicate, develop, initiate and promote sports activities in the Greater Omaha sports area. In addition to the Outland Trophy Award Events and Dinner, the Greater Omaha Sports Committee promotes high school, college, and professional sports in the Greater Omaha area and the Midwest. For more information contact Bob Mancuso Jr., Chairman at bmancuso@showofficeonline.com or see showofficeonline.com.
Founded in 1941, the Football Writers Association of America consists of 1,300 men and women who cover college football. The membership includes journalists, broadcasters and publicists, as well as key executives in all the areas that involve the game. The FWAA works to govern areas that include game-day operations, major awards and its annual All-America team. For more information about the FWAA and its award programs, contact Steve Richardson at tiger@fwaa.com.