CHARLOTTE, N.C. (FWAA) – For the second time in the award's history, a repeat winner has claimed the 2022 Bronko Nagurski Trophy as Alabama linebacker Will Anderson Jr. has once again been chosen as the nation's top defensive player by the Football Writers Association of America and the Charlotte Touchdown Club. The Southeastern Conference leader in sacks and tackles for loss was honored tonight with the award here.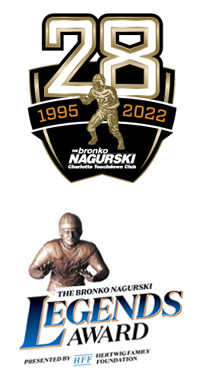 Anderson, a 6-4, 243-pound junior from Hampton, Ga., matches former Northwestern linebacker Pat Fitzgerald (1995-96) as the only repeat winner in the Bronko Nagurski Trophy's history. He was chosen from a finalist field that also included Pitt defensive tackle Calijah Kancey, Georgia safety Chris Smith and USC defensive end Tuli Tuipulotu.
The FWAA All-America Committee, after voting input from the association's entire membership, selected the defensive player of the year who is part of the 2022 FWAA All-America Team. Anderson was presented the trophy Monday night at the Bronko Nagurski Awards Banquet presented by LendingTree in Charlotte, N.C.
One of the most dominant defenders in college football, Anderson is feared by opponents as an edge rusher either at linebacker or standing at the outside of the defensive line. His 10 sacks lead the SEC (with 54 yards lost) and are tied for sixth nationally. He also leads the SEC and is seventh nationally with 17 tackles for loss that cost opponents another 72 yards.
Anderson is Alabama's fifth-leading tackler with 51 overall stops (24 solos), has an interception with a 25-yard return for a touchdown, and owns 29 quarterback hurries. He is second nationally among all Power 5 defenders in total quarterback pressures (sacks, hits, pressures) with 50 and lists eighth with the solo hurries (29) and hits (10).
He is currently in the top three of Alabama's career lists in sacks and TFL's – his 17 TFL's in 2022 trail only Derrick Thomas (39.0 in 1988) on the Crimson Tide's all-time single-season list. He has recorded at least one TFL in 28 of his 38 career games and in 11 this season. He has a half-sack or better in eight of Alabama's 12 games.
In 2021, Anderson led the nation in both categories with 17.5 sacks and 34.5 TFL's (an NCAA record since 2000).
In addition to Anderson's win in 2021, Alabama's other past Bronko Nagurski Trophy winner was defensive end Jonathan Allen in 2016. The Crimson Tide has now had finalists for the award in 11 of the last 13 seasons.
Anderson is majoring in communications with a minor in sports media and is scheduled to graduate this December. He is a member of Alabama's leadership group as selected by head coach Nick Saban and contributes with the Crimson Tide's community service and volunteer efforts.
The FWAA has chosen a National Defensive Player of the Year since 1993. In 1995, the FWAA named the award in honor of the legendary two-way player from the University of Minnesota. Nagurski dominated college football then became a star for professional football's Chicago Bears in the 1930s. Bronislaw "Bronko" Nagurski is a charter member of both the College Football and Pro Football Halls of Fame.
The Bronko Nagurski Trophy is a member of the National College Football Awards Association (NCFAA) which encompasses the most prestigious awards in college football. Visit ncfaa.org to learn more about our story.
Founded in 1941, the Football Writers Association of America consists of journalists, broadcasters, publicists, photographers and key executives in all areas of college football. The FWAA works to govern media access and gameday operations while presenting awards and honors, including an annual All-America team. For more information about the FWAA and its programs and initiatives, contact Executive Director Steve Richardson at 214-870-6516 or tiger@fwaa.com.
About the Charlotte Touchdown Club
The Charlotte Touchdown Club is a 501(c)3 non-profit organization founded in 1990 for the purpose of promoting high school, collegiate, and professional football in the Charlotte, North Carolina region. Since its inception, the club has grown as well as diversified, boasting a sponsor team of more than (80) companies. The Club's activities and services focus community attention on the outstanding Citizenship, Scholarship, Sportsmanship, and Leadership of area athletes and coaches. Through individual and corporate support, nearly $3,000,000 has been raised and donated to benefit the Touchdown Club's scholarship efforts. For more information call 704-347-2918 or touchdownclub.com.