DALLAS (FWAA) – Ohio State's Kamryn Babb is this week's nominee for the 2022 Capital One Orange Bowl-FWAA Courage Award. Babb, a fifth-year graduate student, played for the first time since the 2020 season Saturday vs. Indiana, caught his first collegiate pass and scored his first career touchdown after undergoing four different knee surgeries.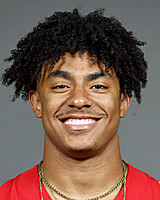 "The past five years it's been a dream of mine whenever I catch a touchdown, whenever that is, to get on my knees and praise Jesus Christ," Babb said after the game.
Babb caught an eight-yard touchdown pass from C.J. Stroud in the fourth quarter of the No. 2 Buckeyes' 56-14 win over the Hoosiers. Ohio State took a penalty after the touchdown in order to celebrate with Babb, as teammates surrounded Babb while he got down on his knees and said a prayer.
The 6-foot, 210-pound Babb was chosen in the preseason to represent Ohio State with its "Block O" jersey, a tradition that began in 2019 and is inspired by Buckeyes great Bill Willis, the College and Pro Football Hall of Famer who broke the NFL color barrier as a member of the Cleveland Browns.
A four-star, top-100 prospect out of St. Louis' Christian Brothers College High in 2018, Babb is the first non-Ohioan to receive the "Block O" jersey.
Babb has had four different knee surgeries, two on each knee, dating back to high school. The injuries forced him to miss the entirety of the 2018, 2019 and 2021 seasons. He played in seven games during the pandemic-shortened 2020 season, becoming a key contributor on special teams. He then missed the first nine games of this season because of a separate knee injury.
A captain and a three-time academic All-Big Ten honoree who has his undergraduate degree in communications, Babb also spoke at the investiture of school president Kristina M. Johnson last fall.
"What happened today in the stadium is magical," Ohio State coach Ryan Day said after Saturday's game. "That's one of the reasons why college football is special. That's one of the reasons you coach, to see something like that happen. Hopefully there's somebody out there going through tough times that can see that as motivation to overcome."
The Courage Award was first presented by the Football Writers Association of America (FWAA) in 2002. A select group of writers from the FWAA vote on the winner each year. The requirements for nomination include displaying courage on or off the field, including overcoming an injury or physical handicap, preventing a disaster or living through hardship. The winner of the award will be included in festivities during Capital One Orange Bowl week and receive his trophy at an on-field presentation.
Previous winners of the Capital One Orange Bowl-FWAA Courage Award are the University of Utah football Team (2021), Arkansas State analyst Alex Charlton (2020), Arkansas State coach Blake Anderson (2019), SUNY Cortland linebacker Kyle Richard (2018), Wisconsin safety D'Cota Dixon (2017), Pitt running back James Conner (2016), Miami offensive lineman Hunter Knighton (2015), Duke offensive lineman Laken Tomlinson (2014), San Jose State defensive lineman Anthony Larceval (2013), Clemson wide receiver Daniel Rodriguez (2012), Michigan State offensive lineman Arthur Ray Jr. (2011), Rutgers defensive tackle Eric LeGrand (2010), the University of Connecticut football team (2009), Tulsa's Wilson Holloway (2008), Navy's Zerbin Singleton (2007), Clemson's Ray Ray McElrathbey (2006), the Tulane football team (2005), Memphis' Haracio Colen (2004), San Jose State's Neil Parry (2003) and Toledo's William Bratton (2002).
About Orange Bowl
Orange Bowl is a 391-member, primarily-volunteer non-profit sports organization that promotes and serves the South Florida community. With its primary mission since being created in 1935 to bring tourism to South Florida through an annual football game and events, it has also maintained a legacy of charitable contributions and community outreach. Orange Bowl's community outreach is embodied by the four pillars of its Orange Bowl Cares program: Youth Sports, Education, Community Engagement and Legacy Programs. Orange Bowl features a year-round schedule of events culminating with the 2022 Capital One Orange Bowl on Dec. 30. For more information on the 2022 Orange Bowl events, including promotional inquiries and volunteer opportunities through the Ambassador Program presented by Panera Bread, log on to orangebowl.org or follow @OrangeBowl on social media.
Founded in 1941, the Football Writers Association of America consists of journalists, broadcasters, publicists, photographers and key executives in all areas of college football. The FWAA works to govern media access and gameday operations while presenting awards and honors, including an annual All-America team. For more information about the FWAA and its programs and initiatives, contact Executive Director Steve Richardson at 214-870-6516 or tiger@fwaa.com.
To submit a nomination for the Capital One Orange Bowl Courage Award, contact Matt Fortuna at mfortuna@theathletic.com.