DALLAS (FWAA) – The Clemson Tigers rushed their way back from an 11-point deficit in the fourth quarter to reward their sellout Homecoming crowd with a 27-21 win over No. 14 Syracuse, their 38th consecutive home win that sets an Atlantic Coast Conference record. For also extending the FBS' longest active win streak to 14 games and staying unbeaten, Clemson (8-0) earned the Cheez-It Bowl National Team of the Week honor for games of the weekend of Oct. 22, as selected by the Football Writers Association of America.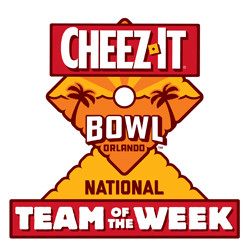 Will Shipley's 50-yard touchdown run with 11:26 to play gave the Tigers the lead for good, capping his day of 27 carries for 172 yards, as Clemson rushed for season highs with 60 attempts for 293 yards. Phil Mafah ran 18 times for 94 yards and a touchdown as well.
This is the fourth time for Clemson to earn this honor from the FWAA and its first since Dec. 7, 2015 when it completed an undefeated regular season by winning the ACC Championship Game. The others came in 2011 and '03. All Division I FBS and FCS schools are eligible to be selected.
Cade Klubnik came in at quarterback with 4:44 left in the third quarter to ignite Clemson's rally. The Tigers went 80 yards finished by Mafah's one-yard touchdown to get within 21-16. Following a Syracuse three-and-out, Clemson got to midfield before Shipley's breakaway run. The two-point conversion was good and the Tigers added a late field goal for the final tally.
Clemson's defense provided the opportunity to rally by holding previously undefeated Syracuse (6-1) scoreless and with only 119 total yards in the second half. The Tigers had five sacks and nine tackles for loss and their defense didn't allow any points following their four offensive turnovers.
The Tigers' 38 straight home wins tie the 1919-27 Notre Dame teams for the 10th-longest home win streak in FBS history and extends their school records for both longest home win streak and longest home unbeaten steaks. The overall 14-game win streak is currently the fourth-longest in Clemson history – no member of Clemson's roster has lost a home game in their careers.
Clemson is a national-best 57-1 at home in Death Valley during the College Football Playoff era (since 2014). The Tigers are idle this weekend and play at Notre Dame on Nov. 5 at 7:30 p.m. ET on NBC.
This is the 21st season the FWAA will select a national team of the week. Each honored team will receive a custom Cheez-It "care package" along with a hand-crafted game ball made in America by Dallas-based Big Game USA, the nation's leading manufacturer of custom footballs.
The other National Team of the Week nominees for the weekend of Oct. 22 were:
Duke (5-3): Quarterback Riley Leonard rushed for three touchdowns and threw for a fourth and Duke's defense forced eight turnovers and produced a touchdown en route to a 45-21 win at Miami. Duke closed the game scoring 28 unanswered points and has now won back-to-back games at Miami for the first time in the 20-game series. Safety Brandon Johnson had a career-best nine tackles with 2.0 sacks, a fumble recovery and a 28-yard pick six.

LSU (6-2): Quarterback Jayden Daniels accounted for five touchdowns, two passing and three rushing, to lead LSU past No. 7 Ole Miss, 45-20 and into first place in the SEC's West Division. Daniels was 21-of-28 for 248 yards passing and ran for 121 yards without a turnover. LSU trailed 17-3 but outscored the Rebels 42-3 from the start of the second quarter to the game's conclusion.
Founded in 1941, the Football Writers Association of America consists of journalists, broadcasters, publicists, photographers and key executives in all areas of college football. The FWAA works to govern media access and gameday operations while presenting awards and honors, including an annual All-America team. For more information about the FWAA and its programs and initiatives, contact Executive Director Steve Richardson at 214-870-6516 or tiger@fwaa.com.
About the Cheez-It Bowl
The 2022 Cheez-It Bowl takes place Thursday, Dec. 29 at 5:30 p.m. ET at Camping World Stadium in Orlando, Fla. The postseason contest is hosted by Florida Citrus Sports, a Central Florida-based nonprofit, and annually features top teams from the Atlantic Coast and Big 12 Conferences. Cheez-It®, the best-selling cracker brand in the United States, signed on as the game's title sponsor in 2020 as part of its season-long support of college football. Last bowl season, No. 19 Clemson beat Iowa State 20-13 in front of an announced crowd of 39,051, with cornerback Mario Goodrich taking home the Cheez-It Bowl MVP belt.