DALLAS (FWAA) – The Kansas State Wildcats never trailed and scored their highest point total ever in Norman as they upended No. 6 Oklahoma, 41-34, on the road in a Big 12 opener. For rolling up 509 total yards and beating the Sooners for the third time in four seasons and second consecutive time in Norman, Kansas State (3-1) earned the Cheez-It Bowl National Team of the Week honor for games of the weekend of Sept. 24, as selected by the Football Writers Association of America.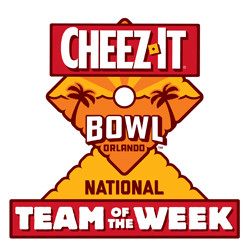 This is the sixth time for Kansas State to earn team of the week honors and its first since 2019, which came off an upset over Oklahoma in Manhattan. All Division I FBS and FCS schools are eligible to be selected.
At the forefront of the Wildcats' balanced attack was versatile playmaking quarterback Adrian Martinez, who threw for 234 yards and a touchdown while also carrying the ball 21 times for 148 yards and four more scores. Kansas State had two 100-yard rushers in churning up 275 rushing yards as Deuce Vaughn added 25 carries for 116 yards in front of the sellout crowd. It is the first time the Wildcats had two 100-yard rushers in the same game since the 2017 Cactus Bowl (158 by Alex Delton, 117 by Alex Barnes).

The 509 total yards were the most for K-State since 2019 and the most in a Big 12 game since 2014. Kansas State grabbed a 14-0 lead when Martinez completed a 6-yard pass to Malik Knowles, and later led 24-17 at halftime. Negating what was expected to be a defensive battle, the teams combined for 75 points and 1,059 total yards. The difference became K-State keeping Oklahoma out of the end zone on five consecutive drives in the second half.
The 41 points marked the most Kansas State had ever scored in Norman during the 103-game series that began in 1908 and spoiled the initial Big 12 game for Sooners head coach Brent Venables in his first game against his alma mater. The Wildcats have won three of the last four over the Sooners – and all three came against Oklahoma teams ranked in the top six. KSU has nine wins over top-10 teams since 2000, and four of them have come against Oklahoma.
"Without a doubt, this is No. 1," said Martinez, the Nebraska transfer who was asked to rank this win within his college career. "It's still registering with me right now, just coming to that realization that it's real, we played to the best of our abilities tonight, and we took it to them. It's without a doubt my favorite game of all time."
Martinez threw for nearly 300 yards against Oklahoma last season while playing at Nebraska. His dual-threat ability is well known – he entered the season as one of just two FBS quarterbacks to throw for 8,000 yards and rush for 2,000 more in a career.
Since 1999, Oklahoma has won two more Big 12 championships (14) than it has lost home games (12) — and four of those losses have been to Kansas State.
The Wildcats are at home Saturday to take on Texas Tech at 11 a.m. on ESPN-Plus.
This is the 21st season the FWAA will select a national team of the week. Each honored team will receive a custom Cheez-It "care package" along with a hand-crafted game ball made in America by Dallas-based Big Game USA, the nation's leading manufacturer of custom footballs.
The other National Team of the Week nominees for the weekend of Sept. 24 were:
Middle Tennessee (3-1): The Blue Raiders shocked No. 25 Miami on the road, 45-31, with Chase Cunningham throwing for a career-high 408 yards on only 16 completions – the 25.5 yards per completion were a school record and just the eighth 400-yard game in school history. It would have set an all-time NCAA record as well (currently 22.9) but the minimum for that mark is 22 completions. Cunningham had completions of 98 (another school record), 89, 71 and 69 yards in the win. Meanwhile, defensive end Zaylin Wood had a career-best 2.0 sacks to go with 2.0 TFL's, a fumble recovery and his second career interception that he returned 15 yards for a touchdown.

Texas Tech (3-1): The Red Raiders opened Big 12 play with a 37-34 overtime win at home against No. 22 Texas, earning back-to-back home wins against ranked opponents for the first time since 2008. Trailing 31-17 late in the third quarter, Texas Tech scored 17 unanswered points before Texas kicker Bert Auburn hit a 48-yard field goal at the end of regulation to force overtime. A Texas fumble and Tech recovery on the first play of overtime handed Tech an opportunity and, following a 17-yard run on Tech's first play, Trey Wolff kicked a 20-yard field goal for the win. The Red Raiders were 6-of-8 on fourth down.
Founded in 1941, the Football Writers Association of America consists of journalists, broadcasters, publicists, photographers and key executives in all areas of college football. The FWAA works to govern media access and gameday operations while presenting awards and honors, including an annual All-America team. For more information about the FWAA and its programs and initiatives, contact Executive Director Steve Richardson at 214-870-6516 or tiger@fwaa.com.
About the Cheez-It Bowl
The 2022 Cheez-It Bowl takes place Thursday, Dec. 29 at 5:30 p.m. ET at Camping World Stadium in Orlando, Fla. The postseason contest is hosted by Florida Citrus Sports, a Central Florida-based nonprofit, and annually features top teams from the Atlantic Coast and Big 12 Conferences. Cheez-It®, the best-selling cracker brand in the United States, signed on as the game's title sponsor in 2020 as part of its season-long support of college football. Last bowl season, No. 19 Clemson beat Iowa State 20-13 in front of an announced crowd of 39,051, with cornerback Mario Goodrich taking home the Cheez-It Bowl MVP belt.