OMAHA (FWAA) – Six semifinalists for the 2019 Outland Trophy five offensive linemen and one defensive tackle · were announced Wednesday by the Greater Omaha Sports Committee. The six semifinalists are players from six schools at four different positions representing four different conferences.
The 2019 Outland Trophy, presented by the National Foundation for Infectious Diseases (NFID), is awarded annually to the nation's best college interior lineman on offense or defense.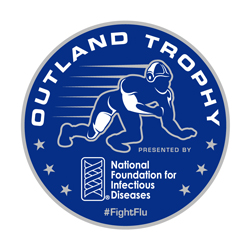 NFID is presenting the trophy to help increase awareness about the importance of annual influenza (flu) prevention. Getting vaccinated each year is your best line of defense against the flu. The All-America Committee of the Football Writers Association of America (FWAA) selected the
semifinalists.
The field for the 2019 Outland Trophy is as follows, listed in alphabetical order: Wisconsin center Tyler Biadasz, Auburn defensive tackle Derrick Brown, Oregon offensive tackle Penei Sewell, Clemson guard John Simpson, Georgia offensive tackle Andrew Thomas and Iowa offensive tackle Tristan Wirfs.
Former University of Pittsburgh tackle Mark May, the 1980 Outland Trophy winner, is serving as the Outland Trophy #FightFlu ambassador on behalf of NFID. May is making media appearances on behalf of the #FightFlu public awareness campaign to remind everyone six months and older to get an annual flu vaccine.
The six semifinalists will be paired to three finalists next Monday. The recipient of the 74th Outland Trophy will be announced during ESPN's The Home Depot College Football Awards on Dec. 12, live from the College Football Hall of Fame in Atlanta. The official presentation to the winner will be made at the National Foundation for Infectious Diseases Outland Trophy Award Dinner sponsored by Werner Enterprises on Jan. 15, 2020 in Omaha, Neb.
Here is a closer look at each of the semifinalists:
Tyler Biadasz, C, Wisconsin (6-3, 321, Jr., Amherst, Wis.): Biadasz is the latest of outstanding Wisconsin linemen paving the way for record-setting running backs, as Jonathan Taylor is the nation's leading scorer (21 TD's) and needs just 20 more yards to break Donnel Pumphrey's FBS record for most rushing yards in a three-year span (5,653), which is also Biadasz's tenure of 37 consecutive starts. Also in Biadasz's favor is pass protection, where the line has helped the Badgers complete 72.2 percent of their passes, fourth nationally. Biadasz is Wisconsin's second consecutive semifinalist (offensive guard Michael Deiter last year). Offensive tackles Gabe Carimi (2010) and Joe Thomas (2006) are previous Outland winners.
Derrick Brown, DT, Auburn (6-5, 318, Sr., Sugar Hill, Ga.): Brown is the rare playmaker tucked in the middle of Auburn's line. Consistently double-teamed, Brown has still produced 43 tackles that are fourth on the Tigers' defense along with 9.0 tackles for loss and 4.0 sacks, both second on the team. The team captain's best games have come in November, with seven tackles each against second-ranked LSU and Ole Miss and most recently six against fifth-ranked Georgia. The Ole Miss game was one of three times he earned the SEC Defensive Player of the Week award. He was also the Trophy's Defensive Player of the Month for October. Brown has 157 career tackles, 30.0 TFL's and 13.0 sacks. Auburn claims two previous Outland Trophy winners, defensive tackle Tracy Rocker in 1988 and offensive lineman Zeke Smith in 1958.
Penei Sewell, OT, Oregon (6-6, 325, So., Malaeimi, American Samoa/St. George, Utah): Sewell is regarded as the top offensive lineman in the Pac-12 and, in short, he's the best lineman on the nation's best offensive line. As such, an Oregon lineman has taken seven of the Pac-12's 10 Offensive Lineman of the Week awards, and Sewell has three of those. Head coach Mario Christobal says he's the best lineman he's ever coached. Sewell was the Outland Trophy Offensive Player of the Month for September and leads the team with 45 knockdowns, blocking for an offense that is 22nd nationally at 460.4 yards per game. He has five or more knockdowns in five of 10 games. Run-blocking is his specialty but he has yielded only six quarterback pressures this season on 364 pass-blocking snaps and has not allowed a sack.
John Simpson, G, Clemson (6-4, 330, Sr., North Charleston, S.C.): Simpson has been a regular in the ACC weekly honor roll with three Offensive Lineman of the Week awards, the latest coming Nov. 11 after grading at 90 percent with four knockdowns in a 55-10 win over N.C. State. Simpson lines up inside a line that has Clemson's offense still ascending with record-setting numbers, averaging 543.1 yards per game, third nationally. It has reached 50 points in a fourth straight game for the first time in program history (and 45-plus in six straight) and has posted 500 or more yards in six straight games. As for pass protection, Simpson is part of a line that has allowed only 12 sacks in its last 19 games. He became the first Clemson offensive lineman to score a touchdown since 2011 with a one-yard plunge against N.C. State. His senior class at Clemson is 52-3 overall the past four seasons. The Tigers have never had an Outland winner but had two semifinalists last year (defensive tackle Christian Wilkins and offensive tackle Mitch Hyatt).
Andrew Thomas, OT, Georgia (6-5, 320, Jr., Lithonia, Ga.): October's Outland Trophy Offensive Player of the Month has been the eldest stalwart on Georgia's left side protecting quarterback Jake Fromm, continually grading at 90 percent or above, and it has yielded plenty of results. Georgia is fourth in the SEC at 208.6 rushing yards per game and 24th nationally. The Bulldogs are tied for fourth in the SEC at 32.4 points per game and are tied for second in the nation with yielding only 0.6 sacks per game this season. Thomas has been the SEC Offensive Lineman of the Week twice this season, helping running back D'Andre Swift post a second consecutive 1,000-yard rushing season. Georgia boasts the 1968 Outland Trophy winner, defensive tackle Bill Stanfill.
Tristan Wirfs, OT, Iowa (6-5, 322, Jr., Mount Vernon, Iowa): Wirfs starts primarily on the right side and has paced the protection for quarterback Nate Stanley, who is third in the Big Ten in passing yards (2,331) and passing yards per game (233.1). His 66 passing touchdowns (14 this season) are second all-time at Iowa and he needs nine more in three games to pass the leader, Chuck Long. Wirfs has 30 career starts at both tackle spots he started three games at left tackle earlier this season and the last six (and seven total) on the right. He was the first true freshman under coach Kirk Ferentz to start at offensive tackle. Iowa has four all-time Outland Trophy winners, most recently 2014 with offensive tackle Brandon Scherff, along with offensive tackle Robert Gallery (2003), defensive tackle Alex Karras (1957) and offensive guard Calvin Jones (1955).
The Outland Trophy is the third-oldest major college football award. Created in 1946 when Dr. John Outland presented the FWAA with a financial contribution to initiate the award, the Outland Trophy has been given to the best interior lineman in college football ever since. Dr. Outland, an All-American at the University of Pennsylvania in the late 1890s, eventually took up practice in Kansas City, Mo. An avid outdoorsman, Dr. Outland believed linemen did not get the credit they deserved and wanted an award to recognize them.
The Outland Trophy is a member of the National College Football Awards Association (NCFAA), which encompasses the most prestigious awards in college football. Founded in 1997, the NCFAA and its 25 awards now boast over 800 recipients, dating to 1935. Visit ncfaa.org to learn more about our story.
About the National Foundation for Infectious Diseases
Founded in 1973, the National Foundation for Infectious Diseases (NFID) is a non-profit, tax-exempt 501(c)(3) organization dedicated to educating the public and healthcare professionals about the burden, causes, prevention, diagnosis, and treatment of infectious diseases across the lifespan. Visit nfid.org for more information.
About the Football Writers Association of America
Founded in 1941, the non-profit Football Writers Association of America (FWAA) consists of more than 1,300 members, including journalists, broadcasters, publicists and key executives in all areas of college football. Led by current President Stefanie Loh of the Seattle Times, longtime Executive Director Steve Richardson, and a board of veteran journalists, the association continues to grow and work to help college football prosper at all levels. Visit footballwriters.com for more information about the FWAA and its award programs.
Media Contacts
Doug Drotman (doug@drotmanpr.com or 631-462-1198)
Steve Richardson (tiger@fwaa.com or 214-870-6516)
Diana Olson (dolson@nfid.org or 301-656-0003, x140)
Twitter
@NFIDvaccines, @OutlandTrophy, @TheFWAA, @Mark_May, #FightFlu
Related links:
Outland
Trophy presented by the National Foundation for Infectious Diseases
·
Download high-resolution
Outland Trophy logo for editorial use