CHARLOTTE, N.C. (FWAA) – Five finalists for the 2019 Bronko Nagurski Trophy presented annually to the nation's top defensive player by the Football Writers Association of America and the Charlotte Touchdown Club · were named on Wednesday.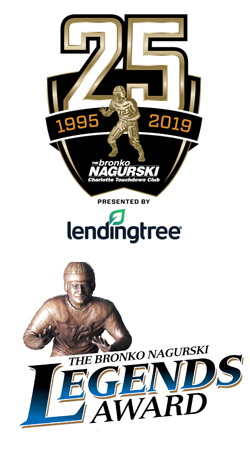 In alphabetical order, the finalists are: Auburn defensive tackle Derrick Brown, Georgia safety J.R. Reed, Clemson linebacker Isaiah Simmons, Minnesota defensive back Antoine Winfield Jr. and Ohio State defensive end Chase Young.
The Bronko Nagurski Trophy recipient will be chosen from these five finalists. The FWAA All-America Committee, after voting input from the association's entire membership, selects the best defensive player in college football.
Here is more information on the 2019 finalists, listed in alphabetical order:
Derrick Brown, DT, Auburn (6-5, 318, Sr., Sugar Hill, Ga.): Brown is the rare playmaker tucked in the middle of Auburn's line. Consistently double-teamed, Brown has still produced 43 tackles that are fourth on the Tigers' defense along with 9.0 tackles for loss and 4.0 sacks, both second on the team. The team captain's best games have come in November, with seven tackles each against 2nd-ranked LSU and Ole Miss and most recently six against 5th-ranked Georgia. The Ole Miss game was one of three times he earned SEC Defensive Player of the Week. Brown has 157 career tackles, 30.0 TFL's and 13.0 sacks, and is the third Auburn player to be a finalist following defensive tackle Nick Fairley (2010) and cornerback Carlos Rogers (2004).
J.R. Reed, S, Georgia (6-1, 194, Gr., Frisco, Texas): Reed has been a constant in the Bulldogs' secondary with 39 consecutive starts at safety. He is third on the team with 43 tackles and has 2.0 tackles for loss along with a half-sack and has caused and recovered one fumble. He already has his degree in Communications Studies. More than half (23) of his tackles have been solo stops; in last week's win over Auburn he had five tackles, his second-highest total of the season, all of them solo. Thanks in part to the contributions above as well as one interception, Reed has led Georgia to be the SEC's top defense in scoring (10.5 points per game, No. 2 nationally), rushing defense (75.5 ypg, No. 3 nationally) and total defense (267.2 ypg, No. 6 nationally). Reed is Georgia's seventh finalist and second in three seasons (linebacker Roquan Smith in 2017). Champ Bailey, a defensive back, won Georgia's only previous Bronko Nagurski Trophy in 1998.
Isaiah Simmons, LB, Clemson (6-4, 230, Jr., Olathe, Kan.): One of the nation's top linebackers and Clemson's most prolific tacklers (74 on the season), Simmons leads the Tigers in sacks (6.0) and tackles for loss (12.0) with five pass breakups, an interception, a forced fumble and one recovery. To date Simmons is one of only five FBS players credited with at least 65 tackles, 11.5 TFL's and 6.0 sacks this season. He has had five games of eight tackles or more. No one has been on the field at Clemson more than Simmons; his 536 snaps played is 69 more (13 percent) than fellow linebacker James Skalski. Simmons is Clemson's fourth finalist of the last five seasons and its sixth overall. Defensive end Da'Quan Bowers won the Bronko Nagurski Trophy in 2010.
Antoine Winfield Jr., DB, Minnesota (5-10, 205, So., The Woodlands, Texas): Winfield has led the Golden Gophers' secondary to become one of the country's best. He leads Minnesota in total tackles (65, 47 solos) and has already tied the school record with seven interceptions that are second nationally and half of a team total 14 that is tied for third nationally and for the Big Ten lead. He is a fourth-year sophomore after receiving a waiver for a sixth year of eligibility upon losing the final eight games of the 2017 and '18 seasons due to injury. He has a pick-six and two sacks this year. Winfield is Minnesota's second all-time finalist following defensive back Tyrone Carter in 1999.
Chase Young, DE, Ohio State (6-5, 265, Jr., Upper Marlboro, Md.): The country's second-leading sack master (13.5) leads a Buckeye defense that gives up only 216.4 yards per game and is 22 yards, or 10 percent, better than the No. 2 team (Clemson, 238.2). The team captain has 15 tackles for loss that are tied for seventh nationally and his 29 total tackles are fifth at Ohio State. He was the Trophy's National Player of the Week following the weekend of Oct. 26 after he tied career highs with four sacks and five tackles for loss in Ohio State's 38-7 win over Wisconsin. His combined 193 yards lost on sacks and TFL's is second in the nation. Young is Ohio State's first finalist since 2007 and its fourth overall. Linebacker James Laurinaitis won the Bronko Nagurski Trophy in 2006.
The FWAA All-America Committee, after voting input from the association's entire membership, selects a 26-man All-America Team and eventually the Bronko Nagurski Trophy finalists. The committee members then select the winner as the best defensive player in college football.
The annual Bronko Nagurski Trophy Banquet will be held on Mon., Dec. 9 at the Charlotte Convention Center. This year's keynote speaker is Ohio State head coach Ryan Day. In addition to the 2019 Bronko Nagurski Trophy winner's announcement, the banquet will also celebrate the recipient of the Bronko Nagurski Legends Award, former UCLA linebacker Jerry Robinson. The 2019 Bronko Nagurski Trophy and awards banquet are presented by LendingTree.
The Bronko Nagurski Trophy is a member of the National College Football Awards Association (NCFAA), which encompasses college footballs most prestigious awards. Founded in 1997, the NCFAA and its 24 awards now boast over 800 recipients, dating to 1935. Visit ncfaa.org to learn more about our story.
The Football Writers Association of America, founded in 1941, consists of 1,300 men and women who cover college football. The membership includes journalists, broadcasters and publicists, as well as key executives in all the areas that involve the game. The FWAA works to govern areas that include game-day operations, major awards and its annual All-America team. For more information about the FWAA and its award programs, contact Steve Richardson at tiger@fwaa.com.
ABOUT THE CHARLOTTE TOUCHDOWN CLUB AND ITS SPONSORS
The Charlotte Touchdown Club is a non-profit organization founded in 1991 for the purpose of promoting high school, collegiate, and professional football in the Charlotte, N.C., region. The club's activities and services focus community attention on the outstanding citizenship, scholarship, sportsmanship, and leadership of area athletes and coaches. Since 1991, the club has raised more than $2,000,000 to benefit area high school and collegiate athletics. For more information, contact John Rocco (704-347-2918 or jrocco@touchdownclub.com). The official website of the Charlotte Touchdown Club is touchdownclub.com.
LendingTree, Inc.
LendingTree is the nation's leading online marketplace that connects consumers with the choices they need to be confident in their financial decisions. LendingTree empowers consumers to shop for financial services the same way they would shop for airline tickets or hotel stays, by comparing multiple offers from a nationwide network of over 500 partners in one simple search and choosing the option that best fits their financial needs. Services include mortgage loans, mortgage refinances, auto loans, personal loans, business loans, student refinances, credit cards, insurance and more. Through the My LendingTree platform, consumers receive free credit scores, credit monitoring and recommendations to improve credit health. My LendingTree proactively compares consumers' credit accounts against offers on our network and notifies consumers when there is an opportunity to save money. In short, LendingTree's purpose is to help simplify financial decisions for life's meaningful moments through choice, education and support.
Related link:
• All-time Bronko Nagurski Trophy winners and finalists