DALLAS (FWAA) – San José State defensive tackle Anthony Larceval is the weekly nominee for the 2013 Discover Orange Bowl-FWAA Courage Award that will be announced at the end of the season.
As a junior in 2012, the 6-2, 284-pound Larceval was named second team All-Western Athletic Conference, but he never made it to the team's bowl practices. On Dec. 14, 2012 he was admitted to the hospital and diagnosed with viral meningoencephalitis, a virus that infects and causes swelling in the brain.
After slipping into unconsciousness, he didn't awake until Jan. 5, 2013 and completely missed San Jose Staté's 29-20 Military Bowl victory over Bowling Green on Dec. 27, 2012. Larceval lost 40 pounds and needed outpatient speech, physical, occupational and recreational therapy to recover. Although the San Jose State medical staff said he would miss the 2013 season, Anthony defied the prognosis and was back with the team at the start of preseason camp in August.
Through the first six games of the 2013 season, Larceval started the first three games and was a reserve in two others. He has made nine tackles, six unassisted and has one quarterback hurry. He is a child development major who wants to become a teacher and/or a coach.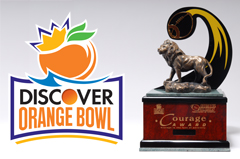 The Courage Award was created by ESPN's senior columnist Gene Wojciechowski, also a FWAA member. A select group of writers from the FWAA vote on the winner each year. The requirements for nomination include displaying courage on or off the field, including overcoming an injury or physical handicap, preventing a disaster or living through hardship.
Previous winners of the FWAA's Courage Award are Clemson wide receiver Daniel Rodriguez (2012), Michigan State offensive lineman Arthur Ray Jr. (2011), Rutgers defensive tackle Eric LeGrand (2010), the University of Connecticut football team (2009), Tulsa's Wilson Holloway (2008), Navy's Zerbin Singleton (2007), Clemson's Ray Ray McElrathbey (2006), the Tulane football team (2005), Memphis' Haracio Colen (2004), San Jose State's Neil Parry (2003) and Toledo's William Bratton (2002).
The Orange Bowl is a 351-member, primarily-volunteer non-profit sports organization that promotes and serves the South Florida community. The Orange Bowl features a year-round schedule of events culminating with the Discover Orange Bowl on January 3, 2014. Other Orange Bowl core events include the MetroPCS Orange Bowl Basketball Classic, Orange Bowl Youth Football Alliance presented by Sports Authority, Orange Bowl International Tennis Championships, Orange Bowl International Youth Regatta, Orange Bowl Swim Classic and Orange Bowl Paddle Championships. For more information on the 2013-14 Orange Bowl events, including promotional and volunteer opportunities through the Ambassador Program, visit www.orangebowl.org.
The Football Writers Association of America, a non-profit organization
founded in 1941, consists of more than 1,200 men and women who cover college football.
The membership includes journalists, broadcasters and publicists, as well as key
executives in all the areas that involve the game. The FWAA works to govern areas
that include gameday operations, major awards and its annual All-America team. For
more information about the FWAA and its award programs, contact Steve Richardson
at tiger@fwaa.com or 972-713-6198.
2013 Discover Orange Bowl Courage Award Nominees

Sept. 25: Eric Fieilo, San Houston State

· Oct. 2: Gabe Woullard, East Carolina
·
Oct. 9: Bryson James, South Alabama
·
Oct. 16: Anthony Larceval, San José State
·
Oct. 23: Jim Weaver, Virginia Tech
·
Oct. 30: L'Damian Washington, Missouri
·
Nov. 6: Josh Stewart, Oklahoma State
·
Nov. 13: Case McCoy, Texas
·
Nov. 20: Coaching Staff, Minnesota
Related link:
Discover
Orange Bowl Courage Award