DALLAS (FWAA) The prestigious 2011 Outland Trophy Watch List was released today with a galaxy of potential line stars who could win the award that goes to the best interior lineman in college football, as selected by the Football Writers Association of America.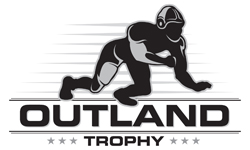 Every Division I Bowl Subdivision conference, along with independents BYU and Notre Dame, had at least one player on the annual list, which includes only tackles, guards and centers on both sides of the ball. Of the 65 players on the watch list, 16 defensive tackles occupied spots. The rest of the linemen were on offense.
The Outland Trophy winner is chosen from three finalists who are part of the FWAA All-America Team. The FWAA All-America Committee, after voting input from the entire membership, selects the 25-man team and eventually the three Outland finalists to be named on Nov. 21. Committee members, then by individual ballot, select the winner.
The Outland Trophy, presented annually since 1946, is the third oldest award in major college football. The winner of the 66th Outland Trophy, named after the late John Outland, an All-America lineman at Penn and Kansas at the turn of the century, will be announced on The Home Depot College Football Awards on Dec. 8 on ESPN.
The Outland Trophy presentation banquet, sponsored by the Greater Omaha Sports Committee, will be held on Jan. 12, 2012, in Omaha, Neb.
The Football Writers Association of America, a non-profit organization
founded in 1941, consists of more than 1,200 men and women who cover college football
for a living. The membership includes journalists, broadcasters and publicists,
as well as key executives in all the areas that involve the game. The FWAA works
to govern areas that include gameday operations, major awards and its annual All-America
team. For more information about the FWAA and its award programs, contact Steve
Richardson at tiger@fwaa.com or 972-713-6198.
The Outland Trophy is a member of the National College Football Awards Association (NCFAA). The NCFAA was founded in 1997 as a coalition of the major collegiate football awards to protect, preserve and enhance the integrity, influence and prestige of the game's predominant awards. The NCFAA encourages professionalism and the highest standards for the administration of its member awards and the selection of their candidates and recipients. For more information, visit the association's official website, ncfaa.org.
The members of the NCFAA are unveiling their preseason watch lists over a 13-day period this month. Fifteen of the association's 21 awards select a preseason watch list and this is the first time the NCFAA has spearheaded a coordinated effort to promote each award's preseason candidates. Following is the complete 2011 preseason watch list calendar:

Tues., July 5: Maxwell Award/Bednarik Award
Wed., July 6: Biletnikoff Award/Mackey Award
Thurs., July 7: Lou Groza Award/Ray Guy Award
Fri., July 8: Bronko Nagurski Trophy/Outland Trophy
Mon., July 11: Jim Thorpe Award
Tues., July 12: Rotary Lombardi Award
Wed., July 13: Rimington Trophy
Thurs., July 14: Butkus Award
Fri., July 15: Davey O'Brien Award/Doak Walker Award
Mon., July 18: Walter Camp Award
Related links:
All-time Outland Trophy winners
· Outland Trophy official site (outlandtrophy.com)