DALLAS (FWAA) With their 36-27 win over No. 3 Oklahoma, the Missouri Tigers (7-0) are the Tostitos Fiesta Bowl National Team of the Week for games of the weekend of Oct. 23.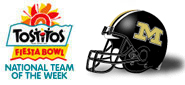 Trailing 21-20 early in the fourth quarter, Blaine Gabbert hit Jarrell Jackson for a 38-yard touchdown pass that sparked 16 straight points and rallied the Tigers. Gabbert finished the night completing 30-of-42 passes for 308 yards, while Jackson caught nine passes for 139 yards. The Mizzou defense forced three Oklahoma turnovers.
The win snapped a 7-game losing streak vs. Oklahoma and was just Missouri's second over the Sooners in their last 21 meetings. Missouri is 7-0 for the first time since 1960 when it finished 11-0 after beating Navy in the Orange Bowl.
"It's huge, it's gigantic," said Missouri head coach Gary Pinkel, who had been 0-6 against the Sooners. "It's a long time coming. I'm just real proud of our team."
Other Tostitos Fiesta Bowl National Team of the Week nominees for the weekend of Oct. 23 included:
Iowa State (4-4): The Cyclones stunned No. 22 Texas, 28-21, in Austin to record their first road win over a ranked opponent since 1990. Iowa State forced four turnovers and Alexander Robinson ran for 120 yards and two touchdowns in the win.
Western Kentucky (1-6): Sparked by two defensive touchdowns, the Hilltoppers ended a 26-game losing streak with a 54-21 win over Louisiana-Lafayette.
The Football Writers Association of America has named a national team of the week since the 2002 season. This is the seventh season that the award has been sponsored by the Tostitos Fiesta Bowl.
Members of the FWAA All-America Committee decide the weekly honor. Each remaining Monday during the 2010 college football regular season, the FWAA will name the Tostitos Fiesta Bowl National Team of the Week.
Founded in 1971, the Tostitos Fiesta Bowl has hosted six games that have decided the college football national championship, including three Bowl Championship Series title games. This season, the Tostitos Fiesta Bowl will host the Tostitos BCS National Championship Game on Jan. 10, 2011 at University of Phoenix Stadium in Glendale, Ariz. The Tostitos Fiesta Bowl will be played on Jan. 1, 2011 in Glendale and the Insight Bowl will be played on Dec. 28, 2010 at Sun Devil Stadium in Tempe, Ariz.
For more information on the Tostitos Fiesta Bowl National Team of the Week, go to footballwriters.com or fiestabowl.org.