SCOTTSDALE, Ariz. (FWAA) Following their 22-19 win over Oregon in the Tostitos BCS National Championship Game, the Auburn Tigers (14-0) were presented the 2010 Grantland Rice Trophy by the Football Writers Association of America. FWAA president Tommy Hicks of the Mobile Press-Register made the presentation to head coach Gene Chizik at a morning news conference.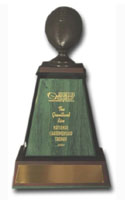 A panel of 15 veteran FWAA members selected Auburn as the FWAA champion after the Tigers completed an unbeaten season when Wes Byrum kicked a 19-yard field goal as time expired.
Auburn, which has never won the FWAA national championship trophy, joins fellow SEC members Alabama (2009), Florida (2008), LSU (2007) and Florida (2006) in the five-year national championship reign by the league.
Oregon (12-1), the Pacific-10 champion, averaged nearly 50 points per game coming into the championship game, but was overmatched trying to contend with Auburn's defensive line that helped limit the Ducks to a season-low 81 rushing yards . Oregon led 11-7 in the second quarter before the Tigers stormed back to take a 16-11 lead at halftime and never again trailed.
Auburn's defense stiffened on an Oregon drive to the 1-yard line late in the third quarter, denying the Ducks a chance for a potential tying touchdown. Oregon would later tie the score with 2:33 left in the game before Auburn put together a 7-play, 73-yard drive for the winning field goal and its first national football championship of any kind since 1957.
"These guys represent Auburn on the field, off the field, in the community the right way," Chizik said after completing his second season. "We said that we wanted to go from good to great. And I can sit here tonight and I can tell you that Auburn the Auburn Tigers are the best football team in the United States."
The Grantland Rice Trophy has been presented by the Football Writers Association of America to college football's national champion since 1954. Named for the legendary sportswriter, the Grantland Rice Trophy was the first national championship award to be presented after the college football postseason.
Although the FWAA does not conduct a final poll at the end of the season, it will conduct a 2011 preseason poll during the summer when the entire membership will vote. The poll will be released in late August before the beginning of the upcoming season.
The Football Writers Association of America, a non-profit organization
founded in 1941, consists of more than 1,200 men and women who cover college football
for a living. The membership includes journalists, broadcasters and publicists,
as well as key executives in all the areas that involve the game. The FWAA works
to govern areas that include gameday operations, major awards and its annual All-America
team. For more information about the FWAA and its award programs, contact Steve
Richardson at tiger@fwaa.com or 972-713-6198.
Related link:
All-time Grantland Rice Trophy winners