LAKE BUENA VISTA, Fla. (FWAA) Wisconsin offensive tackle Joe Thomas became the first Badger to win the Outland Trophy on Thursday night during the ESPN College Football Awards show from the Atlantic Dance Hall on Disney's Boardwalk.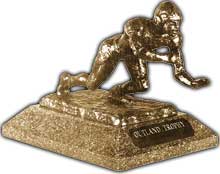 By winning the 61st Outland Trophy, he received a nice present three days after he turned 22 on Monday. Two days later, on Wednesday night, he was engaged to Annie Nelson, a former Wisconsin basketball player.
"I was very excited (to win)," Thomas said. "A lot of emotion goes through your mind. It kind of hits you all at once. You kind of forget things for a couple of minutes. You're walking on Cloud 9. All three of us (finalists) had a great shot of winning. All three of us were very deserving."
Thomas, a 6-8, 306-pound senior from Brookfield, Wis., became the third Big Ten Conference player in four years to win Outland Trophy, which goes to the top interior lineman in college football. Iowa offensive tackle Robert Gallery won the Outland in 2003 and Minnesota center Greg Eslinger captured it in 2005. In all, 13 players from current Big Ten schools have won the award.
Thomas, projected as one of the top picks in the 2007 NFL Draft, was the mainstay of a Badger offensive line, which paved the way for freshman running back P.J. Hill. The Badgers' offense was 21st in the country, scoring 30.3 points per game.
Thomas was a team captain and starter for 12 games after overcoming ACL surgery last January. He suffered the injury while filling in on a depleted defensive line in the Badgers' bowl game against Auburn. "I was just trying to help my team win," he said of the injury. "I was on crutches for a month. Two more months I couldn't walk on it."
A former track athlete in the shot put, he also plans to someday also pursue a career in real estate. This season, he was also a finalist for the Draddy Trophy, the National Football Foundation's academic award.
Wisconsin (11-1) lost only to Michigan this season and will play Arkansas (10-3) in the Capital One Bowl on Jan. 1 when Thomas will conclude his collegiate career.

The Outland is the third oldest award in major college football behind the Heisman Trophy and Maxwell Award. It is named after the late John Outland, who created the award a year before his death. An All-American lineman at Pennsylvania at the turn of the century, Dr. Outland created the award to recognize linemen. He believed linemen needed more recognition. The first Outland Award was presented to the late George Connor of Notre Dame in 1946.
The annual presentation banquet, which is sponsored by the Greater Omaha Sports Committee., will be Jan. 11 in Omaha, Neb., when Thomas will be honored. Notre Dame's Bill Fischer, the 1948 winner, will also receive his Outland Trophy. Until the late 1980s, the FWAA awarded only a plaque to the winner.
The Football Writers Association of America, a non-profit organization founded in 1941, consists of more than 900 men and women across North America who cover college football for a living. The membership includes journalists, broadcasters and publicists, as well as key executives in all the areas that involve the game. The FWAA works to govern areas that include gameday operations, major awards, a national poll and its annual All-America team.
For more information on the Outland Trophy, go to the official website, www.outlandtrophy.com, or contact FWAA executive director Steve Richardson (972-713-6198 or tiger@fwaa.com).