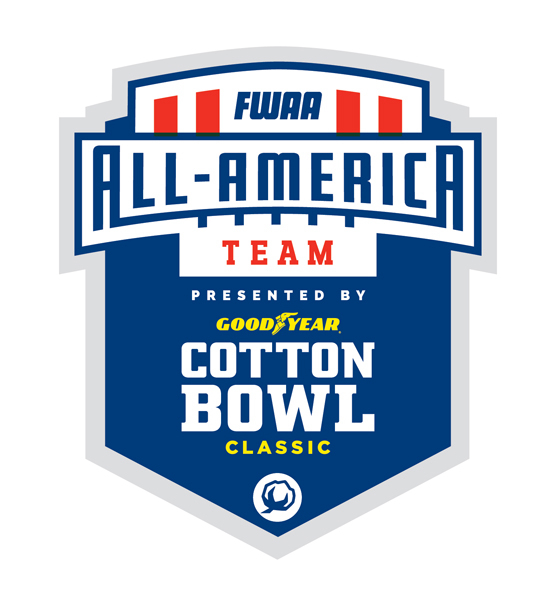 FWAA All-America Team
The FWAA All-America Team was first selected in 1944, three years after the organization was formed. The FWAA's inaugural team included Army's Heisman Trophy tandem of Doc Blanchard and Glenn Davis and Georgia Tech's Frank Broyles, who later became Arkansas' head football coach and athletic director.
Since 1945, the FWAA All-America Team has been among the five teams used to formulate the NCAA's annual consensus All-America team, which will be announced later this week. Since the 2002 season, the American Football Coaches Association (AFCA), The Associated Press, The Sporting News and the Walter Camp Football Foundation have joined the FWAA as the five designated selectors by the NCAA.
Over the years, the FWAA team has highlighted all the game's great players in several media forums. From 1946-70, LOOK magazine published the FWAA team and brought players and selected writers to New York City for a celebration. During that 25-year period, the FWAA team was introduced on national television shows by such noted hosts as Bob Hope, Steve Allen and Perry Como.
After LOOK folded, the FWAA started a long association with NCAA Films (later known as NCAA Productions), which produced a 30-minute television program. The team was part of ABC-TV's 1981 College Football Series. From 1983-90, the team was introduced on either ABC or ESPN. In 2002 and '03, the All-America team was honored with a banquet at the Citrus Bowl.
The same bowl also was a sponsor when the team was featured on ABC and ESPN from different locations on Disney properties from 2004-07. From 2008-10, the team had been the subject of a one-hour ESPN special.
For seven decades the FWAA has selected an All-America team with the help of its members and an All-America Committee, which represents all the regions in the country. From that All-America team, the FWAA also selects the Outland Trophy winner (best interior lineman) and the Bronko Nagurski Trophy winner (best defensive player).
Some of the true greats of the writing profession have helped to select this team over the years: Grantland Rice, Bert McGrane, Blackie Sherrod, Furman Bisher, Pat Harmon, Fred Russell, Edwin Pope, Murray Olderman, Paul Zimmerman – and the list goes on and on. The FWAA All-America team is steeped in tradition and history and is selected by a writers' group with those same attributes.
Founded in 1941, the Football Writers Association of America consists of journalists, broadcasters, publicists, photographers and key executives in all areas of college football. The FWAA works to govern media access and gameday operations while presenting awards and honors, including an annual All-America team. For more information about the FWAA and its programs and initiatives, contact Executive Director Steve Richardson at 214-870-6516 or tiger@fwaa.com.
2023 FWAA All-America Committee
ACC: Tony Siracusa (Last Word on College Football); Emily Leiker (Syracuse Post-Standard)
American Athletic: Scott Farrell (collegepressbox.com)
Big Ten: Scott Dochterman (The Athletic), Angelique Chengelis (Detroit News)
Big 12: John Hoover (SI: All Sooners), Shehan Jeyarajah (CBS Sports)
Conference USA: Ken Capps (Freelance)
MAC: John Wagner (County News Review)
Mountain West: Ryan Thorburn (Casper Star-Tribune)
Pac-12: Bryan Fischer (Fox Sports), Jon Wilner (Bay Area News Group)
SEC: Ben Portnoy (Sports Business Journal); Travis L. Brown (Bryan-College Station Eagle)
Sun Belt: Dusty Thibodeaux (Rivals: WarhawkReport.com)
Independents: Phil Steele (Phil Steele Publications)
At-Large: Susan Storey (JMA Sports), Brett Ciancia (Pick Six Previews), Mike Huguenin (Freelance)
Moderator/Chair: Kirk Bohls (Austin American-Statesman)
FWAA All-Time All-America
>>> Every team since 1944
All-Time Freshman All-America
>>> Every team since 2001