DALLAS (NCBWA) – The National Collegiate Baseball Writers Association released the Pro-Line Athletic National Player of the Week awards for the period ending February 22.
Louisiana Tech senior third basemen Chris Kersten was named National Hitter of the Week, while Kansas junior left-hander Shaeffer Hall was named National Pitcher of the Week. The NCBWA Board reviews candidates from each Division I Conference each week and names winners each Tuesday throughout the season.
Kersten, a senior from Kiowa, Kan., hit .700 (7-for-10) this past weekend with 13 RBI, two doubles, four home runs and zero strike outs. He posted a .769 on-base percentage and registered an eye-popping 2.200 slugging percentage. Kersten also contributed to Tech's three big wins by scoring nine times, walking twice and stealing a base.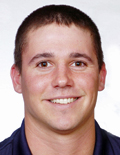 Kersten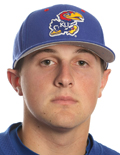 Hall
In Tech's season opener on Friday against Grambling, Kersten went 2-for-4 at the plate with a home run. Saturday was another big day for the third baseman as he hit a three-run home run in his first at-bat for the Bulldogs. In his next at-bat, he hit his second three-run home run of the game. His six RBI day marked a new career-high. After drawing an RBI-walk in Kersten's first appearance at the plate on Sunday, he hit a two-run RBI double. In his following at-bat he hit his second double of the day, before he launched his fourth home run of the season, a two-run homer to center field in the seventh inning.
Hall fired the fifth complete game no-hitter in Kansas baseball history on Friday, Feb. 20, defeating Air Force, 5-0. Hall pitched nine innings of hitless ball, allowing just four base runners (three walks and one hit batsman) to go along with seven strikeouts. The junior from Lee's Summit, Mo., dazzled Falcon hitters by pounding the strike zone with three different pitches. He became the first Kansas pitcher to throw a no-hitter since David Hicks turned the trick in 1980. Hall needed just 106 pitches to earn the seventh no-hitter in Jayhawk history (two were combined no-hitters).
Fort Worth-based Pro-Line Athletic supplies the official cap to more than 100 Division I college teams and official uniforms and team wear to six Division I college teams. This is the fifth season Pro-Line has sponsored the NCBWA's Players of the Week. The sponsorship provides for plaques to be awarded to each of the weekly winners and other promotional consideration. For more information about Pro-Line, visit their Web site at prolineathletic.com.
Founded in 1962, the NCBWA is dedicated to the advancement of college baseball. Membership is open to writers, broadcasters and publicists of the sport. For more information about the NCBWA, visit the association's official Web site, www.ncbwa.com.
For more information on the Pro-Line Athletic Players of the Week, contact NCBWA Assistant Executive Director Mike Montoro at West Virginia University at 304-293-2821.
2009 Pro-Line Athletic Players of the Week:
• Feb. 24: Chris Kersten, Louisiana Tech (Hitter); Schaeffer Hall, Kansas (Pitcher)
• March 3: Kent Matthes, Alabama (Hitter); Ryan Berry, Rice and Brandon Workman, Texas (Pitcher)
• March 10: Daniel Hill, Murray State (Hitter); Wade Kapteyn, Evansille (Pitcher)
• March 17: Digger Towe, UAB (Hitter); Kyle Gibson, Missouri (Pitcher)
• March 24: Kyle Roller, East Carolina (Hitter); Stephen Strasburg, San Diego State (Pitcher)
• March 31: Rich Poythress, Georgia (Hitter); Cody Wheeler, Coastal Carolina (Pitcher)
• April 7: Brett Nommensen, Eastern Illinois (Hitter); Nolan Moody, Michigan State (Pitcher)
• April 14: Juan Martinez, Oral Roberts (Hitter); Brad Stillings, Kent State (Pitcher)
• April 21: Derek McCallum, Minnesota (Hitter); Alex White, North Carolina (Pitcher)
• April 28: Shane Brown, UCF and Jesse Sawyer, South Dakota State (Hitter); J.T. Ross, Northeastern (Pitcher)
• May 5: Justin Bour, George Mason (Hitter); Alex Wimmers, Ohio State (Pitcher)
• May 12: Greg Folgia, Missouri (Hitter); Stephen Strasburg, San Diego State (Pitcher)
• May 19: Chris Hermann, Miami (Hitter); Justin Marks, Louisville (Pitcher)