DALLAS (NCBWA) – The National Collegiate Baseball Writers Association has added a new award to its inventory this season. In June, the NCBWA will honor the top relief pitcher in NCAA Division I baseball with its Stopper of the Year Award.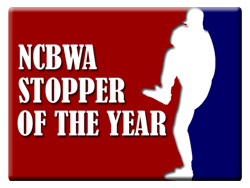 A preseason watch list will be released Wed., Feb. 23, featuring the nation's top returning relievers. Each month, the NCBWA will follow up with a release, updating the national saves leaders. At the end the regular season, the Division I leader in saves and up to four other relief-pitching standouts will be selected as the award's first finalists. That announcement will come on Wed., June 1, prior to the start of the NCAA Tournament.
From the list of finalists, the NCBWA's All-America Committee will select the Stopper of the Year, to be announced after the NCAA regionals, on Wed., June 8. The award's finalists and the winner will be selected based on performance during the regular season.
"Relief pitching is a component of the college game that is just as important as starting pitching, hitting or defense," said NCBWA President Mike Montoro, the Assistant Director of Athletics for Media Relations at the University of Southern Mississippi. "It is an area that is often overlooked and underappreciated. Because of that, the NCBWA board believed that now was an appropriate time to initiate such an award. We are excited that this important part of the game is being recognized with a national award this season."
The NCBWA, founded in 1962, has presented the Xanthus Dick Howser Trophy to the nation's top player since 1987. The association also has a season-long weekly Top 35 poll and selects a Division I All-America Team, Division I and III Players of the Week, Division I District Players of the Year and Division III Players of the Year.
For more information on the NCBWA Stopper of the Year, contact Todd Lamb at The Ohio State University at 614-292-6861 or Russ Anderson at Conference USA at 214-774-1351. Lamb, the NCBWA vice-president, will be coordinating the nomination and award process.
2005 NCBWA Stopper of the Year key dates:
• Jan. 27: NCBWA introduces Stopper of the Year Award
• Week of Feb. 21: Initial watch list released
• Week of April 18: Midseason update released
• Wed., June 1: Stopper of the Year finalists announced
• Wed., June 8: NCBWA Stopper of the Year announced