DALLAS (FWAA) – Texas JACK Joseph Ossai was all over the Oklahoma State backfield last week notching a career-high six tackles for loss and three sacks as the Longhorns got back into Big 12 title contention with a 41-34 overtime win at No. 6 Oklahoma State. Ossai posted a career-high 12 tackles to earn the Bronko Nagurski National Defensive Player of the Week honor for games in the weekend of Oct. 31, as selected by the Football Writers Association of America.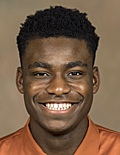 Ossai
This is the fourth time for a Texas player to earn the weekly honor and the first since 2014.
It was perhaps the most complete game of his career for Ossai, a 6-4, 253-pound junior from Conroe, Texas who plays the JACK position, a hybrid defensive end-linebacker pass rush specialist. He also forced a fumble and had a fumble recovery in Texas' first road win over a top-10 team since 2010. His final sack came on an OSU fourth down in overtime to end the game.
Ossai is the first Power Five player to record at least 12 tackles, six tackles for loss and three sacks in a game since Nebraska's Ndamukong Suh did so against the Longhorns in the 2009 Big 12 Championship Game (12 tackles, 6.0 TFLs, 4.5 sacks). Ossai is one of only six FBS players in total to achieve all three of those totals in a game since 2000. He has made at least eight tackles 13 times in his career, the third-best total by a Texas player of the last 20-plus seasons.
Now the Big 12's TFL leader at 12.5 – only two players have more than 7.5 – Ossai was part of the Texas defensive unit that forced four Oklahoma State turnovers (three fumbles and an interception) to go with five sacks and 12 tackles for loss. The Longhorns held Chuba Hubbard to just 72 yards on 25 carries and the Big 12's top rushing offense to only 130 yards on 51 carries (2.5 ypc). The 'Horns kept OSU to just 3-of-12 on third downs.
Ossai is a member of the Bronko Nagurski Trophy Watch List. The Longhorns have had two Bronko Nagurski winners and another finalist in its history. Brian Orakpo, a defensive end, is Texas' most recent winner from 2008 and linebacker Derrick Johnson won the award in 2004. Defensive tackle Malcom Brown was a finalist in 2014.
No. 22 Texas hosts West Virginia at 11 a.m. CT Saturday on ABC.
Each Tuesday during the regular season, the FWAA has selected a Bronko Nagurski National Defensive Player of the Week since 2001. The FWAA and the Charlotte Touchdown Club will announce three finalists for the 2020 Bronko Nagurski Trophy on Dec. 9. The national defensive player of the year will announced on Dec. 22 and chosen from those finalists who are part of the 2020 FWAA All-America Team.
The FWAA has chosen a National Defensive Player of the Year since 1993. In 1995, the FWAA named the award in honor of the legendary two-way player from the University of Minnesota. Nagurski dominated college football then became a star for professional football's Chicago Bears in the 1930s. Bronislaw "Bronko" Nagurski is a charter member of both the College Football and Pro Football Halls of Fame.
Founded in 1941, the Football Writers Association of America consists of 1,400 men and women who cover college football. The membership includes journalists, broadcasters and publicists, as well as key executives in all the areas that involve the game. The FWAA works to govern areas that include game-day operations, major awards and its annual All-America team. For more information about the FWAA and its award programs, contact Steve Richardson at tiger@fwaa.com.
About the Charlotte Touchdown Club
The Charlotte Touchdown Club is a non-profit organization founded in 1990 for the purpose of promoting high school, collegiate, and professional football in the Charlotte, N.C., region. The club's activities and services focus community attention on the outstanding citizenship, scholarship, sportsmanship, and leadership of area athletes and coaches. Since 1990, the club has raised more than $2 million to benefit area high school and collegiate athletics. For more information, contact John Rocco (704-347-2918 or jrocco@touchdownclub.com). The official website of the Charlotte Touchdown Club is touchdownclub.com.
About LendingTree, Inc.
LendingTree is the nation's leading online marketplace that connects consumers with the choices they need to be confident in their financial decisions. LendingTree empowers consumers to shop for financial services the same way they would shop for airline tickets or hotel stays, by comparing multiple offers from a nationwide network of over 500 partners in one simple search and choosing the option that best fits their financial needs. Services include mortgage loans, mortgage refinances, auto loans, personal loans, business loans, student refinances, credit cards, insurance and more. Through the My LendingTree platform, consumers receive free credit scores, credit monitoring and recommendations to improve credit health. My LendingTree proactively compares consumers' credit accounts against offers on their network and notifies consumers when there is an opportunity to save money. LendingTree's purpose is to help simplify financial decisions for life's meaningful moments through choice, education and support.
2020 Bronko Nagurski National Defensive Players of the Week
• Weekend of Sept. 5: Isaiah Kaufusi, LB, BYU
• Weekend of Sept. 12: Curtis Ryans, DE, Georgia Tech
• Weekend of Sept. 19: Tavante Beckett, LB, Marshall
• Weekend of Sept. 26: Jahron McPherson, S, Kansas State
• Weekend of Oct. 3: Bumper Pool, LB, Arkansas
• Weekend of Oct. 10: Nick Bolton, LB, Missouri
• Weekend of Oct. 17: Grant Morgan, LB, Arkansas
• Weekend of Oct. 24: Nick Andersen, S, Wake Forest
• Weekend of Oct. 31: Joseph Ossai, DE/LB, Texas
• Weekend of Nov. 7: Jeremiah Owusu-Koramoah, LB, Notre Dame
• Weekend of Nov. 14: Zaven Collins, LB, Tulsa
• Weekend of Nov. 21: Blake Gallagher, LB, Northwestern
• Weekend of Nov. 28: Nate Landman, LB, Colorado
Related links:
• Bronko Nagurski Trophy (All-Time Winners, Finalists and Players of the Week)
• Download the Bronko Nagurski Trophy presented by LendingTree logo: Primary (.jpg) | Primary (.eps)