DALLAS (FWAA) – Houston linebacker Elandon Roberts intercepted a Memphis pass early in the fourth quarter that sparked the undefeated Cougars' comeback in a thrilling 35-34 win over Memphis. Registering a career-high 18 tackles in additional to logging his first career interception, and in playing a key role in keeping Houston's College Football Playoff hopes alive, Roberts earned the AutoNation National Defensive Player of the Week honors for games of the weekend of Nov. 14, as selected by the Football Writers Association on America.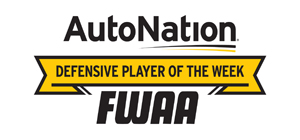 The 6-0, 235-pound senior from Port Arthur, Texas, picked off Paxton Lynch with 8:08 left in the game and Houston trailing 34-21. His return to the Tigers' 39-yard line led to a Houston touchdown soon after as the comeback began.
Eight of his 18 tackles were unassisted, easily topping his previous career high of 15 against SMU on Oct. 8. Against Memphis he also had a sack and two tackles for loss for minus-13 yards. Roberts is fourth in the FBS in total tackles with 117 – or 11.7 per game – and is second in the FBS in unassisted tackles with 76.
"(Roberts) came up big for us when we needed him to, and he is the heart and soul of our defense," Houston coach Tom Herman said. "He had 18 tackles, and that's about right for him. He's a guy that in our scheme kind of sets up for the front guys to turn up some blocks so he can run around and make plays, and he did that. He is a very emotional leader for us too, and we're lucky to have him."
Houston's 20-point comeback win was the third-biggest in program history. The last two 20-point, fourth-quarter comeback in an FBS games also belongs to Houston, which rallied for a 35-34 win over Pittsburgh in last season's Lockheed Martin Armed Forced Bowl.
As part of AutoNation's history of charitable involvement, AutoNation will donate $1,000 to the Breast Cancer Research Foundation (BCRF) in Roberts' name. This charitable college football initiative culminates with the AutoNation Cure Bowl, a new post-season NCAA football game that kicks off bowl season at the Citrus Bowl Stadium in Orlando, Fla., and will be aired by CBS Sports Network. The aptly named AutoNation Cure Bowl also serves as a fund raiser for the BCRF, CharityWatch's only A+ rated breast cancer organization in the country.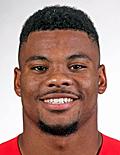 Roberts
"We want to celebrate the very best of college football, while also helping to raise awareness for the importance of finding a cure for cancer," says AutoNation CMO Marc Cannon. "This season-long partnership with the FWAA, leading up to the AutoNation Cure Bowl, puts a spotlight on a cause that we're determined to tackle."
"In our 75th season of existence, this a marvelous platform to get our players and the team of the week series excellent exposure as well as helping AutoNation in its effort to fight cancer and contribute to the educational funds of deserving student-athletes," said FWAA 2015 President Lee Barfknecht of the Omaha World-Herald. "It is very exciting to be able to help our organization as well as others in this splendid effort."
The FWAA National Defensive Player of the Week and National Team of the Week, both sponsored by AutoNation for the first time this year, have been determined collectively by a group of FWAA officers and the FWAA All-America Committee for several years. The AutoNation FWAA Offensive Player of the Week has been added this season. Nominations are taken from game performance all over the country each week and then those nominations are reviewed by the FWAA, which determines the actual recipients.
AutoNation is also the new sponsor of the 2015 FWAA All-America Team, which will be comprised of 26 first-team and 26 second-team selections as nominated by the membership and chosen by the FWAA All-America Committee. The 2015 AutoNation FWAA All-America Team will be announced at the AutoNation Cure Bowl on Dec. 19.
Coincidentally, the 2002 and '03 FWAA All-America teams were honored on the floor of the very same Citrus Bowl Stadium. Over the years, the FWAA's All-America teams have been honored in different locations and on various media platforms during the second-longest continuous annual selection of an All-America team in major college football.
Additionally, the AutoNation 75th Anniversary FWAA All-America Team, which was announced in August, will be celebrated during the 2015 season. That team includes players selected from past FWAA All-America teams dating to 1944, three years after the organization was formed in 1941. The AutoNation 75th Anniversary FWAA All-America Team is composed of three teams of 25 players each, with all eight decades, starting in the 1940s, represented among the playing eras of members on the team. It includes 56 National Football Foundation College Football Hall of Famers. Forty-one schools are represented on the team that was selected by an FWAA Blue Ribbon Committee after taking into consideration nominations from the membership.
About AutoNation, Inc.:
AutoNation is transforming the automotive retail industry through bold leadership. We deliver a peerless automotive retail experience through our customer-focused sales and service processes. Owning and operating 293 new vehicle franchises, which sell 35 new vehicle brands across 15 states, AutoNation is America's largest automotive retailer, with state-of-the-art operations and the ability to leverage economies of scale that benefit the customer. As an indication of our leadership position in our industry, AutoNation is a component of the S&P 500 Index.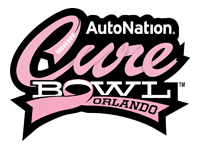 About the AutoNation Cure Bowl:
The AutoNation Cure Bowl a new post-season NCAA football game whose net proceeds benefit the Breast Cancer Research Foundation. The AutoNation Cure Bowl takes place December 19 at the Citrus Bowl in Orlando, and will be broadcast by CBS Sports Network. The bowl is scheduled to involve teams from the American Athletic and Sun Belt conferences.
About the Football Writers Association of America:
Founded in 1941, the FWAA consists of 1,400 men and women who cover college football. The membership includes journalists, broadcasters and publicists, as well as key executives in all the areas that involve the game. The FWAA works to govern areas that include game-day operations, major awards and its annual All-America team. For more information about the FWAA and its award programs, contact Steve Richardson at tiger@fwaa.com.
2015 AutoNation National Defensive Players of the Week
• Week of Sept. 5: Karl Joseph, West Virginia
• Week of Sept. 12: Kai Nacua, BYU
• Week of Sept. 19: RJ Williamson, Michigan State
• Week of Sept. 26: Jeremy Cash, Duke
• Week of Oct. 3: Eric Striker, Oklahoma
• Week of Oct. 10: Emmanuel Ogbah, Oklahoma State
• Week of Oct. 17: Minkah Fitzpatrick and Eddie Jackson, Alabama
• Week of Oct. 24: Cameron Smith, USC
• Week of Oct. 31: Quenton Meeks, Stanford
• Week of Nov. 7: Chad Whitener, Oklahoma State
• Week of Nov. 14: Elandon Roberts, Houston
• Week of Nov. 21: Ejuan Price, Pittsburgh
• Week of Nov. 28: Tyler Matakevich, Temple
• Week of Dec. 5: Tarris Batiste, Georgia State