DALLAS (FWAA) – Texas defensive tackle Malcom Brown, Auburn center Reese Dismukes and Iowa offensive tackle Brandon Scherff have been named the three finalists for the 2014 Outland Trophy.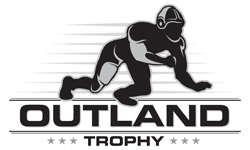 These finalists were unveiled this evening on The Home Depot College Football Awards Nomination Special on ESPNU. The winner of the 69th Outland Trophy will be revealed on ESPN during The Home Depot College Football Awards on Thursday, Dec. 11 from 7-9 p.m. ET.
The 24th annual show will be hosted by Rece Davis, who will be joined by Lee Corso, Kirk Herbstreit, Desmond Howard, Tom Rinaldi and Samantha Ponder from the Atlantic Dance Hall at Disney's BoardWalk at the Walt Disney World Resort in Lake Buena Vista, Fla.
Awarded to the top interior lineman on offense or defense since 1946 by the Football Writers Association of America, the Outland Trophy is named after the late John Outland, an All-America lineman at Pennsylvania. It is the third-oldest player award in major college football behind the Heisman Trophy and Maxwell Award.
Texas and Iowa each have had three previous Outland winners and Auburn has had two: the Longhorns' winners are Scott Appleton (1963), Tommy Nobis (1965) and Brad Shearer (1977); Iowa's winners are Calvin Jones (1955), Alex Karras (1957) and Robert Gallery (2003); Auburn's winners are Zeke Smith (1958) and Tracy Rocker (1988).
The three 2014 Outland Trophy finalists:
Malcom Brown, DT, Texas (6-2, 320, Jr., Brenham, Texas): He leads the Longhorns with 6.5 sacks, a feat that hasn't been accomplished by a defensive tackle in a dozen years in Austin. He paces the squad with 14 tackles for loss and six quarterback pressures. He also has forced two fumbles and recovered one. In his most recent game, he had two sacks and forced a fumble in Texas' 28-7 victory at Oklahoma State that made the Longhorns (6-5) bowl-eligible.
"Malcom is having an unbelievable season, an All-American year," Texas coach Charlie Strong said. "He's so fun to watch because he plays with great energy and is just a dominating player. You see his impact each and every game and teams try everything to stop him. They go low on him and he just pushes the guy off and runs to the football. But, it's not just games, that's the way he is at practice, he just gets after it on every single play."
Reese Dismukes, C, Auburn (6-3, 295, Sr., Spanish Fort, Ala.): He has been the mainstay of the offensive line, a captain, the last two seasons. He has played in 48 games over four seasons, starting in 47 of those games. A much-heralded recruit, Dismukes is considered the glue of the offensive line that grinds out yards in a triple-option attack during this 8-3 season. Auburn's rushing offense ranks No. 8 in the country (266.2 yards per game), No. 22 in total offense (476.4 yards per game) and 28th in scoring (35.1 points per game).
"Our center is like another quarterback," Auburn coach Gus Malzahn told AuburnTigers.com. "He makes all the calls up front. Everything is on him, especially when you go pace. The center directs everything. He's a very good athlete. He's a tough guy. He's been our leader. He's been one of our leaders around here for a long time."
Brandon Scherff, OT, Iowa (6-5, 320, Sr., Denison, Iowa): He has started 24 straight games for the Hawkeyes. In all he has played in 42 games and started 34 of them in his Iowa career. He has been a strong leader in all four seasons in Iowa City. Iowa, 7-4, is 75th in scoring offense (27.7 ppg) and 63rd in total offense (400.7 ypg). At left tackle, he has been rock solid this season for the Hawkeyes who have traditionally produced good offensive linemen.
"Brandon came back for his senior year with a mission to prove, and I think he has done that," said Iowa coach Kirk Ferentz. "From a leadership standpoint, having a guy play at an NFL level on a college playing field has been important to our football team. The toughness he brings, the attention to detail, the physical nature of his play, he's pretty special. At the end of the day it is all on the tape. The tape doesn't lie – he is the best."
The Outland Trophy, which has been awarded annually by the FWAA since 1946, is named after the late John Outland, an All-American lineman at the University of Pennsylvania in the late 1800s. The Outland Trophy is the third-oldest award in major college football behind the Heisman Trophy and Maxwell Award.
For the 18th consecutive year, the presentation banquet of the Outland Trophy will occur in Omaha. The official 2014 Outland Trophy presentation to the winner will be on Jan. 15, 2015 at a banquet sponsored by the Greater Omaha Sports Committee. At the same banquet, Notre Dame lineman Ross Browner will receive an Outland Trophy. He was the 1976 winner of the award – before Outland trophies were handed out by the FWAA.
The first annual Tom Osborne Legacy Award will also be presented at the dinner. Osborne, the legendary former Nebraska coach, will hand the award off to Milt Tenopir, who coached six Outland winners with the Cornhuskers. The Osborne Legacy Award will recognize a coach or player who made contributions to the Outland Trophy or interior line play in college football; or a former lineman who made great contributions to the game through charity or community work.
The Outland Trophy is a member of the National College Football Awards Association (NCFAA). The NCFAA encompasses the most prestigious awards in college football. The 21 awards boast nearly 700 years of tradition-selection excellence. Visit ncfaa.org to learn more about our story.
The Football Writers Association of America, a non-profit organization founded in 1941, consists of more than 1,400 men and women who cover college football. The membership includes journalists, broadcasters and publicists, as well as key executives in all the areas that involve the game. The FWAA works to govern areas that include gameday operations, major awards and its annual All-America team. For more information about the FWAA and its award programs, contact Steve Richardson at tiger@fwaa.com or 214-870-6516.
The Greater Omaha Sports Committee, founded in 1977, is a 501(c)3 non-profit organization, consisting of more than 300 men and women from the City of Omaha and the State of Nebraska. The membership serves to communicate, develop, initiate and promote sports activities in the Greater Omaha sports area.
Related links:
• 2014 Outland Trophy Semifinalists
• 2014 Preseason Outland Trophy Watch List
• All-time Outland Trophy winners
• Outland Trophy official site (outlandtrophy.com)