DALLAS (FWAA) – UCLA inside linebacker Eric Kendricks has been named the FWAA/Bronko Nagurski Defensive Player of the Week for the opening weekend games of the 2014 season.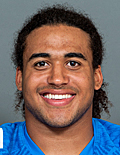 Kendricks
Kendricks, a 6-0, 230-pound senior from Fresno, Calif., registered a game-high 16 tackles in UCLA's 28-20 victory at Virginia. In the second quarter, he intercepted a pass and returned it 37 yards for a touchdown – one of three defensive touchdowns scored by the Bruins – and also forced a fumble which led to a return for a touchdown. In the second half, two of his stops came on Virginia third-down plays.
Each Tuesday during the 2014 season the FWAA All-America Committee will select a National Defensive Player of the Week from nominations made by the 10 Football Bowl Subdivision conferences and major independents. The FWAA has sponsored a National Defensive Player of the Year award since 1993 and has named a National Defensive Player of the Week since the 2001 season.
Five finalists for the Bronko Nagurski Trophy will be announced by the FWAA on Nov. 20. The winner of the FWAA's National Defensive Player of the Year award will be revealed on Dec. 8 during a banquet sposnored by the Charlotte Touchdown Club at the Westin Hotel in Charlotte, N.C.
The Bronko Nagurski Trophy is given in memory of the legendary All-American lineman at Minnesota (1927-29). Nagurski dominated college football at Minnesota as a bruising fullback and defensive tackle and could have been an All-America at any position. He then became a star for professional football's Chicago Bears in the 1930s.
The Bronko Nagurski Trophy is a member of the National College Football Awards Association (NCFAA). The NCFAA encompasses the most prestigious awards in college football. The 21 awards boast nearly 700 years of tradition-selection excellence. Visit ncfaa.org to learn more about our story.
The Football Writers Association of America, a non-profit organization founded in 1941, consists of more than 1,400 men and women who cover college football. The membership includes journalists, broadcasters and publicists, as well as key executives in all the areas that involve the game. The FWAA works to govern areas that include game-day operations, major awards and its annual All-America team. For more information about the FWAA and its award programs, contact Steve Richardson at tiger@fwaa.com or 214-870-6516.
The Charlotte Touchdown Club is a 501(c) 3 non-profit organization founded in 1991 with the goal of promoting high school, collegiate, and professional football in the Charlotte, North Carolina region. The Club's activities and services focus community attention on the outstanding Citizenship, Scholarship, Sportsmanship, and Leadership of area athletes and coaches.
2014 Bronko Nagurski National Defensive Players of the Week
• Aug. 30: Eric Kendricks, UCLA
• Sept. 6: Kyshoen Jarrett, Virginia Tech
• Sept. 13: Josh Keyes, Boston College
• Sept. 20: Quentin Poling, Ohio
• Sept. 27: Weston Steelhammer, Air Force
• Oct. 4: Nate Orchard, Utah
• Oct. 11: Terrance Plummer, UCF
• Oct. 18: Terrell Pinson, Louisiana Tech
• Oct. 25: Scooby Wright, Arizona
• Nov. 1: Zach Patt, Rice
• Nov. 8: Cedric Reed, Texas
2014 FWAA ALL-AMERICA COMMITTEE
Mark Anderson
Las Vegas Review-Journal
Mountain West
Lee Barfknecht
Omaha World-Herald
National
Zach Barnett
Football Scoop
Conference USA
Kirk Bohls
Austin American-Statesman
Big 12
Aaron Brenner
Charleston Post & Courier
ACC
Lee Feinswog
Sports225.com
SEC
Tommy Hicks
Mobile Press Register
Sun Belt
Joey Johnston
Tampa Tribune
American
Marc Morehouse
Cedar Rapids Gazette
Big Ten
Phil Steele
Phil Steele Publications
National
John Wagner
Toledo Blade
Mid-American
Jon Wilner
San Jose Mercury News
Pac-12