DALLAS (FWAA) – The prestigious 2012 Outland Trophy Watch List was released today with a galaxy of potential line stars who could win the award that goes to the best interior lineman in college football, as selected by the Football Writers Association of America.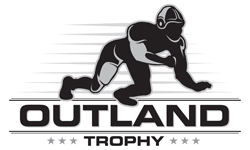 Senior Barrett Jones from defending national champion Alabama heads a list of 71 players, which includes only tackles, guards and centers on both sides of the ball. Of the players on the watch list, 18 defensive tackles occupied spots. The rest of the linemen were on offense. Every Division I Bowl Subdivision conference, along with independents BYU and Notre Dame, had at least one player on the list.
The 6-5, 302-pound Jones, who has switched from offensive tackle to center, will seek to become only the second player to win back-to-back Outland Trophies. Nebraska center Dave Rimington, in 1981-82, is the only player to pull off the double.
The Outland Trophy winner is chosen from three finalists who are part of the FWAA All-America Team. The FWAA All-America Committee, after voting input from the entire membership, selects the 25-man team and eventually the three Outland finalists to be named on Nov. 19. Committee members, then by individual ballot, select the winner.
The Outland Trophy, presented annually since 1946, is the third oldest award in major college football. The winner of the 67th Outland Trophy, named after the late John Outland, an All-America lineman at Penn and Kansas at the turn of the century, will be announced on The Home Depot College Football Awards on Dec. 6 on ESPN.
The Outland Trophy presentation banquet, sponsored by the Greater Omaha Sports Committee, will be held on Jan. 10, 2013, in Omaha, Neb.
2012 OUTLAND TROPHY PRESEASON WATCH LIST (71)
Oday Aboushi, Virginia, OT
Taylor Lewan, Michigan, OT
Alvin Bailey, Arkansas, G
Bennie Logan, LSU, DT
David Bakhtiari, Colorado, OT
Spencer Long, Nebraska, G
Chris Barker, Nevada, G
Star Lotulelei, Utah, DT
Mario Benavides, Louisville, C
Zack Martin, Notre Dame, OT
Josh Boyd, Mississippi State, DT
Jake Matthews, Texas A&M, OT
Braxston Cave, Notre Dame, C
Chris McDonald, Michigan State, G
Jonathan Cooper, North Carolina, G
Andrew Miller, Virginia Tech, C
Everett Dawkins, Florida State, DT
Morgan Moses, Virginia, OT
Aaron Donald, Pittsburgh, DT
Roosevelt Nix, Kent State, DT
Chris Faulk, LSU, OT
Graham Pocic, Illinois, C
James Ferentz, Iowa, C
Mark Popek, USF, OT
Sharrif Floyd, Florida, DT
Justin Pugh, Syracuse, OT
D.J. Fluker, Alabama, OT
Cyril Richardson, Baylor, G
Blaize Foltz, TCU, G
Weston Richburg, Colorado State, C
Travis Frederick, Wisconsin, C
Kawann Short, Purdue, DT
Dalton Freeman, Clemson, C
Akeem Spence, Illinois, DT
Theo Goins, UCF, G
Baker Steinkuhler, Nebraska, DT
Ben Habern, Oklahoma
Matt Summers-Gavin, California, OT
Johnathan Hankins, Ohio State, DT
Travis Swanson, Arkansas, C
Braden Hansen, BYU, G
Lane Taylor, Oklahoma State, G
Caylin Hauptmann, FIU, OT
Dallas Thomas, Tennessee, G
Jordan Hill, Penn State, DT
Aaron Tipoti, California, DT
Khaled Holmes, USC, C
Omoregie Uzzi, Georgia Tech, G
Alex Hurst, LSU, OT
Joe Vellano, Maryland, DT
James Hurst, North Carolina, OT
LaAdrian Waddle, Texas Tech, OT
Gabe Ikard, Oklahoma, G
Ricky Wagner, Wisconsin, OT
Gabe Jackson, Mississippi State, G
Mason Walters, Texas, G
John Jenkins, Georgia, DT
Larry Warford, Kentucky, G
Timmy Jernigan, Florida State, DT
Chance Warmack, Alabama, G
Luke Joeckel, Texas A&M, OT
Stephen Warner, Louisiana Tech, C
T.J. Johnson, South Carolina, C
Jesse Williams, Alabama, DT
Wesley Johnson, Vanderbilt, OT
Sylvester Williams, North Carolina, DT
Barrett Jones, Alabama, C
David Yankey, Stanford, G
Joe Kellogg, Boise State, G
Carson York, Oregon, G
Tyler Larsen, Utah State, C
By conference: SEC (19), Big Ten (12), ACC (11), Big 12 (7), Pac-12 (7), Big East (4), Independents (3), Mountain West (3), WAC (2), Conference USA (1), MAC (1), Sun Belt (1).
Tackles, guards and centers are eligible for consideration
Candidates may be added or removed during the season
The Football Writers Association of America, a non-profit organization founded in 1941, consists of more than 1,200 men and women who cover college football for a living. The membership includes journalists, broadcasters and publicists, as well as key executives in all the areas that involve the game. The FWAA works to govern areas that include gameday operations, major awards and its annual All-America team. For more information about the FWAA and its award programs, contact Steve Richardson at tiger@fwaa.com or 972-713-6198.
The Outland Trophy is a member of the National College Football Awards Association (NCFAA). The NCFAA was founded in 1997 as a coalition of the major collegiate football awards to protect, preserve and enhance the integrity, influence and prestige of the game's predominant awards. The NCFAA encourages professionalism and the highest standards for the administration of its member awards and the selection of their candidates and recipients. For more information, visit the association's official website, ncfaa.org.
The members of the NCFAA are unveiling their preseason watch lists over a 12-day period this month. Fifteen of the association's 21 awards select a preseason watch list and the NCFAA has spearheaded a coordinated effort to promote each award's preseason candidates. Following is the complete 2012 preseason watch list calendar:
July 9: Maxwell Award/Bednarik Award
July 10: Mackey Award/Riminigton Trophy
July 11: Lou Groza Award/Ray Guy Award
July 12: Bronko Nagurski Trophy/Outland Trophy
July 13: Jim Thorpe Award
July 16: Butkus Award/Rotary Lombardi Award
July 17: Biletnikoff Award
July 18: Davey O'Brien Award
July 19: Doak Walker Award
July 20: Walter Camp Award
Related links:
• All-time Outland Trophy winners
• Outland Trophy official site (outlandtrophy.com)