DALLAS (FWAA) – SMU linebacker Ja'Gared Davis has been named the FWAA/Bronko Nagurski National Defensive Player of the Week for games of the weekend of Sept. 10.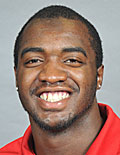 Davis
In the Mustangs' 28-17 victory over UTEP, Davis, a 6-1, 225-pound junior from Crockett, Texas, recorded eight tackles, 2.5 tackles for losses (1.5 sacks), an interception, three pass breakups and a forced fumble and recovery for a touchdown.
With SMU clinging to a 21-17 lead in the final three minutes, Davis knocked the ball loose from UTEP quarterback Jay Hill in the end zone and pounced on it for the touchdown that sealed the win. Earlier in the fourth quarter, his interception ended a UTEP threat at the SMU 23.
Davis will be added to the 2011 Bronko Nagurski Trophy Watch List. The Bronko Nagurski Trophy will be presented to the best defensive player in college football on Dec. 12 by the FWAA and the Charlotte Touchdown Club at the Westin Hotel in Charlotte, N.C. The keynote address will be given by Georgia head coach Mark Richt and Florida's Jack Youngblood from the Class of 1970 will receive this year's Bronko Nagurski Legends Award. Five finalists for the Nagurski Trophy will be announced on Nov. 17.
Each week during the 2011 season the FWAA All-America Committee has selected a national defensive player of the week from nominations made by the 11 Division I Bowl Subdivision Conferences and major independents.
Last season, Clemson defensive end Da'Quan Bowers won the coveted Bronko Nagurski Trophy during the 16th season the FWAA named a national defensive player of the year.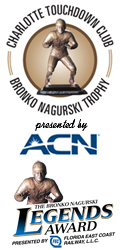 The Charlotte Touchdown Club is a non-profit organization founded in 1990 for the purpose of promoting high school, collegiate, and professional football in the Charlotte, N.C., region. The club's activities and services focus community attention on the outstanding citizenship, scholarship, sportsmanship, and leadership of area athletes and coaches. For more information, contact John Rocco (704-347-2918 or jrocco@touchdownclub.com). The official website of the Charlotte Touchdown Club is www.touchdownclub.com.
The Football Writers Association of America, a non-profit organization founded in 1941, consists of more than 1,200 men and women who cover college football for a living. The membership includes journalists, broadcasters and publicists, as well as key executives in all the areas that involve the game. The FWAA works to govern areas that include gameday operations, major awards and its annual All-America team. For more information about the FWAA and its award programs, contact Steve Richardson at tiger@fwaa.com or 972-713-6198.
2011 Bronko Nagurski National Defensive Players of the Week
• Sept. 3: Nordly Capi, Colorado State
• Sept. 10: Ja'Gared Davis, SMU
• Sept. 17: Javon Harris, Oklahoma
• Sept. 24: Jeremiah Attaochu, Georgia Tech
• Oct. 1: Brady Amack, Air Force
• Oct. 8: Jamell Fleming, Oklahoma
• Oct. 15: Vinny Curry, Marshall
• Oct. 22: Kourtnei Brown, Clemson
• Oct. 29: Jarvis Jones, Georgia
• Nov. 5: Eric Reid, LSU