DALLAS (FWAA) – The 2010 Outland Trophy Watch List has been announced by the Football Writers Association of America. The prestigious list gives football fans the first glimpse at a great crop of college offensive and defensive tackles, offensive guards and centers.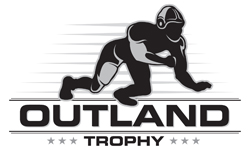 The FWAA will consider other players for the 2010 Outland Trophy Watch List and will also delete players as the season progresses. The FWAA All-America Committee will select three finalists in late November and eventually the overall winner.
The Outland Trophy, presented annually since 1946, is the third oldest award in major college football. The Outland Trophy is named after the late John Outland, an All-America lineman at Penn and Kansas at the turn of the century. The 2010 winner will be announced on The Home Depot ESPNU College Football Awards Show on Dec. 9.
The Outland Trophy presentation banquet, sponsored by the Greater Omaha Sports Committee, will be on Jan. 13 in Omaha, Neb.
2010 OUTLAND TROPHY PRESEASON WATCH LIST
Sam Acho, Texas, DT
Jarvis Jenkins, Clemson, DT
Marvin Austin, North Carolina, DT
Carl Johnson, Florida, G
Tim Barnes, Missouri, C
Barrett Jones, Alabama, G
Colin Baxter, Arizona, C
Ben Jones, Georgia, C
Sean Bedford, Georgia Tech, C
Jake Kirkpatrick, TCU, C
Chase Beeler, Stanford, C
Karl Klug, Iowa, DT
Clint Boling, Georgia, T
Ben Lamaak, Iowa State, C
Justin Boren, Ohio State, G
DeMarcus Love, Arkansas, T
Cory Brandon, Oklahoma, T
Ryan McMahon, Florida State, C
Mike Brewster, Ohio State, C
Ryan Miller, Colorado, G
Bryant Browning, Ohio State, G
Drake Nevis, LSU, DT
Marcus Cannon, TCU, T
Kristofer O'Dowd, USC, C
Gabe Carimi, Wisconsin, T
Josh Oglesby, Wisconsin, T
James Carpenter, Alabama, T
Stephen Paea, Oregon State, DT
Jurrell Casey, USC, DT
Alan Pelc, North Carolina, G
Anthony Castonzo, Boston College, T
Jason Pinkston, Pittsburgh, T
Thomas Claiborne, Boston College, G
Ken Plue, Purdue, G
Jared Crick, Nebraska, DT
Nate Potter, Boise State, G
Blake DeChristopher, Virginia Tech, T
Mike Pouncey, Florida, C
Art Forst, Rutgers, G
Jerrell Powe, Ole Miss, DT
Marcus Forston, Miami, DT
Matt Reynolds, BYU, T
Orlando Franklin, Miami, T
Trevor Robinson, Notre Dame, T
Anthony Gray, Southern Miss, DT
Stephen Schilling, Michigan, G
Lawrence Guy, Arizona State, DT
Caleb Schlauderaff, Utah, G
Ben Habern, Oklahoma, C
Nate Solder, Colorado, T
Kyle Hix, Texas, T
Adrian Taylor, Oklahoma, DT
Rodney Hudson, Florida State, G
Zane Taylor, Utah, C
Omar Hunter, Florida, DT
Bo Thran, Oregon, T
Rod Huntley, UTEP, G
Muhammad Wilkerson, Temple, DT
Zach Hurd, Connecticut, G
Stefen Wisniewski, Penn State, G
Benjamin Ijalana, Villanova, T
Lee Ziemba, Auburn, T
Andrew Jackson, Fresno State, G
Tackles, guards and centers are eligible for consideration
Candidates may be added or removed during the season
The Football Writers Association of America, a non-profit organization founded in 1941, consists of more than 1,200 men and women who cover college football for a living. The membership includes journalists, broadcasters and publicists, as well as key executives in all the areas that involve the game. The FWAA works to govern areas that include gameday operations, major awards and its annual All-America team. For more information about the FWAA and its award programs, contact Steve Richardson at tiger@fwaa.com or 972-713-6198.
The Outland Trophy is a member of the National College Football Awards Association (NCFAA). The NCFAA was founded in 1997 as a coalition of the major collegiate football awards to protect, preserve and enhance the integrity, influence and prestige of the game's predominant awards. The NCFAA encourages professionalism and the highest standards for the administration of its member awards and the selection of their candidates and recipients. For more information, visit the association's official website, ncfaa.org.
For more information about the FWAA and its awards and members programs, contact Executive Director Steve Richardson (972-713-6198, tiger@fwaa.com). For more information on the Outland Trophy, go to the official website, www.outlandtrophy.com.
Related links:
• All-time Outland Trophy winners
• Outland Trophy official site (outlandtrophy.com)
2010 FWAA ALL-AMERICA COMMITTEE
Desmond Conner
Hartford Courant
Big East
Robert Gagliardi
Wyoming Tribune-Eagle
Mountain West
Cory Giger
Altoona Mirror
Big Ten
Kate Hairopoulos
The Dallas Morning News
Conference USA
Jorge Milian
Palm Beach Post
ACC
Ted Miller
espn.com
Pacific-10
Brian Murphy
Idaho Statesman
WAC
Joshua Parrott
Lafayette Daily Advertiser
Sun Belt
Randy Rosetta
Baton Rouge Advocate
SEC
John Sahly
DeKalb Daily Chronicle
MAC
Phil Steele
Phil Steele Publications
Independents
Jake Trotter
The Oklahoman
Big 12