DALLAS (FWAA) – Texas A&M linebacker Michael Hodges has been named the FWAA/Bronko Nagurski National Defensive Player of the Week for games of the weekend of Nov. 6.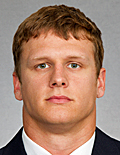 Hodges
Hodges, a 6-0, 226-pound senior from Helotes, Texas, made a career-high 19 tackles (eight unassisted) in Texas A&M's 33-19 victory over Oklahoma. Hodges had two sacks for 16 yards in losses. The 19 tackles were the most by an Aggie since current Texas A&M linebacker coach Dat Nguyen made 20 against UCLA in the 1998 Cotton Bowl.
In the first quarter, Texas A&M came up with a goal-line stand when Hodges and Von Miller stopped Oklahoma running back DeMarco Murray on fourth down from the one-yard line. In the fourth quarter, the Aggies registered two more stops in the red zone with Hodges being a central contributor in those efforts.
Hodges will be added to the 2010 Bronko Nagurski Trophy Watch List. The Bronko Nagurski Trophy will be presented to the best defensive player in college football on Dec. 6 by the FWAA and the Charlotte Touchdown Club at the Westin Hotel in Charlotte, N.C. The keynote address will be given by Clemson head coach Dabo Swinney and Notre Dame's Mike McCoy from the Class of 1969 will receive this year's Bronko Nagurski Legends Award. Five finalists for the Nagurski Trophy will be announced on Nov. 18.
Each week during the 2010 season the FWAA All-America Committee has selected a national defensive player of the week from nominations made by the 11 Division I Bowl Subdivision Conferences and major independents.
Last season, Nebraska tackle Ndamukong Suh won the coveted Bronko Nagurski Trophy during the 15th season the FWAA named a national defensive player of the year.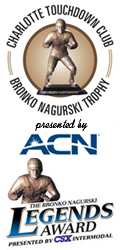 The Charlotte Touchdown Club is a non-profit organization founded in 1990 for the purpose of promoting high school, collegiate, and professional football in the Charlotte, N.C., region. The club's activities and services focus community attention on the outstanding citizenship, scholarship, sportsmanship, and leadership of area athletes and coaches. For more information, contact John Rocco (704-347-2918 or jrocco@touchdownclub.com). The official website of the Charlotte Touchdown Club is www.touchdownclub.com.
The Football Writers Association of America, a non-profit organization founded in 1941, consists of more than 1,200 men and women who cover college football for a living. The membership includes journalists, broadcasters and publicists, as well as key executives in all the areas that involve the game. The FWAA works to govern areas that include gameday operations, major awards and its annual All-America team. For more information about the FWAA and its award programs, contact Steve Richardson at tiger@fwaa.com or 972-713-6198.
2010 Bronko Nagurski National Defensive Players of the Week
• Sept. 4: Kenny Tate, Maryland
• Sept. 11: Chimdi Chekwa, Ohio State
• Sept. 18: Patrick Larimore, UCLA
• Sept. 25: Robert Lester, Alabama
• Oct. 2: Jayron Hosley, Virginia Tech
• Oct. 9: Tramain Thomas, Arkansas
• Oct. 16: Chris White, Mississippi State
• Oct. 23: J.J. Watt, Wisconsin
• Oct. 30: Sio Moore, Connecticut
• Nov. 6: Michael Hodges, Texas A&M