DALLAS (FWAA) – For the fifth straight year, the Football Writers Association of America and the Discover Orange Bowl will announce a weekly nominee for the Discover Orange Bowl/FWAA Courage Award each Wednesday during the season. The first of up to ten nominees will be released this week. A blue-ribbon panel will determine the award's recipient from those weekly nominees. The recipient of the Courage Award will be announced in December and presented with the trophy in conjunction with this year's Discover Orange Bowl.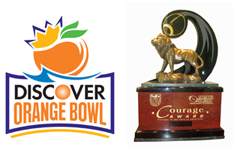 "The Orange Bowl Committee is very proud to partner with the Football Writers Association of America in selecting the recipient of the Discover Orange Bowl/FWAA Courage Award," said committee CEO Eric Poms. "By recognizing an individual in college football – or in two previous cases an entire team – with this award, we are able to celebrate the triumphs that these individuals achieve while overcoming adversity. Our past winners embody the courage and spirit necessary to participate in intercollegiate athletics and for success in life."
Previous winners of the FWAA's Courage Award are the Connecticut Huskies (2009), Tulsa's Wilson Holloway (2008), Navy's Zerbin Singleton (2007), Clemson's Ray Ray McElrathbey (2006), the Tulane Green Wave (2005), Memphis' Haracio Colen (2004), San Jose State's Neil Parry (2003) and Toledo's William Bratton (2002).
The Courage Award was created by ESPN The Magazine's senior writer Gene Wojciechowski, also an FWAA member. A select group of FWAA members vote on the recipient each year. The requirements for nomination include displaying courage on or off the field, including overcoming an injury or physical handicap, preventing a disaster or living through hardship.
The Orange Bowl Committee is a not-for-profit, 343-member, primarily-volunteer organization. It is a self-sustaining, independent organization that supports and produces activities and events that enhance the image, economy and culture of South Florida. The Orange Bowl Festival features a year-round schedule of events culminating with the Discover Orange Bowl on January 3, 2011. Other OBC core events include the MetroPCS Orange Bowl Basketball Classic, Orange Bowl Youth Football Alliance presented by Sports Authority, Orange Bowl International Tennis Championships and Orange Bowl Sailing Regatta Series. For more information on the 2010-11 Orange Bowl Festival and its events, including promotional and volunteer opportunities through the Ambassador Program, visit www.orangebowl.org.
The Football Writers Association of America, a non-profit organization founded in 1941, consists of more than 1,200 men and women who cover college football for a living. The membership includes journalists, broadcasters and publicists, as well as key executives in all the areas that involve the game. The FWAA works to govern areas that include gameday operations, major awards and its annual All-America team. For more information about the FWAA and its award programs, contact Steve Richardson at tiger@fwaa.com or 972-713-6198.
Related link:
• Discover Orange Bowl Courage Award