DALLAS (FWAA) – TCU defensive end Jerry Hughes has been named the FWAA/Bronko Nagurski National Defensive Player of the Week for games of the weekend of Oct. 18.

Hughes, a 6-2, 248-pound junior from Sugar Land, Texas, recorded four sacks (for minus-14 yards) and forced two fumbles while heading up TCU's defensive effort in a 32-7 win over previously unbeaten BYU.
The four sacks tied an Mountain West Conference single-game record and were just short of TCU's single-game mark of 4.5. Hughes had three first-half sacks and finished with five tackles as the Horned Frogs' defense held BYU to season-lows of 23 rushing yards and 297 yards of total offense.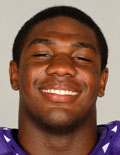 Hughes
Hughes will be added to the 2008 Bronko Nagurski Trophy Watch List. The Bronko Nagurski Trophy will be presented to the best defensive player in college football on Dec. 7 by the FWAA and the Charlotte Touchdown Club at the Westin Hotel in Charlotte, N.C. Five finalists for the Nagurski Trophy will be announced on Nov. 17.
Each week during the 2008 season the FWAA All-America Committee will select a national defensive player of the week from nominations made by the 11 Division I Bowl Subdivision Conferences and major independents.
Last season, LSU tackle Glenn Dorsey won the coveted Bronko Nagurski Trophy during the 13th season the FWAA has named a national defensive player of the year.
The Football Writers Association of America, a non-profit organization founded in 1941, consists of more than 1,000 men and women across North America who cover college football for a living. The membership includes journalists, broadcasters and publicists, as well as key executives in all the areas that involve the game. The FWAA works to govern areas that include game day operations, major awards, a national poll and its annual All-America team.
The Charlotte Touchdown Club is a non-profit organization founded in 1990 for the purpose of promoting high school, collegiate, and professional football in the Charlotte, N.C., region. The club's activities and services focus community attention on the outstanding citizenship, scholarship, sportsmanship, and leadership of area athletes and coaches. For more information, contact John Rocco (704-347-2918 or jrocco@touchdownclub.com). The official website of the Charlotte Touchdown Club is www.touchdownclub.com.
For more information on the Bronko Nagurski Trophy, contact FWAA executive director Steve Richardson (972-713-6198 or tiger@fwaa.com).
2008 Bronko Nagurski National Defensive Players of the Week
• Aug. 30: Ben Owens, Arkansas State
• Sept. 6: Patrick Benoist, Vanderbilt
• Sept. 13: DeAndre Levy, Wisconsin
• Sept. 20: Ryan Hamilton, Vanderbilt
• Sept. 27: Trimane Goddard, North Carolina
• Oct. 4: Scott McKillop, Pittsburgh
• Oct. 11: Tyrrell Herbert, Toledo
• Oct. 18: Jerry Hughes, TCU
• Oct. 25: Darryl Gamble, Georgia
• Nov. 1: Daniel Charbonnet, Texas Tech
• Nov. 8: Rashad Johnson, Alabama